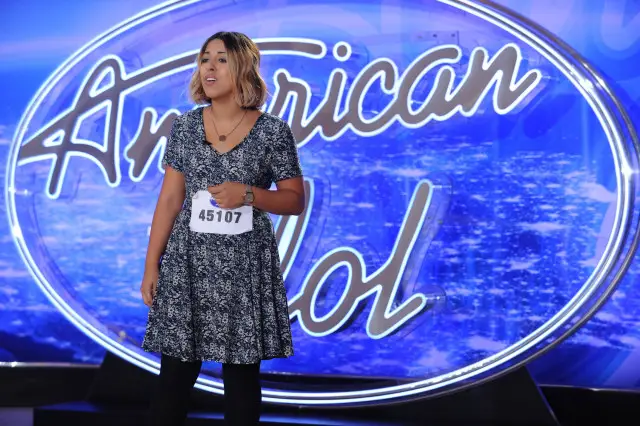 American Idol 2016 Auditions No 6 Recap
This is it my fellow Idol loonies. The VERY LAST AMERICAN IDOL AUDITION SHOW EVER. Have we broken out the tissues yet? I'm getting close. Of course, it'll be the last until FOX decides to reboot the franchise in a few years. Heh.
Let's watch as judges Keith Urban, Jennifer Lopez and Harry Connick Jr. advance starry-eyed hopefuls to Hollywood for the very last time. I'm hoping host Ryan Seacrest, who has been around every single season to see it all, will have the very last word. As it should be.
Well, Ryan didn't have the last word. He actually wasn't in the episode much, oddly. Mostly, the hopefuls came from San Francisco, which was the very last audition city on the schedule. American Idol's last show wasn't as jam packed with talent as last night's returnee-stuffed hour. There were too many joke auditions, but I suspect the producers were going for a vintage vibe as a farewell. Not to say the talent was lacking. My favorites were Jessica Cabral, Colette Lush, and Manny Torres.
In the end we only regret the chances we didn't take – Lewis Carroll quote that flashes across the screen… These filmed intros are SO FANCY.
The judges talk about how much they've loved taken part in American Idol Hopefuls muse on being a part of the LAST AUDITION CITY EVER.
We begin in…
San Francisco
Jessica Cabral – Brand New Me by Alicia Keys – Her musician parents are from Brazil. She was 5 months when they moved to the USA and spent her childhood touring with them. Currently they live in Worcester Ma!  The family's first years in a new home were tough, but it made her more determined than ever to follow her dreams. Oh. I like this girl's voice!  Jessica has a sweet husky, expressive alto–very unique and compelling. The judges loved the beauty and control of her vocals. Harry calls her "tremendous…you are a strong singer." – Click to Watch Jessica's Audition
Next, is a montage of American Idol falls, spills and FAILS.
Cody Ostrenga – He's a 3 time world champion horse rider. A sport that also involves shooting targets with a gun. He explains shooting balloons while riding at 45 miles an hour. He learned how to belly dance watching Jlo. He demonstrates. Well. OK. "I think you're thinking of Shakira, not me!" says Jlo, not convinced. He demonstrates shooting and belly dancing at the same time. The editors add some nifty visual effects.  I smell a joke. He sings and dances at the same time. Yep.  It's the bad singing/ridiculous dancing combo. Classic crappy American Idol joke audition. He should have brought in his horse. THAT would have been something. Keith said everything was good…except for the singing. I don't think I'd go that far – 3 nos. – Click to Watch Cody's Audition VIDEO
At the cattle call in San Francisco, we see a slew of couples. "Love is in the air" plays. How romantic? The cameraman gives Keith a little love.
Brian Dale Brown –  Unchained Melody by Righteous Brothers – He and his girlfriend have been together for years. She's 15 years older "She's definitely a cougar," he says. Alrighty, then. He has auditioned TEN TIMES and never passed the initial audition until now. There is no way this dude is good. They ask him his favorite movie, for some reason. When he calls Danny Elfman a musical genius, and then apologizes, Harry acts ALL OFFENDED.  OMG. He's going to sing Unchained Melody. Trainwreck coming! He also does terrible impressions. He demonstrates his Keith Urban impression…WHAT THE HELL WAS THAT?  And Scooby Doo–which pretty much anyone can do. Harry combines Scooby and Keith, and it's pretty bizarre.  Brian growls through the entire performance. It's very LOUD. He looks pained, like he's trying to pass an especially large poop.  Keith calls the performance  "powerful." That's one way to put it. Harry says he has a good voice. WHAT? NO HE CAN'T SING. WTF? They gave that dude a ticket? WHAT THE HELL? 3 yesses – Click to Watch Brian's Audition VIDEO
Gina Naomi Baez and Tinkerbell – "Lips are Moving" – Tinkerbell chooses her clothes. Well, that's special. And she's another semi-tone deaf screamer. I mean. LOUD. What is this. Harry didn't think her voice was "deeply interesting." Jlo thought the performance was fun and theatrical, but not perfect "Not right for American Idol." Uh, but you allowed that talent-challenged Brian dude through. Keith says he doesn't see a real artist. Gina begins BEGGING. Oh girlfriend, don't embarrass yourself. That was not good. 3 noes – Click to Watch Gina's Audition VIDEO
Next, a montage of the judges saying no, and rejected hopefuls crying. THERE'S NO NEXT YEAR. Yes, we know! Ugh. Harry hugs a hopeful, and tells another no is the best thing he could tell her right now.
We've headed to Philadelphia
Melanie Huber – Talking to the Moon by Bruno Mars – This 17 year old just finished cancer treatments and is free of the disease. Her hair is just beginning to grow back in after the chemo. She seems so mature, but then, she's faced death at an age most of us were carefree. Melanie plays guitar. Her vocal talents are solid, but I'm not blown away. The judges, however, are impressed. Jlo and Keith feel she has an easy presence, and an effortless ability to emote. Harry finds her appealing and captivating. They all agree she's a good story teller – 3 yeses – Click to Watch Melany Huber's Audition VIDEO
Rachel Karryn, Caroline Byrne, Bianca Espinal – All three came in with relatives to accompany them. Rachel had her granddad on guitar (she's good!) Caroline brought in her brother, who writes songs with her. And Bianca sang with her dad on guitar. She was so nervous, she had to start again, but she eventually made it through the song with a little help from dad. Bianca reminds me a little of Jordin Sparks. 3 yesses – Click to Watch the Trio of Auditions VIDEO
A montage of hopefuls extolling their love for the original Idol, Kelly Clarkson. EVERYBODY LOVES KELLY.
Justin Sullivan – "Stronger" by Kelly Clarkson – Dude is obsessed with Kelly Clarkson and wants to marry her. Oh, we posted this preview weeks ago. He's got "Mr. Clarkson" printed on t shirts. Someone needs to alert her security. Harry and Keith slide her panel to the seal so he can sing to her. Harry wants to know if the Filipino dude with him is his dad. You're hilarious, Harry! Hm. OK NOT a joke contestant, but pitchy and boring. He'd have nothing without the Kelly backstory. Harry thought it had moments. Harry goes on the blah blah blah last season we need the best. Jlo agrees. Keith says no too. I love how they trot out the "the bar is so high for the final season" when it's a convenient excuse. – 3 nos – Click to Watch Justin Sullivan "Mr. Kelly Clarkson" Audition VIDEO
Ha ha ha. Remember that dude who did handstands while singing "Since U Been Gone." This montage of singers botching Kelly songs brings back some memories!
Chyna Sherrod – One Last Time by Ariana Grande – Chyna accompanies herself on guitar. Pretty voice. Her phrasing is lovely. Keith loves her whole vibe. Jlo and Keith think she's terrific.  There were moments of beauty in that performance, but I kept waiting for the song to take me someplace. Keith loved her "laid back" quality, but I it was a little too chill for me. Harry thinks she could launch a career with that style. I'm not so sure. At the very least, she'll have trouble grabbing viewers' attention on a singing show if she can't create moments. – 3 yeses – Click to Watch Chynna's Audition VIDEO –
We're back in Atlanta…to celebrate Harry's birthday. The crew has a little suprise party planned for him. They sing Happy Birthday. Harry is a little obsessed with finger monkeys so the crew got him one.
Lillian Glanton – Country Boyfriend (Original) – She grew up on a poultry farm. Aw look at the cute little chicks. Her family has 100 head of cattle. She sold some to buy recording time. Her vocal is nasally and the accent is a bit much. The songwriting skills aren't bad though. A little cliched, but she's got a sense of humor. Harry is not feeling her voice. The entire crew "awws" disappointedly at that. Jlo really liked her, especially the song, but felt it was a little worrisome that she sang her own song, off key. Keith likes the whole package. He says yes. The vocal wasn't good enough for Harry. He says No. It's up to Jlo, and of course, no way will she be responsible for crushing someone's dreams. She says Yes. They all take a selfie to celebrate. Keith and Jlo say yes. Harry says No. Team Harry on this one. – Click to Watch Lillian's Audition VIDEO
Next, a montage of the judges disagreeing. Which they hardly seem to do.
Casey Haynes – "Brother" by Needtobreathe – He claims to be one of those people who have music in their souls. He was a teen drug addict. He did things and became something he could never imagine. He finally came out of the dark. He's been sober almost a year. OK. A year of sobrity under his belt. I'm not going to lecture that it's too soon to audition. Considering the song choice, he probably found God.  Jlo feels like he sang from experience. But for Keith "it didn't come to get me." Keith says NO.  I'm with Keith on this one. Casey is a decent enough guitar playing crooner, but that performance didn't grab me. Jlo says YES….and we have to wait until after the break for Harry's answer, which turns out to be yes. He liked it a lot, as a matter of fact. –  Keith says no Jlo and Harry say yes – Click to Watch Casey's Audition VIDEO
Now, a montage of really bad guitar playing. "You should not play the guitar," says Harry to one hopeful.
Back to Philadelphia
Zach Person – Next Door Neighbor Blues by Gary Clark – Zach calls his style "blues rock alternative" all mixed together. The singer has been playing guitar since he was nine. He writs songs too. He's 17 and his voice sounds young. Too young to sing the blues convincingly, although there is the seed of some talent there for sure. He scats around his guitar picking ably. Definitely some talent there! But so young. Keith likes that he has his own style. Jlo calls him "super unique." Harry likes his confidence. – 3 yeses – Click to Watch Zach's Audition VIDEO
More from the judges about how much fun they have. Keith thinks Harry is hilarious!
And we're back in San Francisco
Colette Lush – "Who's Loving You" by Jackson 5 – Kooky Colette declares herself a dedicated redhead. Harry declares himself a lover of red hair. Vocally, she's the real deal, with a strong, soulful delivery and the ability to pull back at the right time. The judges are really surprised by her big voice "You just gave hope to redheads around the world," says Harry. Jlo admires how effortless her performance was, comparing her ease to Carrie Underwood. Whoa. Invoking the C word. I wouldn't go that far, although the girl is good. Keith liked her timeless quality. 3 yeses. Her parents are waiting for her in the holding room with big red "Collette" signs. The judges think they may have found a star. – Click to Watch Colette's Audition VIDEO
Avalon Young – "XO" by Beyonce – She's a self-described tomboy. Defiantly, she wears a long striped T shirt–the kind one might work out in–and holey jeans to the biggest audition of her life. The tattoo on her arm is the lyrics to Roxy Music's "Avalon," the inspiration for her name. Her vocals are pitchy in spots. She's is a decent guitar player, obviously musical, but her voice and phrasing didn't grab me. She's laid back and cool and she chose an interesting song to flip, but I'm going to have to hear more to be convinced. Harry thinks she's something special, though. He thinks the competition will force her to get better. 3 yeses. – Click to Watch Avalon's Audition VIDEO
Lee DeWyze making a huge stank face at some bad singers "Watch out for me on The Voice" jokes one reject HEE HEE HEE.
Usen Isong – "Not the Only One" by Sam Smith – He's a background actor on television series. An extra. He loves background acting. That's got to be an ironic joke. Usen demonstrates some Jlo moves. Hm. Is he or is he not a joke contestant?  OK. Not a joke. He's a little hammy, but he's got a very soulful voice. If he could drop the theatrics and allow himself to really feel a lyric, he could do some serious damage – 3 yeses. – Click to Watch Usen's Audition VIDEO
Jackie Butler – "It'll Rain" by Bruno Mars – Green haired gal is the lead singer of a punk rock group. She describes herself as a struggling musician. The whole band lives with her parents. Bless their souls! Her bandmates encouraged her to audition. Hm. She has a big voice, but she doesn't sing with much nuance. I'm not convinced she'll survive without a big, loud band backing her up. But the judges have confidence she'll manage. Jlo likes that she sings in "her voice."  Keith really loved it. 3 yeses Click to Watch Jackie's Audition VIDEO
Uh oh. The judges have run out of golden tickets! Call the production assistant! Commence the montage of yeses. Harry gushes that the talent if phenomenal this season.
Stephany Negrete – "Who's Loving You" by Jackson 6 – Her family is from Mexico. Harry loves Mexican food. Something tells me her mom doesn't make tacos. Stephany reminds me a little of Cher. She has that same throaty alto. Her voice is rich. And she's got the whole package going, with the sparkly outfit, makeup and long straight hair. I wish she'd sped up the tempo a little on this performance, though. Jlo thought she over thought it. (So do I). Keith likes her as a sum. Harry thinks there's a lot to like. 3 yesses. – Click to Watch Stephany's Audition VIDEO
IT'S THE LAST AUDITION BOO HOO HOO and the very last is…
Manny Torres – This Love by Maroon 5 – As a fellow Puerto Rican, he's excited to be singing in front of Jlo. He's practicing some dance moves for her. There's more guitar action than hips in this performance, but Jlo is definitely giving him the once over. He's entertaining. A very rhythmic performance–energetic while also being effortless and unselfconsciously sexy. Keith loved the way he stayed in the zone. Harry felt him immediately. And the LAST TICKET GOES TO MANNY 3 yeses Click to Watch Manny's Audition VIDEO
And that's all she wrote, kiddos! The end Finite. Until next time. The episode ends with a little cross promotion, as the cattle call crowds sing 'You're the one that I want" from Grease as a little audition montage flashes by.
The lights shut off. "Well, y'all, this is it," says Harry.
"It's crazy," said Keith. "But what a way to end. I'm gonna miss this show. I'm gonna miss being on it. I'm going to miss it being on… it's just been part of the landscape, really, for 15 years."
"I think what I'll miss is the feeling of a Scotty McCreery or a Phillip Phillips walking in the room, and we go, 'I think we just discovered someone really special,'" Jlo says, as clips of winning moments flash on the screen.
"I remember being at the very first finale, when Kelly Clarkson won," says Harry. "Now that I've been a judge for three years, it has left an undeniably wonderful mark on my heart."
Same Harry. Same.
Next week…HOLLYWOOD!