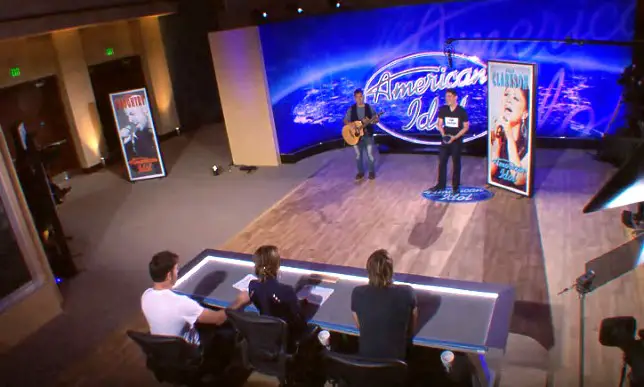 This new clip from the American Idol 15 judges auditions features Kelly Clarkson superfan, Justin Sullivan auditioning in front of Idol judges, Keith Urban, Jennifer Lopez and Harry Connick Jr.
"I am obsessed with miss Kelly Clarkson right there," he says, pointing to a massive display featuring her photo. "I've been obsessed for a while that I even have her name on all my t-shirts." Justin brought one to show off! "Mr. Clarkson!" teases Jennifer.
When Justin reveals he was *thisclose* to meeting her this past February, Harry gets up out of his seat. "I'm going to do something for you." By Justin's reaction, it's obvious he thought she would step into the room.
But sorry. It's only Harry attempting (Oops. It's plugged in!) with help from Keith, to move the display so Kelly's photo is just over his shoulder as he sings. Justin seems pretty psyched! As far as what he sounds like, or whether he makes it to Hollywood, you'll have to wait until American Idol 15 premieres in January (OR SPOILERS. Heh).
Notable: Justin doesn't play the guitar, but there is a guitar player behind him ready to go. A friend? Or maybe a musician from the Idol team? Also. Those massive displays! I see Chris Daughtry, Jennifer Hudson and Adam Lambert, too.
Watch the clip here.
As a bonus, here's a clip taken at the recent judges round audition in Little Rock, Arkansas. Called, "Big Talent in Arkansas," the judges talk about the diversity of talent to be found in the south.