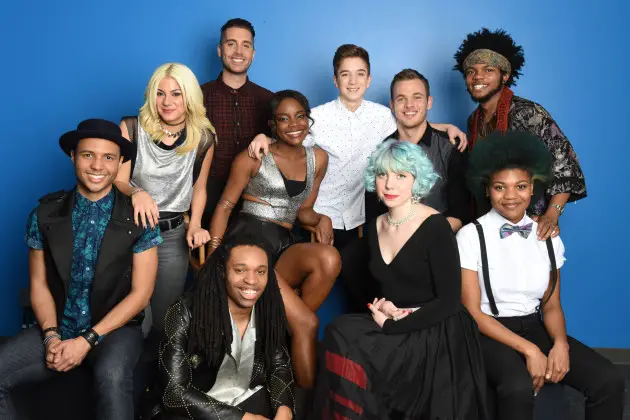 American Idol 14 Top 11 Movie Week Song Suggestions
The American Idol 14 Top 11 are readying Songs From The Movies, with a little help from producer/songwriter/guitarist, Nile Rodgers, who is assisting in-house mentor, Scott Borchetta this week! Don't forget–because of the 2 hour Empire season finale on Wednesday, the live American Idol performance and results show will air on Thursday March 19 on FOX at 8/7c pm!  Now, let's speculate on this week's songs!
Read More: American Idol 14 – Sarina-Joi Crowe Eliminated, Jennifer Lopez to Perform
Who doesn't love a good movie?
Hey guys, it's Adam again, here with song suggestions for the top 12! Why do I say the top 12 when we are the the top 11, you say? The answer is because I'm still in so much denial about what happened last week with Sarina-Joi Crowe that I have mentally convinced myself that the judges used their save and this week is top 12 redux.
*sigh*
Unfortunately, as much as I wish it was the case, that did not happen, and so the show must go on. This week's theme is Songs from the Movies, and I actually really like this theme, because in the past, we have seen some great performances come out of it. Picking out song suggestions for the contestants this week was a little more tricky than usual, but I hope you enjoy my suggestions!
Adanna Duru
I am kind of amazed that she has gotten this far, especially over Sarina. I had written Adanna off pretty early in the competition, but now that she has made it to the top 11, she is starting to grow and impress me. Runaway Baby was definitely a step up and if she keeps delivering I think she will stick around for a while. Adanna is one to watch this season.
1- Just A Girl, by No Doubt, from Clueless. Though it won't give her a moment, Adanna seems to lean towards those punch filled songs, so I can see her doing this and pulling it off. However, if she really wants a moment she should go with-
2- Skyfall, by Adele, from James Bond: Skyfall. Nothing screams a moment like an Adele song. If Adanna does this song she could have that moment she needs to stick around.
Clark Beckham
Clark is in a pretty good position in the competition. In the past, he has already shown that he can sing, so this week, I hope he does something different. For me, I just really want him to do something current.
1- Say, by John Mayer, from The Bucket List. I would love to hear his interpretation of this song!
2- Creep, by Radiohead, from S.F.W. I would love to hear Clark's version of this on the idol stage behind a piano. Please, Clark?
Daniel Seavey
I feel like if Simon was still on the show, after he heard Daniel perform Happy or Straight Up, his critiques would have gone something along the lines of "you're gonna smile, the audience is going to vote for you and we will see you next week" (although probably a lot harsher sounding). This is nothing against Daniel, he seems like a nice kid who is just having the time of his life with a great experience, but when the voters are picking him over the likes of Sarina-Joi Crowe, something is seriously wrong in the competition. Anyway, despite the total injustice of him still being in the competition, here is what I think he should sing.
0- Mrs. Robinson, by Simon and Garfunkel, from The Graduate. Just kidding.
1- I See Fire, by Ed Sheeran, from The Hobbit: The Desolation of Smaug. He sounded okay on this song back in Hollywood Week. Maybe he should bring it back.
2- This is Home, by Switchfoot, from The Chronicles of Narnia: Prince Caspian. This could be a fun performance if he does it right. I really think it would be a smart move if Daniel brought back the piano.
JAX
JAX has me worried, and I think she is starting to flounder. Her song choices and decisions with handling them are not earning her any good grace in the public's eyes. She needs to have a moment FAST if she wants to go beyond 8th or 7th place. Blank Space did JAX no favors, and while it is a great song when Taylor does it, JAX just couldn't measure up. What I think she needs to do quickly, is bring out the piano for another song (and stay there the whole time).
1- What A Feeling, by Irene Cara, from Flashdance. I remember a few years back on a show called the X Factor, a girl named Drew Ryniewicz took on this giant of a song and totally rearranged it. If JAX did a similar arraignment to Drew and added the piano it would totally be a moment! If she doesn't rearranged this song though, I'd suggest JAX steer clear.
2- Everybody Wants To Rule The World, by Tears For Fears, from The Hunger Games: Catching Fire (Lorde version). Lorde has a SUPER dramatic version of this song, and honestly, I think it is a perfect fit for JAX. JAX could really put on a show with this song and the feeling I'm getting is it would be epic. Bonus points for her if she does it at the piano.
UPDATE: When asked by a fan on Twitter for a clue to the song she was performing, JAX responded with a picture of Adam Sandler in a scene from The Wedding Singer. Make of this what you will.
Joey Cook
Joey's cover of Fancy was absolutely incredible! She needs to continue doing these rearrangements, because I am loving them. My advice to Joey is just keep doing what she is doing. I now have high expectations for her, but I feel like she can deliver.
1- Somewhere Over The Rainbow, by Judy Garland, from The Wizard Of Oz. I would love to hear her take on this song.
2- Elastic Heart, by Sia, from The Hunger Games: Catching Fire. At some point in the season, I just really want her to take on a Sia song. For this week, I'd rather hear her do Somewhere Over The Rainbow, but in the future I'd love to see her take on this song.
Maddie Walker
Maddie is the last representation of country music–an entire genre–in the competition. That said, Maddie should fully exploit that fact and really dig deep into country roots with great songs that everyone will know. Playing to the country crowd is the smartest move Maddie could do, because with that block all to herself, all the country fans will shoot her votes.
1- Bless The Broken Road, by Rascal Flatts, from Hannah Montana: The Movie. I would love to hear Maddie take on this amazing country song.
2- How Do I Live, by LeAnn Rimes, from Con Air. I love this country song, and I think Maddie could pull it off.
Nick Fradiani
Last week's show must have been quite the emotional roller coaster for Nick, especially when it came down to him and Sarina. As much as it broke my heart to see Sarina leave, I think Nick is the only guy left in the competition who can still give Clark a run for his money. While Clark is a huge favorite to win, the main thing Nick has over him is that he is much more current with his song choices. For Nick, what he needs to keep doing is picking current songs, but now start to take some creative risks here or there. A rearrangement could work wonders for Nick if done right with the right song.
1- Blackbird, by The Beatles, from Across The Universe. Granted, this isn't the most current song, but if Nick does decide to do an oldie once, I would love if he did this one with just himself and the guitar. This is one of my favorite Beatles song, and I think Nick could do it justice.
2- Little Wonders, by Rob Thomas, from Meet The Robinsons. I think this would fit Nick like a glove; his voice is even similar to Rob's! Nick is in need of a moment, and I think this song could be just what Nick needs right now.
Qaasim Middleton
Qaasim is all about the energy, but with his comments he has been getting from the judges, I think it really is time for him to try something that isn't all about the energy and dancing. I just really want to see how he will do on a slow song!
1- How Deep Is Your Love, by The Bee Gees, from Saturday Night Fever. Qaasim really needs to give a performance that shows restraint, and I'd love if he did it with this song. I just hope he can pull it off….
2- Stand By Me, by Ben E King, from Stand By Me. Another great song that Qaasim could show off his vocals. This song definitely isn't that high up in the difficulty category, so I think he should be able to pull it off.
Quentin Alexander
Quentin is one of the more creative contestants on Idol this season. When I think of Quentin, I instantly think about his artistry, so I picked songs out for him that I think would sound completely different from the original if he were to perform them. What works for Quentin, is most importantly his song choices, so I think I picked out some songs that he could really work with and make his own.
1- Please Don't Let Me Be Misunderstood, by The Animals, from Kill Bill. I feel like this is totally the kind of song Quentin would do. I would love to see his interpretation of this old song–maybe even piano driven version.
2- The Hanging Tree, by Jennifer Lawrence, from The Hunger Games: Mockingjay Part 1. Rather than hear a girl take on this song, I feel it would be much more intriguing to hear Quentin's take on it. Choosing this song would be a smart move for Quentin because it will show he can take any song and make it his own.
Rayvon Owen
Rayvon is one of my personal favorites, and I hope to see him do well come Thursday. Picking songs out for him is a little tricky, but I feel with the right one, he could have that breakout moment that he needs. For me, as much as I love Rayvon, I worry for him in the long run of the competition and hope he has a moment soon in the coming weeks to propel him into the top 5 and beyond.
1- Your Song, by Elton John, from Moulin Rouge. I would love to hear Rayvon's take on this song. I think he could really do it justice.
2- Love Me Like You Do, by Ellie Goulding, from Fifty Shades Of Grey. Come on, you know someone is going to be singing this song come Thursday. While Rayvon does not seem like the obvious choice for this song, I would love if he took a leap of faith and did something different with this. It would be so creative and different to hear a male's take of this song, and if any guy is going to do it, I would want it to be Rayvon.
Tyanna Jones
Tyanna is in a very good position in the Idol competition right now. Many people, myself included, are seeing her as a front runner, and with her back to back strong performances, who can blame us? What Tyanna needs to do at this point, now that she has shown that she has the pipes, is to show how she fits creatively in the music industry. A lot of her performances, while they have been stellar, have mostly been copies of the originals. I want to see how Tyanna can flip a song and make it her own. What I'm saying, is I want to see Tyanna show us what kind of artist she will be and what kind of music she will put out when the season is over.
1- Listen, by Beyonce, from Dreamgirls. I don't care it if is overdone, I still think Tyanna could slay the dragon that is this song. However, I bet in the end though she will end up going with I Am Changing.
2- We Are Gonna Be Friends, by The White Stripes, from Napoleon Dynamite. I personally would just love to hear Tyanna try this song out.
So those are my thoughts, what are yours? Are you still reeling about Sarina's shocker elimination, or do you think it was her time to go? Sound off in the comments! Thanks for reading again, and if you liked what you read, you can always follow me on Twitter at @adamhsamuel.