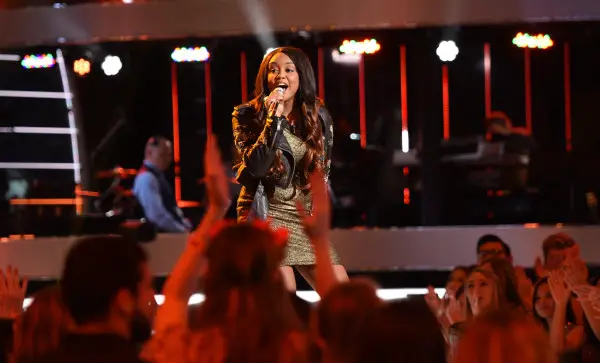 SARINA-JOI CROWE IS ELIMINATED ON  AMERICAN IDOL 14
Next Week, AMERICAN IDOL Judge Jennifer Lopez to Perform
Top Finalists Perform and One More Finalist is Eliminated
On a Special Night,Thursday, March 19, on FOX
For the First Time Ever, Voting Window Via Google and Online Extended for Five Days
Sadly, the uber-talented, Sarina-Joi Crowe, from Columbia, TN, received the fewest votes and was eliminated from Thursday night's American Idol. The 19-year-old sang "Love Runs Out" on Wednesday's "Original Audition"-themed performance show.
The remaining Top 11 finalists on American Idol 14 are: Quentin Alexander, Clark Beckham, Joey Cook, Adanna Duru, Nick Fradiani, Jax, Tyanna Jones, Qassim Middleton, Rayvon Owen, Daniel Seavey and Maddie Walker.
Next week, on a special night, Thursday, March 19 (8:00-10:00 PM ET live/PT tape-delayed), American Idol 14 judge, Jennifer Lopez will perform her new song "Feel the Light," from the new DreamWorks Animation/Twentieth Century Fox movie "Home," in which she voices the character "Lucy Tucci," and which will hit theaters on March 27.
Read More: American Idol 14 Top 11 Recap and Results – VIDEOS
Also, the Top 10 finalists will perform songs from their favorite movie on the "Movie Night"-themed show and another finalist will be sent home. Didn't I tell you there would be a Twentieth Century Fox movie tie-in somewhere? Synergy is basically why this theme exists and continues to be brought back. So yay. Jlo performance?
Don't forget! Due to the BIG Empire 2 hour season finale, Idol is preempted next Wednesday. Idol's last Thursday night broadcast will be the 2 hour Top 10 performance/elimination show on March 19, at 8/7c PM.
Also, you have until NEXT TUESDAY to cast your online votes! Click for voting rules.
Idol then switches to 2 hour shows on Wednesday nights (8/7c pm) on FOX for the rest of the season, until the two night finale, airing on Tuesday May 12 and Wednesday May 13.
Read More: American Idol 14 Season Schedule