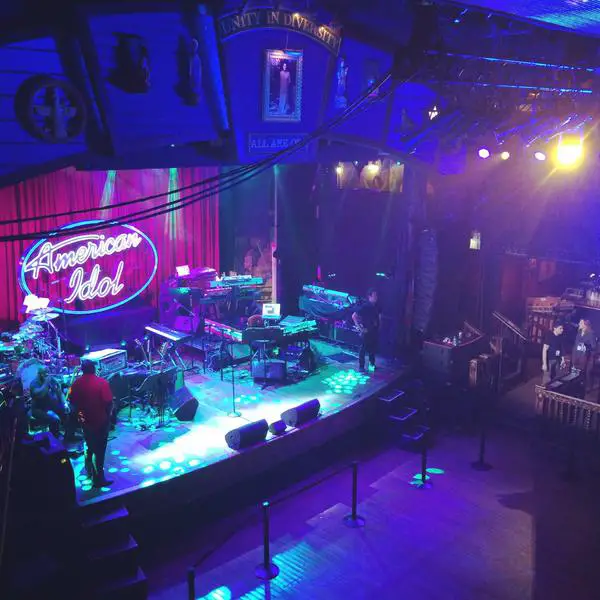 American Idol 14 Spoilers: Turn it Up at the House of Blues
We told you about "The Showcase" at the House of Blues back in November. It's the new American Idol 14 round where the Top 48 would SING for a spot in the Top 24.
American Idol 14 Top 48 Spoilers
Now, the tidbit is no longer a spoiler! American Idol let the cat out of the bag yesterday when it tweeted a photo from House of Blues where the round is still underway.  The audience was filled with press, and also included a VERY SPECIAL guest–Rupert Murdoch, chairman and CEO of News Corp. THE BIG CHEESE was in the house!
When news broke that Big Machine Records CEO, Scott Borchetta was taking Randy Jackson's place as mentor, I saw it as a sign that TPTB still cared about Idol. Murdoch taking time out of his busy schedule to sit in the audience yesterday is yet another sign that FOX and superiors have not abandoned the show that literally put the network on the map.
Backstage at @AmericanIdol at The House of Blues in West Hollywood #TurnUpForIdol pic.twitter.com/6Ynr3MJWSK — Rupert Murdoch (@rupertmurdoch) December 9, 2014
American Idol also encouraged contestants, both past and present, staff members and more to tweet the new "Turn Up For Idol" TV promo.  Former  Idols who got in on the fun included Kris Allen, Danny Gokey, Candice Glover, Fantasia Barrino, Taylor Hicks, and more.
We can't wait…http://t.co/fuP17Uxzz6! #TurnUpForIDOL Season XIV! pic.twitter.com/WbOevz9eNS — American Idol (@AmericanIdol) December 9, 2014
American Idol 14 – Turn it Up Promo
http://youtu.be/GNJzTx6Bcyo
The Top 48 have been tweeting away on location. And if you're on snapchat, you might want to follow Top 48 contestant, Lovey James. She has been posting a SLEW of cool backstage snaps. Check out the photo gallery below!
Keep following us for more American Idol news as it breaks!
The American Idol 14 Showcase at the House Of Blues