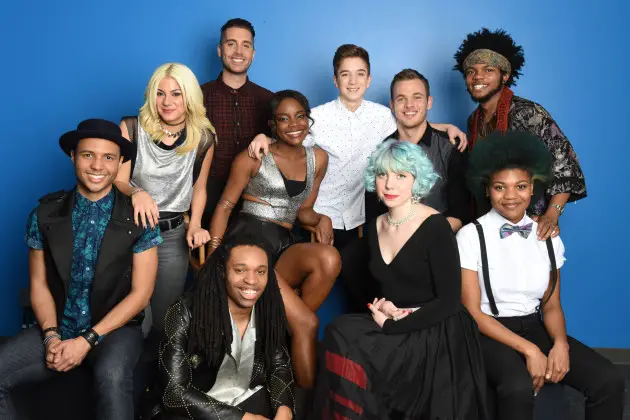 TV Line has posted tonight's American Idol 14 Top 11 Song Spoilers "Songs From The Movies. One contestant will be eliminated and sing for the save during tonight's 2 hour LIVE telecast. The remaining 10 singers perform for your votes.
Adanna Duru – "Love You I Do" by Jennifer Hudson (Dreamgirls)
Clark Beckham – "Sunday Morning" by Maroon 5 (Cheaper by the Dozen 2)
Daniel Seavey – "Lost Stars" by Adam Levine (Begin Again)
Jax – "Grow Old With You" by Adam Sandler (The Wedding Singer)
Joey Cook – "Mad World" by Tears for Fears – Michael Andrews and Gary Jules cover (Donnie Darko)
Maddie Walker – "Let's Hear It for the Boy" by Deniece Williams (Footloose)
Nick Fradiani – "Danger Zone" by Kenny Loggins (Top Gun)
Qaasim Middleton – "Come Together" by The Beatles (Across the Universe)
Quentin Alexander – "You're the One That I Want" by John Travolta and Olivia Newton-John (Grease)
Rayvon Owen – "Stayin' Alive" by The Bee Gees (Saturday Night Fever)
Tyanna Jones – "Circle of Life" by Elton John (The Lion King)
Also tonight: Jennifer Lopez will perform "Feel The Light" from the Idol judges new animated movie, Home.  Producer/songwriter/musician, Nile Rodgers mentored the contestants this week.
I hate nearly every one of these song choices. Maddie, Maddie, YOU NEED TO STICK TO COUNTRY. Adanna, Clark and Nicks's choices? BORING. I don't want to hear these songs again. Looking forward to Daniel murdering a beautiful song. NOT.
Tyanna will probably nail "Circle of Life." But again. Not a song I want to hear again. Oy. Rayvon. If you have to sing "Stayin' Alive" as your Save song…
I can't even imagine what Quentin plans to do with that horrible song from Grease. Hopefully, he turns it on it's head in some way. I'm intrigued. Joey picked a great song, but she's walking a thin line as Adam Lambert's rendition is considered the definitive version.
Read more:
American Idol 14 Top 11 Poll Results and Predictions
American Idol 14 Chat With M&M- Top 11 Power List
American Idol 14 – Sarina-Joi Crowe Eliminated, Jennifer Lopez to Perform