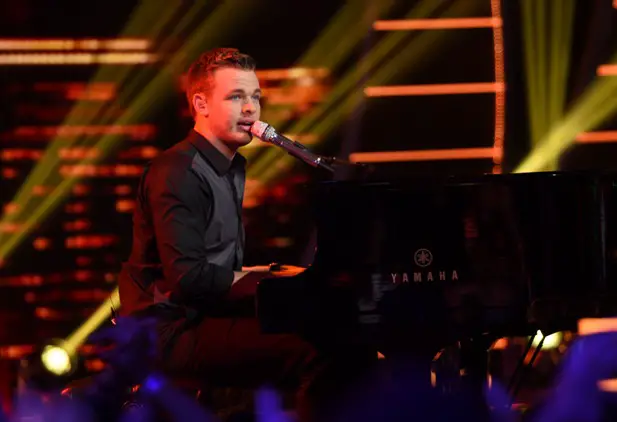 Don't forget! No American Idol tonight, because of the 2 hour Empire season finale. This week's live performance/results show will air on Thursday at 8/7c pm. Then, it's back to a once a week Wednesday night schedule, until the finale. Click for the full schedule.
In the meantime, Mac & MJ present their Top 11 Power lists for your consideration. Leave your thoughts in comments!
MAC: 1) Clark Beckham – I know I said last week that I was close to dethroning Clark, but honestly? A lot has happened since then. Sarina was sent home, Quentin made it through off a wildcard, Jax performed a Taylor Swift piece, Qaasim was awful… etc. At this point, he's still the frontrunner. He's the frontrunner with incredibly safe song choices too. He has yet to rework a song and make it his own. He picks songs already well suited for him, and just nails them. Takin It To The Streets was just another example of that. I don't know how long he can remain at the top, but he's still there for now.
MJ: 1) Clark Beckham – Despite having the safest, boringest song choice ever, Clark Beckham is still the frontrunner. Because, Sarina, Jax, and Quentin had a problematic week, but also, because this dude has people, and so far he's doing enough to stay on top.  Clark's vocal for "Taking it to the Streets" was typically well delivered, but I can't help remembering, Taylor Hicks performing this song, so full of joy, he was literally a whirling dervish on stage. THAT'S how you win a competition.
MAC: 2) Tyanna Jones – Moving up in the world, I think Tyanna had two great performances last week. I think she's been a strong and consistent performer, and with the elimination of Sarina, she's only going to get stronger and likely absorb a few more fans. Jax stumbled a bit last week, and that has allowed Tyanna to make up some ground. Overall, Jax's artistry and uniqueness will allow her to go the distance, but Tyanna is winning the short game right now.
MJ: 2) Tyanna Jones – Tyanna delivered TWO terrific performances this week. Her energy and charisma are off the charts. She keeps getting better and better. I said earlier that she was the perfect candidate for the "Idol growth arc." And it's happening.  She has to stay calm and watch her intonation. But other than that, she's a true star.
MAC: 3) Jax – I knocked Jax down a bit because her Taylor Swift song could have been better, but her I Wanna Hold Your Hand was one of the best songs on Top 12 night. She had one great night and one weak night last week. The problem is, America is voting off of the weak night right now, and they just sent home powerhouse Sarina for slipping up once. I don't think Jax will go home, but… she needs to remember to be consistent every time.
MJ: 3) Joey Cook –  I knocked JAX way down. To say that her Taylor Swift cover could have been better is an understatement. But I'll get to that in a bit. Speaking of artistry and uniqueness–Joey has it in spades AND she knows who she is as an artist. Her achilles heel is her insecurity. She has to be careful not to self-sabotage. Both her performances this week proved that she's a great singer, a great musician, with great instincts. She's learning integrate her quirks, rather than just wear them on her sleeve. She's not going to win, but I think she's got a shot a Top 5.
MAC: I just worry that Joey might be too niche to go the distance. Is Idol ready for an indie-winner?
MAC: 4) Quentin Alexander – Wildcard be damned. I think this kid has still got crazy amounts of potential. His uniqueness and star quality should keep him alive and well in the competition for weeks to come. My one concern is that he's not a strong enough singer to go the distance, but he always seems to pick smart song choices that don't destroy his vocals.
MJ: 4) Nick Fradiani –  Good Ole Nick. Just plodding along. Consistently reliable. A pleasing singer. But importantly, one with a fanbase and a musical sensibility that appeals to the Idol core. It's tempting to underestimate his potential, because he's not at all flashy, but he's the kind of contestant that could sneak up on everybody.
MAC: I sometimes feel like I might be underestimating Nick, because he is a WGWG, but then I remember all the times where we've had two WGWG's, and how one ends up falling a little sooner than the one destined to win the whole shebang.
MAC: 5) Joey Cook – Joey is moving up in the world. I think her "Fancy" cover was probably the best of the night last week. It showed originality and a daring sense to do something different. She proved that Jax isn't the only one looking to make waves this season by switching up songs. She even admitted that she got the arrangement from Postmodern Jukebox, instead of taking all the credit for herself. I wonder if she's too niche to actually crack the Top 5, but if some of the stronger competitors don't step up their game, she just might do it.
MJ: 5) Jax – This young singer is full of talent and originality, but it's becoming increasingly clear that her musical instincts still need to develop. It's great that she takes risks, but there have been too many that haven't paid off. And what made her think that "Blank Space" would be suitable for her voice and the competition? She's kind of like a wild hair at the moment. I hope she gets it together, because there is so much potential there. And she should have stayed at the piano when she reprised "I Wanna Hold Your Hand."
MAC: 6) Nick Fradiani – I think Nick's consistency is what is pulling him up my list each week. I don't think he takes big risks, but he just turns in solid performances, and "does Nick". He's a little like Clark, except people aren't just gushing all over him. Clark is coasting while performing at a 9 or 10, and Nick is coasting at an 8. Nick, like Clark, needs to rearrange a song and make it his own to really put a stamp on the competition. I think he's got it in him.
MJ: 6) Quentin Alexander – I LOVE Quentin, but I think he's destined for mid-pack. He's just a little too weird for America, I think. He's also not the best singer. But here's a guy who actually understands his gifts and picks his songs accordingly. I loved both of his performances this week. That's why I found it particularly vexing that he had to be wildcarded into the Top 12. Oh. America. You make me sad sometimes.
MAC: It's funny how you're worried that Quentin is too weird for America, but not Joey. Both are really specific artists, and it's great to see them simply in the top 12 to begin with. I have no idea how long America would embrace them for. Quentin barely made the Top 12 as it is. I'm waiting for the shoe to drop, but in the meantime I'm happy they're both here.
MJ: Joey is a much better singer than Quentin, for starters. I worried about her more before her "Fancy" performance went viral. America seems to be responding to her in a positive way. While she looks weird, that PMJ cover had old school written all over it. However, she could still slide back with an ill-conceived performance. We'll see.
MAC: 7) Rayvon Owen – I love Rayvon so much. I hate putting him down the list. I think he just needs better song choices. Burn wasn't great for him, and I think we heard a different vocal than the judges. His falsetto wasn't on point like it usually was, and the song revealed pitch issues that Rayvon usually never has. Sarina got sent home for one bad performance, and I'm a little afraid that Rayvon might also. Both singers performed first. I used to think Rayvon had finale potential, but if he can't pick better songs, he won't even have Top 5 potential.
MJ: 7) Adanna Duru – I'm a lot afraid for Rayvon this week. That's why I've got him dead last on the list. Adanna, on the other hand, saved herself with an exciting yet controlled "Runaway Baby" on Thursday. She needs to learn how to sing with abandon, but still stay in control. Her pitch challenged performance on Wednesday should have sent her home on Thursday instead of Sarina. And if the order had been swapped, that's exactly what would have happened. I may be a little bitter! She reminds me a of Malaya Watson from season 12, whose intonation was hit and miss. If Adanna continues to keep it together, she could stick around for awhile
MAC: 8) Adanna Duru – Adanna is moving up slowly for me. I'm realizing that she's coming from behind, so I don't want to just throw her up to the top of the charts, but I felt that her wildcard song (while incredibly pitchy) showed a lot of fight, and her Runaway Baby was probably her best performance in the competition. It's like some switch was flipped on when she realized she was about to be sent home, and now there's a really fun singer with a ton of potential actually fighting to stay here. She does have to watch her pitch though, but if she keeps doing what she was doing this past week, I'll probably keep moving her up my list.
MJ: 8) Qaasim Middleton – I have Qaasim a few notches higher than you do, because, even though Jet was an atrocious vocal performance, and more than a little odd,  I think there's still some good will for him out there, yet.  This may sound counterintuitive, but in order to stay in the competition, I think Qaasim needs to keep entertaining us with his charismatic dance moves. The week he stands still and goes for a ballad, is the week he goes home, I'm afraid. Because it's becoming increasingly clear that his vocal ability is limited. Of course, relying on dance moves will only take him so far, but I think he might have a couple more weeks before America finally says no.
MAC: There should have also been some good will left for Sarina Joi Crowe, but we all saw how that ended up. I think Rayvon and Qaasim are both in danger this week, I'm just banking on Qaasim (while secretly hoping for a Daniel exit).
MAC: 9) Maddie Walker – Ruptured appendixes be damned, I just don't see star potential in Maddie. I know that she was feeling some intense pain last week, and I'll try and give her the benefit of the doubt, but I didn't like her Jason Aldean at all. Suitcase was much better, but America isn't voting for that, they're voting on Aldean, which was mediocre. It didn't fit her voice, and someone needed to tell her no. Was there no country anthem sung by a girl that was more appropriate for this theme? I find that incredibly hard to believe. If Maddie can pull through her surgery and survive another week, she has to pick more songs like Suitcase, and give us a little glimpse into her "star potential"… better known as "that thing that helped Carrie Underwood win, and the reason Kristy Lee Cook couldn't."
MJ: 9)  Maddie Walker – Maddie has yet to break out of her shell. She's got a gorgeous tone, but no personality. She's helped by the fact that she's the only country singer left in the competition. If she survives (which I think she will) AND if she's not forced to drop out (If she leaves, it will be more likely due to health issues), she's got to pick strong, classic country songs and show us that not only are the lights on, but somebody is home as well.
MAC: 10) Qaasim Middleton – I thought Qassim was terrible last week. Just awful. It was enough to send him from the top to the bottom, because if Daniel Seavey isn't going home, I'm afraid that Qaasim is. His rendition of Jet, which left him tied down to an amp, and oddly tweaking throughout the performance, left a lot to be desired. Vocally he's revealing himself to be one of the weakest singers, if not THE weakest singer in the competition. Everyone keeps telling Qaasim to calm it down and deliver a powerhouse vocal, and it's because they no longer have faith that he can actually do it. Qaasim does have tons of potential, and is a great showman. If he survives this week, he really has to hit a reboot button and rethink his strategy. He's got to prove that the reason he's here is that he's a great singer above anything else.
MJ: 10) Daniel Seavey – Daniel is the worst singer in the competition, even worse than Qaasim, because at least Qaasim has style. Daniel's got an undeveloped voice in the midst of an adolescent voice change. He can't help it, but his voice cracks all over the place. Right now, he's relying on charm to get by, and it's working. He won't get any further than mid-pack at most, but I don't think his time has come yet, because he's another one of those singers with his own lane, more or less. We're going to lose another soul singer this week, because there are a preponderance of them in the competition.
MAC: 11) Daniel Seavey – I gotta put this kid in last. I don't think anything he sang last week was good, nor do I believe he deserves to remain in the competition. I think fans have started to really realize this, and the longer he stays in the competition, the more hate he's going to receive. If he knocks out another powerhouse vocalist, all I can say is, I hope the kid has thick skin and stays off social media. I honestly believe the only problem with Daniel was that they put him through too soon. He needed to wait a year or two at least, a fact that even Scott Borchetta has acknowledged. I hope we don't send him on tour.
MJ: 11) Rayvon Owen – And sadly, I have Rayvon, a singer I love, dead last.  I'm feeling Sarina vibes all over this one. I LOVED his audition reprisal, "Wide Awake" from Wednesday, but there seems to be a split jury on that one. "Burn" wasn't a great song choice for him and he sounded nervous and pitchy AND he performed first. I don't have a good feeling about this. I hope I'm wrong. Or do I? I don't think Daniel will be leaving us, therefore we'll likely lose another great singer. Maybe Quentin will be shockingly eliminated, or a little less shockingly, Qaasim.
MAC: I also wanted to add, I loved Scott Borchetta last week. He seems to actually be mentoring the kids a lot more than previous in-house mentors. He's admitting when the kids have faults, and not just acting like every kid is perfect and ready to go. His advice seems solid. There were a few song choices that shouldn't have happened last week, but I don't know how much input Scott had into their choices. He should take a more active role in it, if he doesn't already, because not everyone is that great at picking their songs.
MJ: I don't think Scott can, or would, force a kid to pick a different song.  Having said that, I like how invested he is in the process.  He seems to really know the kids strengths and weaknesses and is giving great advice accordingly. The much higher caliber of talent this year is probably partly due to his input. I just hope he's prepared to support whomever America chooses as winner, because they might not pick his favorite. Probably won't, actually.