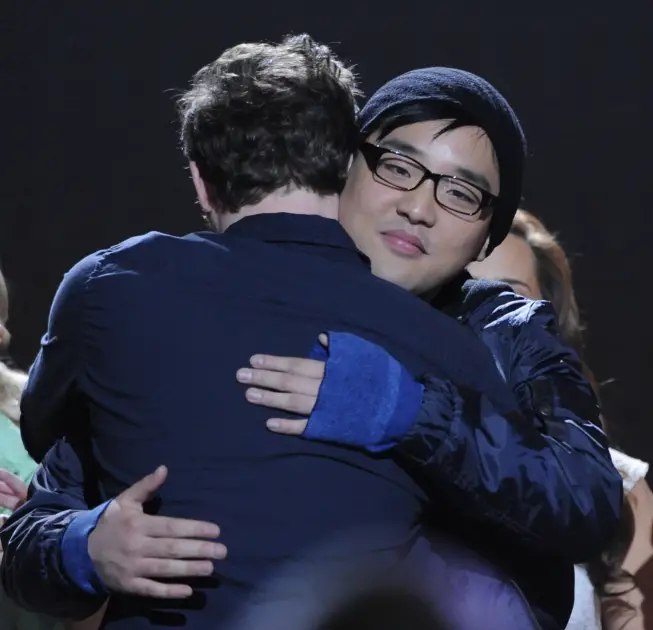 Heejun Han sings "Song For You" for his life.  The judges do not save him. Heejun Han is eliminated.
The American Idol 11 Top 9 results are tonight! Who will be eliminated? Will a finalist be saved? Tune in to find out! Plus, Scotty McCreery will appear to sing his next single, "Water Tower Town". And Nicki Minaj will perform her latest tune, "Starship".
Download Studio Performances From Tonight's American Idol
I have to admit it. I still have mixed feelings about Heejun. It was his time to leave.  Every other finalist was a better singer and deserved to stay. And yet…I'm a little bummed that we'll never see Heejun and P2 hijinks in the mansion. And I'm really going to miss his banter with Ryan and the judges–not to mention his frenemy, Jimmy Iovine.
Nigel should just let him stay in the mansion for the rest of the season. Hey, how about putting him to work as an Idol correspondent?  Sigh.  I am going to miss the sweet, loveable and hilarious Heejun. He's got a good heart. He can go back to New York and hang with his "kids" now.  And then, there's the tour. It's all good.
It's a good thing that he left before the backlash got too intense.  Two or three weeks from now? There would have been no love left for Heejun.
By the way, according to a tweet from Colton, Scotty McCreery gave the finalists bracelets. Aw.
Have you noticed that Ryan never brags about the number of votes that came in from the night before?
Oh…the lovely sound of Jennifer Lopez screeching "I didn't want to get up!" in tonight's sappy opening video package. That might give me nightmares for awhile.  Jlo looks like she went shopping at Hot Topics before she arrived at the show.
Steven Tyler takes the stage to pimp the Aerosmith "Global Warming" tour. Tickets on sale Saturday. He says it's because of "the fire." Not really expecting Steven to make sense any more than usual.
Ryan flashes a screen full of tweets from the Idols' idols, complimenting their performances.  Jonny Lang said, "Crowd and judges on their feet! I'm so happy for u Phillip! Thanks so much for your kind words & 4 choosing 1 of our tunes. :)" Aw how nice of Jonny not to hold it against Idol after they scorned his sister, Jessica Langseth in season 8!
Carrie Underwood, Lifehouse and Mariah Carrey tweeted too. Here's a screenshot.
"Pretty cool!" says Ryan, "Very very nice."  Deandre didn't get a twitter message…instead he found himself fact to face with Eric Benet  who came OUT ON TO STAGE to congratulate DeAndre in person. He totally FREAKS OUT.  "Beautiful job," says Eric, who takes a seat next to the stunned DeAndre.  "You have a beautiful unique voice." says Eric, "you did an incredible job."
The Ford video is next. Skyler tells the audience to look for a "special hidden badge" in the video.  It flashes up on the screen. It's a green Ford. I guess you win something if you find it.  It's the American Idols, a bunch of vintage TV and crazy 80's costumes as the kids sing, "I Wanna Rock."  OMG. I'm so lame. I couldn't find it. Go to amerianidol.com to play the Ford! Video! Challenge!
Next, a video package features the Idols moving into an impossibly big mansion in the Hollywood Hills.  The  Lana Del Rey song, "Video Games" is playing in the background. Does this girl really need any more pimping?  There's a hashtag for the #idolmansion. I know I'LL be tweeting about it all day.  the kids jump on coaches, fight over bedrooms, mess around in the media room.  DeAndre is confused by a bidet. The usual stuff.
Elise, Phillip, Hollie take center stage. You know the drill. Each contestant gets a video recap along with a critique and prediction from Jimmy Iovine.  And as always, I'm providing a full transcript of his remarks. Because he's so gosh darn entertaining. And usually picks up where the judges utter fail.
Jimmy on Elise: "Last night Elise did herself and American Idol a lot of good. She took charge of that stage. She led the band. Her hair, her clothes, her vocal ability–it all moved in unison. When that all comes together, it' one of the most transporting things that can happen in your life. She's exactly at the right age. Stevie Nicks didn't have her first hit record til she was 26 years old. Annie Lenox–26, 27 years old.  If she remains in the competition–which she most certainly deserved after last night–she'll have the opportunity with the 80s next week to have two great weeks in a row.  If she does that, I believe she goes right to the top of the class, and competition for the whole thing. She was a dark horse. But not anymore.  Now she's coming on strong."
Jimmy on Phillip Phillips: "I been around Stevie Nicks for a very long time. Whenever she likes someone as much as she likes Phillip Phillips–she's very rarely wrong.  She believes in this guy, she thinks he could go all the way. If his own material is 80% as good as the rest of him…we're all witnessing on American Idol a big, big star being born here. He was flawless."
Jimmy on Hollie: "Hollie has a beautiful sound and did a beautiful job last night. But what she lacks is experience. What she's doing is technically right and emotionally behind the pack. Inevitably, it's going to come down to comparing Hollie and Jessica. Jessica comes at it from a slightly more soulful perspective. And Hollie comes out of it as a straight, more intellectual approach. Jessica has the edge because of that. I don't believe you win this on technique. You win it on soul.  Hollie has all the pieces, but she's got to fill in that blank."
Yep. Jimmy's on the mark with all 3. Except I still think he's overpraising Phillip. I have yet to see anything terribly out of the ordinary there.  #telljimmy is a hashtag too.
Ryan wastes no time telling Hollie that she's in the bottom 3. She hugs Elise and P2 and heads over. The crowd boos. Hollie high-fives some of her fans.  Phillip is SAFE. And Elise is too! "You may follow Phillip," says Ryan swinging her hand like a little kid. YAY! Queen Elise is SAFE!
Nicki Minage performs her hit "Starships". Alrighty then. I didn't know that there was such a thing as Industrial Strength Wardrobe tape!  Can I say Worst Lip Syncing Ever? And a prop or two for showing up live? The little girls in the front row looked so excited. "Maybe I'll have boobies like that someday" is what they're probably thinking.  ONLY IF YOU PAY FOR THEM. Oh. She borrowed Hollie's snow.
Totally hilarious:  The giant STINK EYE Jennifer gave Nicki asked her if she would scoot over so she could be a guest judge. "I don't think there's room enough for both of us here." MEOW.

Nicki Minaj live on American Idol 2012 Results by HumanSlinky
Colton, Joshua and Heejun take center stage!  Here's what Jimmy had to say about each contestant:
Jimmy on Colton: "Last night Randy made it sound like we were at a boxing match. If we were, I guess that makes me Howard Letterman, the unofficial ringside scorer.  Colton was good, but not good enough. From your mentoring session, to your rehearsal, to the green room, to the stage–you have to complete all 4 of those and hit that stage with confidence and poise. This is not the end of your concert where you can lose it and cry and you audience is with you and they're going to go crazy. Compared to the other contestants, who had the emotion, but held their poise–I believe that he lost that fight. In this boxing competition, you don't have one opponent–you have 8.  And in the 10 point system–he didn't get knocked out last night, but he's behind on points."
Jimmy on Joshua: "This is a tough one for me tonight. He has so much talent. And he delivered 85% of the song–he could have won the night. And when he got emotional–he lost it. His voice closed. When you cry your voice closes. But on the other hand, when he was in the Michael Jackson medley–he was relaxed, calm-he killed that."
Jimmy on Heejun: "It's really great to see Heejun come back. I think Steven Tyler really helped him last week by giving him some tough love. I don't think it was enough. The math doesn't work. My problem is I don't think he sings as well as the other 8 contestants at this point in the show."
WHOA JIMMY THROWS MAJOR SHADE ON COLTON. Jimmy, have I ever told you, you were my hero? #telljimmy.  Thankyouthankyouthankyou.  He was right on about all three. He made an excellent point about the difference between a competition and a concert. Here, the kids have a couple of minutes to impress. No matter what, they have to be composed. I'm totally with Jimmy on that point.  "It should be harshtag and not hashtag on tell jimmy," snarks Ryan.
After the nationwide vote, Colton…an emotional night for you….American says...Colton is SAFE.  No trolling from Ryan tonight. Dang.  Heejun and Joshua are left.  One is in the bottom 3.   "Joshua," says Ryan, "It is you…that is safe."  I guess it's Josh's turn to be trolled.  Joshua IS SAFE. Heejun is in the bottom 3.  Joshua runs over to give his bestie, Hollie a hug before he scampers off to safety.  The audience "awwws".
The reigning AI champ, Scotty McCreery is next. He was the youngest performer, at 16, to have his debut album hit #1 on the BB200. Take THAT Bieber!  That album has also gone platinum. He performs his next single "Water Tower Town," which is pretty much a set of the corniest country cliches set to a melody. Eh.   But I'll give Scotty props for selling it. He's an amazingly confident performer for someone so young.
Afterward, Jimmy Iovine presents Scotty with his platinum record.  Jimmy says  earning a platinum record for a debut artist is really hard to do. He calls it a "herculean act" these days.  "We're really proud of you,"  says Jimmy, "Let's do it again next year!"

Scotty McCreery live on American Idol 2012 Results by HumanSlinky
The last 3 Idols, Skyler, DeAndre and Jessica take center stage.  Here's what Jimmy had to say about each one.
Jimmy on Skylar: "Skylar always gives me something that makes me want to vote for her in her performance. She always pulls it out somewhere. It's really exciting. I think with this song, she picked a character song, rather than a song that had real melody.  To get through this competition, she's going to have to–I believe–go to songs that have more song in them melodically, and not just substance lyrically. She needs both. I think that's going to put her in the middle of the pack this week. But when she performed with the other girls on the medley, she rose above the pack. She showed how professional, how much more experience she has. How much confidence she has. We need more of that."
Jimmy on DeAndre: "With DeAndre, I'm sitting right in the middle. I'm not going crazy for him. And I'm not disliking him. To win this, there is still something missing. In my opinion, DeAndre needs to work his way into this business and earn his dues. He needs more experience. His falsetto is beautiful, but it could also be polarizing from the American Idol audience. Either you buy into it–or you don't. If enough people buy into it, he'l be OK. If not, he's in trouble."
Jimmy on Jessica, "At 16 years old, Jessica has managed to harness enough experience like she's been here for 10 years singing like this. What she's doing with her vocals at each and every moment of building that song, is something that people who have been doing it 20 years have difficulty doing. She got lost in that song, yet kept her composure. I am fully on board with this. I don't know how this voting pans out. But I do know that young girls tend to vote for young guys–seen by the last 5 years of who's won and lost this thing.  But I think what we need right now is a little girl power."
Right on Jimmy.  GIRL POWER! #girlpower.  After the nationwide vote…Jessica, you may have slowed down Beyonce's song, but there's no slowing down your vote. Jessica IS SAFE.  DeAndre and Skylar are left.  The person at risk of leaving tonight is…SKYLAR! Oh noes. Skylar is in the bottom 3!  That's a little surprising.  DeAndre and his wonky falsetto are SAFE! People are booing. DeAndre looks slightly guilty.  He tries to comfort Skylar, but she walks away.
After the break.  Ryan sends back one of the contestants.   Hollie and Skylar are holding hands.   Ryan sends Skylar back to safety.  Thank Jeebus.  Skylar IS SAFE. Hugs, and it's over to the Couches of Safety.  It's down to Hollie and Heejun. And the person who is at risk for leaving tonight is…HEEJUN.   Hollie IS SAFE.  Heejun has the biggest smile as he hugs Hollie. He decides to sing "Song For You". It's very emotional. But still not good. It's time for Heejun to leave.  We'll see him on the tour.  Aw. Is that Phil getting a little teary eyed? He straightens up as soon as he's aware of the camera on him. Jl0 is all fake crying at the judges table.  The judges also pretend to make a decision. BITCH PLEASE.  They know it's the end of the line for Heejun.
When Ryan asks the judges if they will use their one save on Heejun, they continue to fake deliberate. But finally, Steven says, "Heejun, let the record show that you knew this was coming yourself.  You saw it come last week. You saw what was going on in the past and you took it up a couple notches.  PAUSE. Uh. Unfortunately, after talking, we're going to have to let you go, man."  Booing from the audience. But c'mon man, it's the right thing to do.  "We're going to miss you and your flavor on this show," says Ryan.
Heejun is all smiles as his  goodbye video runs over the credits, and we're OUT.

1 of 9 Voted Off (P4) ~ American Idol 2012 by HumanSlinky
Safe:
Phillip Phillips
Elise Testone
Colton Dixon
Joshua Ledet
Jessica Sanchez
DeAndre Brackensick
Skylar Laine
Hollie Cavanagh
Bottom 3:
Hollie Cavanagh
Heejun Han
Skylar Laine