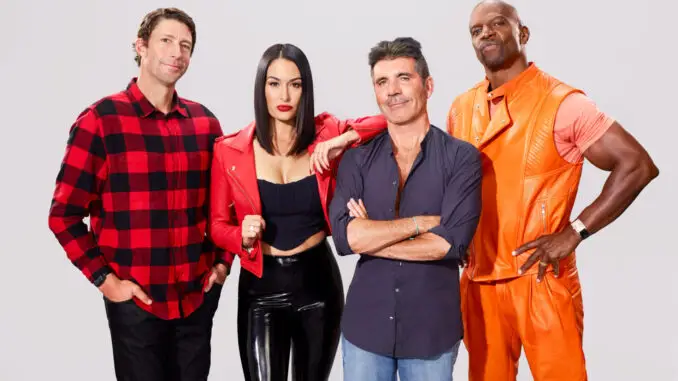 America's Got Talent: Extreme, the AGT spinoff that features extreme danger acts will finally premiere on Monday February 21. NBC only gave the series a 4 week run, but it's lucky to have made it to air at all after a terrible accident during rehearsals landed a contestant, Jonathan Goodwin, in the hospital. The daredevil spent months recovering from burns and broken bones. I wonder if his lawyers are timing the lawsuit with the show's premiere. I KID!
America's Got Talent: Extreme returned to production after horrific stunt gone wrong
After the accident, which happened last fall while the show filmed episodes at the Atlanta Motor Speedway, the show shut down production for months as NBC undertook an investigation. Whatever they found, they deemed OK to resume the show. In January, AGT resumed filming at the Irwindale Speedway in California. Days afterward, executive producer Simon Cowell had his second electric bike accident, breaking his arm. And then he got COVID!
Nikki Bella, Travis Pastrana sit in the panel with Simon Cowell
Simon sits on the judges panel, alongside Nikki Bella who is a reality star (Total Divas, Total Bellas) and WWE wrestler, along with her twin sister, Brie. Her partner is Dancing with the Stars pro-dancer, Artem Chigvintsev, whom she partnered with on the show. They had a son together in 2020. Travis Pastrana is also sitting on the panel. He has won championships in both two-wheel and four-wheel competitions with a career encompassing freestyle motocross, supercross, motocross, rally car racing, NASCAR and off-road. Terry Crews serves as host.
In any case, AGT:Extreme is filmed and ready to go. On Wednesday (Feb 16) NBC dropped a first look video clip. Check it out below.
"Crazy acts, stunts, explosions"
In the clip, Simon describes AGT: Extreme as "everything we couldn't do on the main show."  He namechecks "Crazy acts, stunts, explosions," as the dangerous acts play out on screen. "It's the show we've wanted to do for the last 10 years."
 Terry shows viewers around the stage at the Atlanta Motor Speedway. "We about to put on a show," he says. "I was on the edge of my seat, Bella describes her experience sitting on the judges panel.  "I thrive on adrenaline rush. And to see and show the world what these people can do. It's been so incredible." 
Travis Pastrana believes stunts will someday become Olympic events
Travis, who does extreme sports himself, was pleasantly surprised bhe caliber of the acts. "I've been wowed time and time again." He makes the bold prediction that the stuff shown on AGT:Extreme are sports and events "you may be seeing in 10, 20, 30 years time."
And of course, there are backstories. A contestant talks about his grandfather who passed watching him from above. 
And, there are golden buzzers! so watch for that. "If You really want to see what guts, courage, determination are all about, you've got to watch this show."
It will be interesting to see if AGT: Extreme addresses the accident at all, or if they gloss over it.