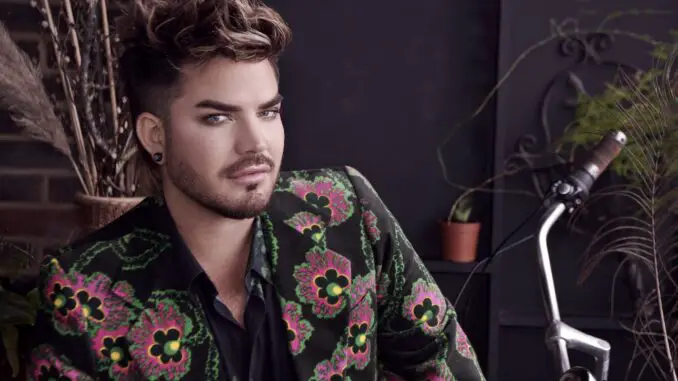 Adam Lambert drops 'Getting Older Video ahead of 'High Drama' Covers Release
Ahead of releasing his album of covers, High Drama, which is out today (Feb 24), Adam Lambert dropped the official video of his cover of the Billie Eilish tune "Getting Older."
In keeping with the theme, home movies of the American Idol alum and Queen front man as a young boy play as the singer delivers his rendition of the song, which he told NME in a recent interview has a "'70s pop" vibe with "some Queen guitar homages." Eventually, the visual cuts to Adam as a very old man gazing at himself in the mirror. But what's cool about it–he's not wistful or sad. The elder man appears happy and content, perhaps about a life well lived! The makeup job to age Adam is impressive and elaborate.
Watch Adam age before your eyes
Adam told NME that Billie was always on the shortlist of musicians he wanted to cover "because I respect her artistry and individuality." He was drawn to the "subtle" and "profound" song, rather than one of her biggest hits.
Adam Lambert on American Idol Loss: Homophobia 'Probably' to Blame
"I was listening to the lyrics and I was like: 'How did this 19-year-old land on this feeling that I feel at 40 and that I'm sure that some people feel at 30?" Adam continued. "It's a universal feeling, the idea of getting older; all the things she talks about in the song are timeless. You can be any age and feel that way."
The new album features covers of some well known and not so well known songs such as Bonnie Tyler's "Holding Out for a Hero," Duran Duran's "Ordinary World," Ann Peeble's "I Can't Stand the Rain," Kings of Leon's "Sex on Fire," Noel Coward's "Mad About the Boy." and more.
Listen to all 13 tracks below.
Recently, Adam has been an open book about his struggles with mental health. Five years ago Adam sought treatment for anxiety and depression, he shared with People magazine.
Adam was "burnt out and hit a wall"
"I had been going, going, going," he told People. "I was burnt out and hit a wall."
"Finding that balance between career and personal life is really important," Adam said about prioritizing his mental health with the help of therapy. "That's a big part of staying happy and healthy."
Medication, which is part of his mental health care, made him "put on the pounds." Some fans were actually rude about it, commenting on his videos, pointing out the weight gain.
"Most of the comments were very positive, but a fair number of people were like, 'Whoa, he got fat,'" he told People. "I thought to myself, 'I'm fully aware I'm not the same size I was five years ago. Thanks for reminding me.' I mean, I'm 41. I'm not 20 anymore! Also, you never know what someone's life looks like behind closed doors or what factors have led to changes in people's bodies — so keep [the criticism] to yourself."
Adam loves that he has fans inspired by his journey
Adam realizes that being honest and open about his life can help other people.
"The story I keep getting is: 'I grew up in the Midwest, and we would watch Idol together as a family. My mom loved you, and it made me feel comfortable to open up to her about who I was,'" he says. "It's something I never thought would come from the show, but it is so beautiful and means so much to me."