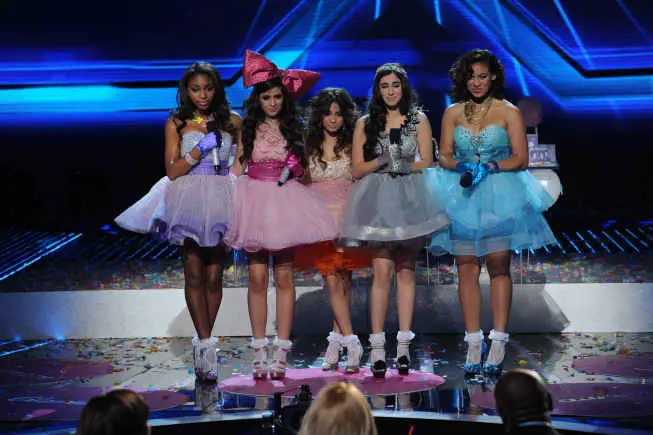 It's funny that the "Who Will Win Poll" results are inverse to the Favorite finalist result. Now, I'm thinking I should have also asked "Who do you WANT to win" in the poll. My feeling is that people settle on a favorite by the time the final rolls around. In other words, final performances don't affect the outcome much.
For instance, although Fifth Harmon had a great night last night. And even though several pundits are predicting they will win, I think they peaked too late to surge to the front.
However, while I was sure Tate would probably win the competition, I'm not entirely sure now. The combination of Carly's fans, Britney's fans and pity votes (after the LeAnn trainwreck) could put the young singer over the top. Decisions, decisions. Ok. Here's my prediction:
1. Tate Stevens – He's been in the lead for much of this season. I don't see that changing.
2. Carly Rose – She had a few strong weeks in the middle of the competition, but I think she fell behind and won't recover.
3. Fifth Harmony – Valient effort from the girls, but too late in the game. What do you think?
Favorite Finalist
1. Fifth Harmony 47.59
2. Carly Rose Sonenclar 34.07%
3. Tate Stevens 18.34%
Favorite Performance
1. Fifth Harmony – Anything Can Happen 23.22
2. Carly Rose Sonenclar – Hallelujah – 21.42%
3. Fifth Harmony – Let it Be – 15.38%
4. Fifth Harmony & Demi – Give Your Heart a Break – 13.18%
5. Carly Rose Sonenclar – Feeling Good – 10.02%
6. Tate Stevens – Anything Goes – 5.18%
7. Tate Stevens – Tomorrow – 5.11%
8. Tate Stevens – Pontoon – 3.8%
9. Carly Rose & LeAnn – How Do I Live Without You 1.04%
WHO WILL WIN
1. Tate Stevens – 34.43%
2. Carly Rose Sonenclar – 31.79
3. Fifth Harmony – 30.78