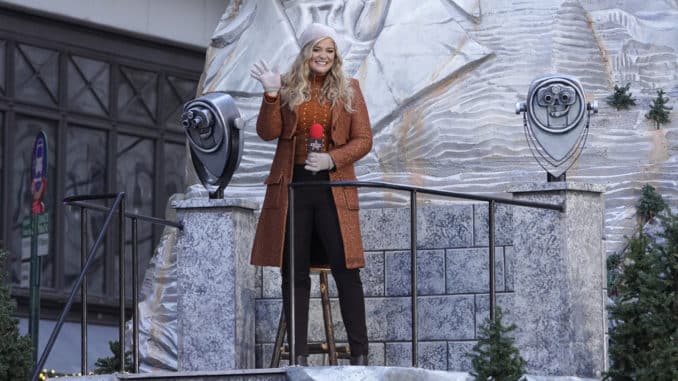 NBC aired a socially distanced version of the Macy's Thanksgiving Day Parade yesterday (Nov 26).
A made-for-TV event hosted by the Today crew Hoda Kotb, Savannah Guthrie and Al Roker, the event wasn't REALLY a parade. NBC cordoned off a few blocks around the Macy's store in New York City, rolled floats and balloons in front of cameras. No random spectators allowed due to Covid-19 protocols in place, which dictated mask wearing except for the hosts and the singers.
Interestingly, the 3 hour special didn't look all that different from previous seasons. Shots of the crowds were missing, however. Typically, the network cuts away to kiddos and their parents braving the elements to see Snoopy.
But all the important stuff to NBC and Macy's remained intact–promotion of the store's brand, and all that paid for product placement. What's Thanksgiving without watching cheesy floats advertising all your favorite corporations? And also bad lip syncing. REALLY BAD LIP SYNCING. Heh.
There were also Broadway performances in front of the store, which was nice. The Great White Way has been dark since March, unfortunately.
Check out a few performance clips from a few of our favorite singers, including Lauren Alaina, Ally Brooke, Pentatonix, Tori Kelly, Patti Labelle and Dolly Parton. 
Watch Macy's Thanksgiving Day Parade Highlights Below
American Idol 10 runner-up, Lauren Alaina performed her single "Run" in front of a replica of Mount Rushmore. No joke.
https://youtu.be/6YQZfNLIK1A
American Idol season 9 alum (and probable The Masked Singer contestant!) Tori Kelly sang an original song titled "25th" which is from an upcoming Lifetime Christmas movie titled Dear Christmas.
https://youtu.be/imZAzDysd_k
Former Fifth Harmony member and X Factor USA and Dancing with the Stars contestant, Ally Brooke sang "We Are a Family" alongside the Blues Clues puppy.
https://youtu.be/3CCqu8JUkVc
The Sing-Off winners Pentatonix sang about their Favorite Things from atop the Hallmark Channel float.
https://youtu.be/a4ZF4JAziVY
Legendary Diva and The Masked Singer alum, Patti LaBelle trended on Twitter after her performance of "It's The Most Wonderful Time of the Year."
https://youtu.be/mRmQ6jRNBNA
And set in Nashville, the beloved Dolly Parton performed "Holly Jolly Christmas," part of a Cracker Barrell promotion.
https://youtu.be/NIAChA6ZTvQ