The Top 16 was revealed last week at the conclusion of The Voice 19 Knockouts.  The winner of the 4-way knockout between Team Kelly's Ryan Gallagher, Team Gwen's Larriah Jackson, Team Legend's Julia Cooper and Team Blake's Taryn Papa, determined by viewer votes, will be revealed on Monday's LIVE Top 17 performance episode and become the 17th contestant.
The Voice 19 Top 17 Results Was Rescheduled for Thursday Dec 3, but is moved back to Tuesday Dec 1
Unfortunately, the coronavirus has affected The Voice season 19. But don't get nervous! So far coaches Blake Shelton, Kelly Clarkson, John Legend and Gwen Stefani are fine, as are the artists and crew members!
Kelly Clarkson Show Staffers Test Positive for COVID-19
However, because several NFL football players have tested positive for COVID-19, the NFL has moved the Thanksgiving Day game between the Baltimore Ravens and the Pittsburgh Steelers to Tuesday December 2. The Voice LIVE Top 17 results show, originally scheduled for that night, will now air on Thursday December 3 at 8 pm ET/PT.
UPDATE: The NFL has now moved the Steelers/Ravens game AGAIN to WEDNESDAY  The Voice Playoffs results ARE BACK ON FOR TUESDAY DECEMBER 1.
The Voice Holiday Celebration is Back on For Thursday 
Additionally, a The Voice holiday special originally scheduled for that Thursday time slot has been postponed.
UPDATE: According to a brand new NBC press release, The Voice Holiday Celebration is back on for Thursday at 8 pm- 9 pm ET/PT. 
The Voice Holiday Celebration is described in an NBC Press Release:
An array of "Voice" coaches past and present, some music superstars and many beloved artists from the "Voice" family perform holiday classics and popular modern favorites. Plus, Season 19 coaches, Blake, Kelly, John and Gwen share some of their favorite holiday traditions and memories.
Noteable: The Live shows are only 3 weeks. The Top 17 will be whittled down to a Top 9 and then down to a Top 4 finale. The NBC press release for the Top 17 results states:
…four artists, one from each team, will be revealed as safe by America's votes. Each Coach then selects an additional artist to move forward. The artist with the next highest overnight votes from each team will compete in the Wildcard Instant Save for the last spot in the Top 9.
The Live Top 9 results press release only reveals that "four artists will be revealed as safe and advance to the finale." But I imagine that the 4th spot will be determined by an instant save as usual. See a list of The Voice press releases at Futon Critic
Goodbye Apple Music, Hello YouTube Music
Apparently, The Voice is NOT working with Apple music this season, after entering a partnership with YouTube music. Look for any studio recordings on the YouTube platform. No information on when and if studio recordings will drop.
The Voice season 19 schedule
Monday November 30 – LIVE Top 17 Performances – 8-10 pm ET/PT
Tuesday December 1 – LIVE Top 17 Results – 8-9 pm ET/PT 
Thursday December 3 – The Voice Holiday Celebration – 8 pm ET/PT
Monday December 7 – LIVE Top 9 Performances – 8-10 pm ET/PT
Tuesday December 8 – LIVE Top 9 Results 8-10 pm ET/PT
Monday December 14 – LIVE Top 4 Perform – 8-10 pm ET/PT
Tuesday December 15 – LIVE Finale – Winner Crowned – 8 pm ET/PT
Wednesday December 16 – The Voice Holiday Celebration – 8 pm ET/PT
Tuesday December 22 – The Voice Holiday Celebration – 8 pm ET/PT
The Voice Season 19: VOTE in the Top 16 POLLS
Poll results
Favorite Top 16 Contestant: Carter Rubin – 17.73%; Cami Clune 12.53%; Payge Turner 10.64%; Desz 9.93%; Sid Kingsley 8.98%; John Holiday 7.33%; Ian Flanagan 6.15%; Tamara Jade 5.91%; Jim Ranger 5.2%; Worth the Wait 5.2%; Madeline Consoer 4.73%; Tanner Gomes 2.36%; Chloe Hogan 1.18%; Ben Allen 0.95%; Bailey Rae 0.71%; Joseph Soul 0.47%
4-Way Knockout Winner: Ryan Gallagher 49.23%; Julia Cooper 26.26%; Larriah Jackson 12.91%; Taryn Papa 11.6%
Best Team: Team Kelly Clarkson 34.91%; Team Gwen Stefani 28.99%; Team Blake Shelton 23.96%; Team John Legend 12.13%
Team Blake Shelton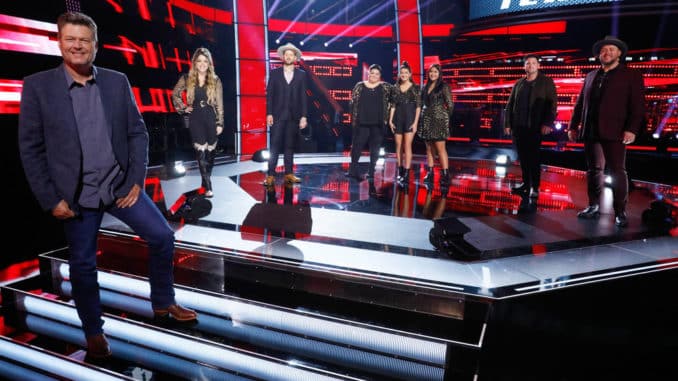 Team Gwen Stefani
Team John Legend
Team Kelly Clarkson