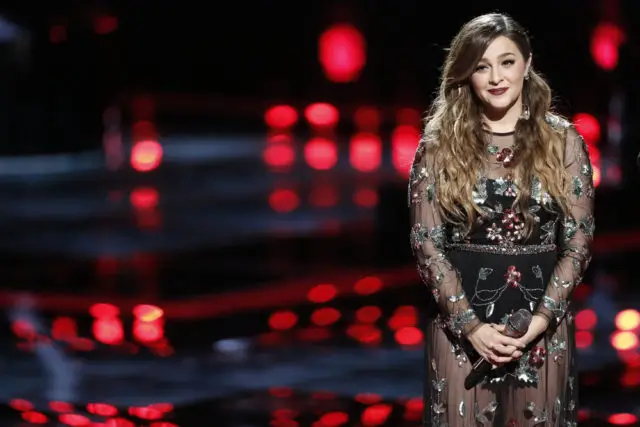 The Voice 10 Recap Final 4 Performances
Tonight The Voice FINAL FOUR contestants, Laith Al-Saadi from  Team Adam Levine, Adam Wakefield from  Team Blake Shelton, Alisan Porter from Team Christina Aguilera and Hannah Huston from Team Pharrell Williams will perform for YOUR VOTES and a chance to be crowned The Voice tomorrow night.*Vote for your favs at NBC.com, the official The Voice App and by downloading the contestant's song on iTunes. DUETS DO NOT COUNT AS VOTES. Any singer that enters the Top 10 will have their votes multiplied by 10.
Click for Tonight's Song Spoilers
Each of the Final 4 will sing a brand new cover, an original song, written or co-written by themselves, and a duet with their respective coaches. Twelve performances in all It's a jam packed night, so let's go! The video packages will feature interviews with Carson and rehearsal (covers) and the coach and team member chatting in the studio (original song).
Laith Al-Saadi – Team Adam –  White Room by Cream – Adam plays drums during rehearsal. Laith says he couldn't be happier to have Adam as his coach! The song is right in Laith's wheelhouse.  He rips through the tune with that gravelly tone. His vocal is like a declaration. He doesn't have the best voice, but he commands attention. His tasty guitar playing is simply divine. Adam is rocking out in his seat. And maybe I am too, a little bit. That was a really fun jam. Great way to kick off the show.  Blake says, "You made it to the finale dude, and you did it your way." Christina says it was exciting watching him "tear it up." Pharrell calls him an advertisement for air guitar. "I'm feeling so good," says Adam, "I have zero agenda. I couldn't possibly care less about anything…" But then he does plead with folks who enjoyed him to vote. Adam knows it's not his year. –  Download from iTunes
https://www.youtube.com/watch?v=ICUb4Y92BWg
Alisan Porter – Team Christina – Down That Road – Original Song written by Alisan Porter, ilsey Juber & Ely Rise – Christina came to the studio bearing a gift–huge beige platform pumps!  Alisan kicks off her set with her original song, which Christina loves and believes has the possibility to inspire people who are following their dreams. It's like graduation day. The song has a definite country tinge. Alisan really shines on folk/country tunes. I could see her following that path after The Voice. The song has the appropriately inspirational lyrics coupled with a very pretty melody. It's the perfect winners song.  She's got a slew of singers behind her holding lighted lamps. Leading the way down the road? Christina is all Billie Holiday tonight, wearing a gardenia in her hair. Adam says the show is called The Voice, and because of that, hers is the voice that deserves to win. Oooo. Adam got his marching orders to pimp Alisan. Wow. And he's still got a guy in it. Blake thinks it's cool to hear her connect to a song that she wrote. Christina calls her the epitome of The Voice.    Download from iTunes
https://www.youtube.com/watch?v=qhZa7ZPbzjE
We'll be seeing clips from ALL the original song music videos after the finalists perform them live.  Brought to you by CHASE credit card, of course! Ha.
Adam Wakefield and Blake Shelton – The Conversation by Hank Williams Jr. – Adam and Blake twang away on a Hank Williams Jr. song. It's a piece of fluff and a throw away tune. The songs don't count as votes. I'm not sure what the point of these coach/team member duets are anyway except to sell more iTunes and garner more attention for the coaches. It's just more stuff for the finalists to learn in a week that's already jam packed.  –  Download from iTunes
https://www.youtube.com/watch?v=Lx9CBx9JVa4
Hannah Huston – Team Pharrell – Every Breath You Take by Police – Carson reminds her that Pharrell didn't turn around quickly. Hannah has been a long shot every step of the way. She tears up talking about the support from her school kids back in Nebraska. Hannah describes how they plan to flip the song in a way that makes it dark and cool. Well, the song is already pretty dark if you listen to the lyric, which is basically about a relentless stalker. The melody is reconstructed, flipped to a minor key. She delivers it like a torch song–a woman obsessed, still hopelessly in love. You think you're leaving me? Oh honey NO. I'm never going away! Cue the boiling bunnies! I might be a little scared. It's a huge risk to change a familiar song that much. I'm not sure how I feel about it. I will say, covers of this song on competition reality shows usually disappoint. Only Sting can pull it off, really. But I'll give her credit for stepping out of the box. Adam is super protective of the song–he was almost mad–but in the end, he loved it. The band leader Paul arranged it. Blake calls the performance risky, but believes it will come with a reward. Pharrell thanks the band and has the house give them a standing O. "You came out with grace and humility, and lit the stage up…vote for this girl from Nebraska," says Pharrell.  –  Download from iTunes
https://www.youtube.com/watch?v=VLZTdrzIVDU
Laith Al-Saadi and Adam Levine – Golden Slumbers/Carry That Weight by the Beatles – Adam sits behind the drums while he sings the opening verse of "Golden Slumbers." Laith belts out the chorus. Take back the stuff I said about the duets being throw away. This is pretty good. The few minutes they have isn't long enough to do both songs justice. I mean, this is nearly the entire side of the last great Beatles' album, Abbey Road. It really can't be done in 3 minutes. But for what it is, there is energy and musicianship at work here. Adam switches to guitar during "Carry That Weight" and they trade guitar licks. FUN.  – Download from iTunes
https://www.youtube.com/watch?v=R35u7GJ4rvQ
Alisan Porter and Christina Aguilera – You've Got a Friend by Carole King – And…we're back to throw away performances. Pleasant, but. Yawn. I'm a little surprised their duet isn't a bit of a diva off because they can. But I think the strategy is to stick mostly to stripped back songs that have garnered Alisan the most positive feedback. They do become a little lively toward the end as they trade little vocal licks. "I love you girl!" Christina calls out as the song fades. –  Download from iTunes
https://www.youtube.com/watch?v=2_B4THITnm4
Adam Wakefield – Team Blake – Lonesome Broken and Blue – Original Song written by Adam Wakefield – Ha ha. Blake gets a little album promo in during the package. Blake is so impressed that he wrote the song solo. He wrote it, sitting on the beach wearing sunglasses, but he teared up while he penned the line "Loving you is like staring into the sun." He was writing a lot of bluegrass at the time. "This song is a good representation of what I've been doing in Nashville the past 2 years." The song is an aching tear jerker. It's a little on the generic side, but just think what Adam could do working with seasoned professionals. He's got the raw talent. This song is a little more on the country than soul side. Adam's clear strong vocals always cut through. He'll sound great on the radio. Pharrell likes all the different sides of him–all the pallets of his personality. He's sure Adam will sign a big deal, regardless. Adam still dissing the audience for their bad clapping! He LOVES that the finalists are writing their own songs. Blake is blown away by his songwriting skills. It reminded him of early 90s Keith Whitley. –  Download from iTunes
https://www.youtube.com/watch?v=AM__2NbQTQY
Hannah Huston and Team Pharrell – Brand New by Pharrell Williams feat Justin Timberlake – Pharrell can't sing a lick live. I mean…shut up and let Hannah sing! I like this song though. As a live performance, with Pharrell and his pitch impaired vocals…not so much. When Hannah sings, she's fierce! Go girl, go. The song ends, and Pharrell throws his arm around Hannah hugging her from behind, hand dangling dangerously near her boob. She seems a little surprised.  Hm. –  Download from iTunes
https://www.youtube.com/watch?v=3kOCMjh9VRQ
Laith Al-Saadi – Team Adam – Morning Light  –  Original Song written by Laith Al-Saadi – "I'm the Brie cheese of The Voice," says Laith about being an acquired taste. He wrote the song about trying to hold on to someone. He compares it to "Georgia on my Mind." Adam likens the song to a "really charming Clapton moment." This song is actually on one of Laith's older albums. The tune has a pleasing melody. I really love the hook. Laith reminds me of a little of a less goofy Taylor Hicks. If they did a duet together, I would not mind. It's the kind of song that goes down real easy. Nice. Good for Laith sticking to his guns about keeping and playing his guitar. He won't win, but America knows exactly who he is, and those inclined to his genre may seek out his music. He'd probably do well on Pledgemusic.  Christina liked the "bluesey slow jam."  Pharrell loved the chord changes. "Go buy that song now!" Pharrell commands. Laith is Adam's favorite because he plays music for the right reasons. He loves that he makes people happy. Adam Did NOT ask viewers to vote for him.  – Download from iTunes
https://www.youtube.com/watch?v=W4u0T0SwEto
Adam Wakefield – Team Blake – When I Call Your Name by Vince Gill –  Carson runs through Adam's The Voice journey. He was on the fast track from the jump. Blake suggests Adam stick close to Gill's phrasing. It's a beautiful song to cover, but tonally, it's close to his original song. Maybe it would have been better to mix it up a little. Maybe sing an upbeat song heavy on the soul side. Adam does kill on ballads. Having said that–I'm not hearing a finale worthy performance. Alisan is gonna come out in a bit and kill with a Broadway showstopper. And that's it for Adam tonight. Christina loves his adlibs and runs–so accurate, she says. Adam thinks he has amazing taste–"impeccable" he describes it. Blake says he's SOOO happy for him right now. He can't wait to look at iTunes. "You just blew the roof off this place."  –  Download from iTunes
https://www.youtube.com/watch?v=iWtg8G0sMcg
Yup. Alisan has the pimp spot.
Hannah Huston – Team Pharrell – I Call the Shots – Original Song written by Hannah Huston and Pharrell Williams – "I Call the Shots" is based on a thing Pharrell said to Hannah in rehearsals. "You can call the shots," he'd tell her. We see them in the studio actually working. Very little chit chat. Pharrell has produced Beyonce and others in that very place. Oh great. That weird little percussive accent? Ample opportunity for Hannah's flappy hands. Ha.  This  song is hella weird, and I'm pretty sure America is scratching their heads right about now.  Hannah is an incredible singer, I wish she left viewers with a reminder of her wonderful voice instead of whatever the eff this is. Oh Pharrell. Adam loved watching Pharrell in the studio. He calls the song cool. Pharrell is honored to be a part of her process. –  Download from iTunes
https://www.youtube.com/watch?v=efV87j7x0R4
Alisan Porter – Team Christina – Somewhere from West Side Story – We see photos of her as a child actress. She wished she had concentrated on music instead.  Alisan chose Christina as her coach because she's a role model for her in every single. Christina marvels over how Alisan is living her dream. This will be her moment, she says. Well heck. They should just let the confetti fly now, huh? Alisan delivers a big Broadway-worthy rendition of the song, which starts off soft and ends on ALL the high notes. The pyrotechnics light up the stage as she belts out the last line. Adam says, 'Congratulations, you know we love you."  Christina is crying. "If anybody deserves to win The Voice, it's you…" She goes on about second chances and being an inspiration. Reminders of Alisan's struggle with sobriety and self-worth are woven throughout the video clip and Christina's remarks afterward. If that show-stopping last moment can't clinch her the win, absolutely nothing can.   –  Download from iTunes
https://www.youtube.com/watch?v=we7VtN4fQq8