MTV announced today (Jan 5) a new docu-series The Real Friends of WeHo. The series will follow the lives of American Idol, The Masked Singer and Celebrity Big Brother alum Todrick Hall in addition to celebrity stylist Brad Goreski, actor Curtis Hamilton, CEO of Buttah Skincare Dorión Renaud, TV host and business owner Jaymes Vaughan, and digital entrepreneur Joey Zauzig
However, immediately after MTV made the announcement, folks began DRAGGING Todrick on Twitter!
Todrick's last outing, Celebrity Big Brother, last winter, didn't work out well for him. He was truly unlikable inside the house. His housemates hated him. But OUTSIDE the house, fans dug up all the dirt on the choreographer that could be found. And there was PLENTY. Todrick is known for ripping off people, including dancers, LITTLE KIDS AND THEIR MOMS and bullying staff. He claimed own a house he was only renting (but not paying the rent!), and more.
Todrick addresses his "scandals" in the trailer
The official press release describes the show as "an unfiltered and honest look at a select group of friends living, loving and pursuing their passions in the West Hollywood community." The production company Truly Original produce the "Real Housewives" franchise, so this is basically "Real Gay Guys in Hollywood."
In the official trailer, Todrick address the "scandals." He states flippantly, "I've been involved in a few of those." Headlines flash on the screen like "Todrick Hall Sells Out Tour," and "Todrick Moves Beyond the Scandal." Image rehab for sure. It will all depend on the edit. On Big Brother, which is streamed 24/7, he couldn't hide. But on a scripted reality show? Will Todrick play the villain or not? "I want to let people know my "truth," he says.
Twitter commenters SLAM Todrick
Shortly after MTV announced the show this morning, and the trailer dropped, Todrick began to trend on Twitter. The comments are BRUTAL. Here are a few select Tweets for your viewing pleasure, OR NOT.
"Whoever brings up Todrick not paying his dancers and lying about his house on this show I will stan for the rest of my life." – The Gay Pokemon Dude
"Sees the "Scandals" they list about Todrick. Those aren't scandals. How about Todrick doesn't pay his backup dancers, or Todrick is squatting in a California mansion? THOSE are scandals!" – LaRon S. Readus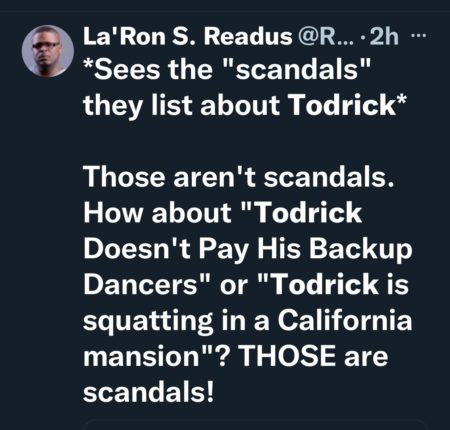 "Will not be watching Todrick's latest image rehabilitation attempt., but will gladly ratio it into the ground all season long." – Adam James
"I feel like one of the things you hear quickly when you move to LA is never work for Todrick Hall because he's a grifter and doesn't pay anyone." – Benjamin Siemon
"Nobody's truly canceled cuz Todrick still has a career. Cancel culture isn't real!" – Hooker Accusations
"STOP TRYING TO MAKE TODRICK HAPPEN!" – Bishop Sycamore
"Don't these TV networks understand that nobody really likes Todrick and nobodyy cares what his truth is cause he is in fact just an awful person." – Aaron Savage (ATX)
"Todrick continuing to ruin drag race without even being on it." – Sean
"If someone isn't getting into a filmed physical altercation with Todrick then what is the point of this?" – Kayla
"OK fine…I'll watch clips on random TikTok accounts of the cast dragging Todrick. BUT THAT'S ALL." – Midnights
The press release continues: "Consisting of some of Hollywood's most influential and successful LGBTQ+ celebrities, personalities and entrepreneurs, this revealing and witty new ensemble docuseries provides an up close and personal glimpse into their lives as they perform in front of crowds of thousands, make high stakes business deals, celebrate important life milestones, work the red carpet, and reveal their most intimate truths to family and friends. In a town and community where image and status are everything, they're ready to pull back the Hollywood curtain and reveal their most authentic selves not just to one another but the world."
The Real Friends of WeHo premieres on Friday, January 20 at 9PM ET/PT following an all-new episode of RuPaul's Drag Race at 8PM ET/PT.