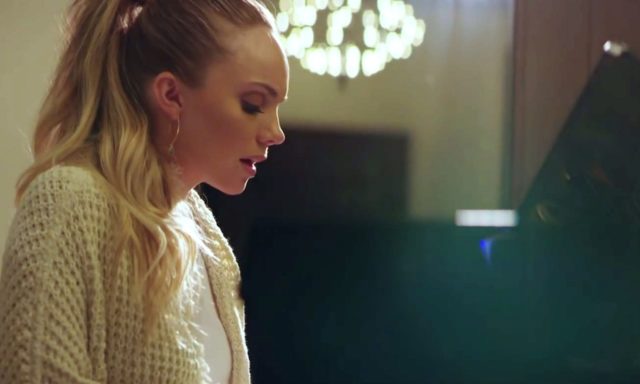 Danielle Bradbery is one of the few The Voice winners to have held onto their record contract after leaving the show. Her career has has proceeded in fits and starts since she won The Voice season 4, but her label, Big Machine Records, were patient.
Under the tutelage of coach Blake Shelton, Danielle won her season in 2014 singing mostly country classics. But these days, the 21 year old singer appears to be heading in a decidedly pop direction. For instance, check out her newest song, the heartfelt ballad, "Potential." There's barely a twang to be found.
"When I wrote it, the other girl in the writing room threw out the idea that 'I'm not in love with you, but with your potential,'" Danielle told People magazine regarding what inspired the song. "Our jaws dropped to the floor. It's a beautiful but sad meaning people can relate to immediately… So we kept it as simple as possible and reflective."
When Danielle made her first record, as a teen, coming off of The Voice, songs were handed to her. Now, she's been tapping her creative side and developing as a songwriter.
"These past couple of years, I've gone into songwriting for the first time," Bradbery told People. "It opened up so many doors for me as I was trying to shape my artistry and who I am as an artist.
"If you're not a songwriter on it personally, it felt like I was just that outer shell of the song," she continued. "I wasn't one with the song and I finally feel like I am. Writing really helped me figure out what the sound was going to be for my record."
Danielle's current single, "Sway," is more suitable for country radio. Well, barely. But it is getting some airplay. Currently, it's No 56 on the country airplay chart.
Both songs are from the singer's forthcoming sophomore album, I Don't Believe We've Met. The 10 song set is scheduled to be released on December 1.
Danielle has been out on the road, promoting her new music at radio events. "It's been really exciting to be face-to-face with my fans and radio and everybody again to reintroduce myself." she told People. "There's a whole new side of me I want to share, and everybody has been so open-armed."
Super Special Bonus Video: Danielle performed "Stand Up for Something" with Andra Day, Common, Lee Ann Womack and Little Big Town during CMT's 2017 Artists of the Year special.
https://youtu.be/F2skGMcSIos