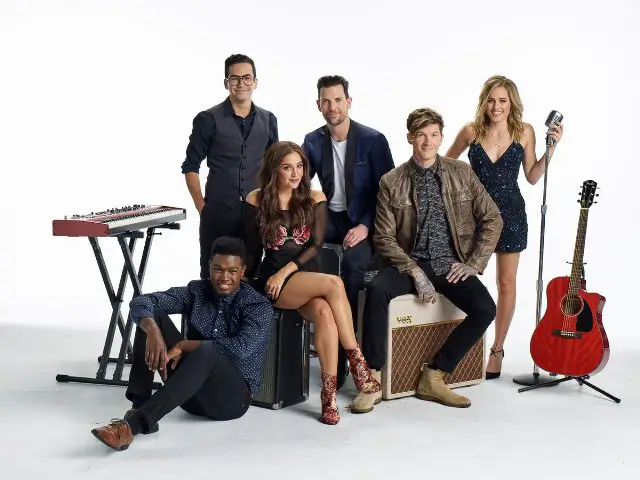 The Voice Vegas: Neon Dreams was officially announced tonight after the Halloween clip show. A random video on the NBC site tipped off fans to a new The Voice residency set for the Hard Rock Cafe which we previously wrote about HERE.
The show is set to open on June 4 2018 at a new venue, The Voice Theater, at the Hard Rock Hotel & Casino in Las Vegas, Nevada. Click to purchase tickets. Prices run from $54 to $128. Check out the official website HERE.
From the ticket page:
This 360-degree live production features a dream cast of Voice stars and some of the most versatile musicians on the planet, who combine to deliver a wide-ranging performance through timeless hits and current chart toppers from the world of rock, pop, country, R&B, Broadway, and more.
Alisan Porter (Season 10 winner), Chris Mann (Season 2), Matthew McAndrew (Season 7 runner-up), Mary Sarah (Season 10), Matthew Schuler (Season 5) and Michael Sanchez (Season 11, only singer didn't make it to the lives) are the alums set to open the show. I imagine different Voice stars will rotate in an out of the production. Bios and intro videos for the six stars are HERE.
FYI: Sanchez may seem like an odd choice, but generally, fans felt he was robbed when he lost his Team Alicia Keys Knockout. It's a good mix of genres. Alisan: Soulful pop. Chris: Classic/Broadway Matt: Alt Rock Mary: Country Matthew: R&B and Michael: Smooth Jazz/Classic Rock.
Imagine one concert experience that combines an eclectic mix of genres and styles, including songs by Michael Buble, The Beatles, Carrie Underwood, Mozart, Andrew Lloyd Webber, Green Day, The Beach Boys, Coldplay, Michael Jackson, Johnny Cash, Lady Gaga, U2, Aretha Franklin, Fleetwood Mac, and more. It all takes place in a brand new venue at the Hard Rock Hotel & Casino that includes an interactive exhibit where you can experience what it's like to sit in an authentic coach chair, encounter some of the extraordinary stories from "The Voice" around the world, and even have a chance to cut your own demo in a professional recording studio that could lead to a chance to perform live on our Las Vegas stage and land you a coveted spot on the hit NBC network television show.
As I mentioned in my previous post, the production sounds similar to the American Idol attraction that ran at Walt Disney World between 2008-2014. The Disney attraction didn't feature alums, but it did give visitors a show "experience" and an opportunity for fans to audition via a simulated version of the show. 
The Voice: Neon Dreams is the exhilarating continuation of a musical journey that began on the award winning NBC television show and now culminates in this one-of-a-kind concert experience that is in a word…electrifying.
It'll be interesting to follow the receipts. Various American Idol alum tours came and went–including a residency in Branson MO– without much success.  The Voice stars aren't huge attractions in their own right, but maybe with the right marketing and good word of mouth, the show will make money.
TheVoiceVegas is on twitter, where the video posted on NBC.com has been uploaded:
Experience @NBCTheVoice like never before at our new show launching at the @HardRockLV in 2018. TIX on sale now: https://t.co/1J3cYcHW9C pic.twitter.com/pMOzho18JB

— TheVoiceVegas (@TheVoiceVegas) November 1, 2017
The cast tweets:
Time for #MANNFans to take over #Vegas! This spring, @TheVoiceVegas Neon Dreams is headed to @HardRockHotelLV! https://t.co/eXMJrzVOUh pic.twitter.com/bj36brPRqP

— Chris Mann Music (@IamChrisMann) November 1, 2017
I'm officially headed to #Vegas to perform at the @HardRockHotel for @TheVoiceVegas! Get tickets NOW: https://t.co/wu7SsnmrcQ #TheVoiceVegas pic.twitter.com/9SSGUuhDj3

— Matt McAndrew (@MattMcAndrew) November 1, 2017
Who's coming to @TheVoiceVegas ?? pic.twitter.com/lorCldVnCU

— Alisan Porter (@alisanporter) November 1, 2017
Rumors are true! I'm headed to the @HardRockHotel in #Vegas with my FAV people! !! Get tix here: https://t.co/E1Nmpe3z70 #TheVoiceVegas <3<3 pic.twitter.com/JCh8q4bUbD

— Mary Sarah (@MarySarahMusic) November 1, 2017