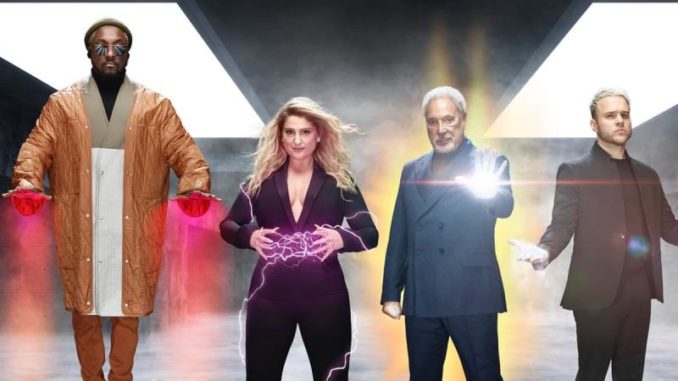 The Voice UK ended abruptly in March after coronavirus concerns shut production down. It seems like eons ago, doesn't it? But finally, the semi-final and a live finale will air on ITV this fall.
ITV has confirmed that coaches  Will.I.Am, Tom Jones, Meghan Trainor and Olly Murs will finally return to crown the winner of the show. But in case you need a contestant refresher–and I certainly do–Emma Willis will be hosting an hour-long recap show first. 
The network has not set a definite return date yet. But when the show does come back, the eight  semi-finalists, as well as Doug Sure, who won the Lifeline vote, will compete for a spot in the live final. Remember the Lifeline vote? I do…barely. 
The remaining contestants include:
Team Tom: Jonny Brooks and Lois Moodie
Team Olly: Jordan Phillips and Blessing Chitapa
Team Meghan: Brooke Scullion and Trinity-Leigh Cooper
Team Will.i.am: Lucy Calcines and Gevani Hutton.
In addition to the competition, last season's winner Molly Hocking will grace the stage with a performance of her debut single. The semi-final will be followed by the live finale, which will feature a coaches performance, duets and solo performances.
See you then! And for God sakes ITV, keep the 80 year old international treasure, Tom Jones SAFE! Thank you.