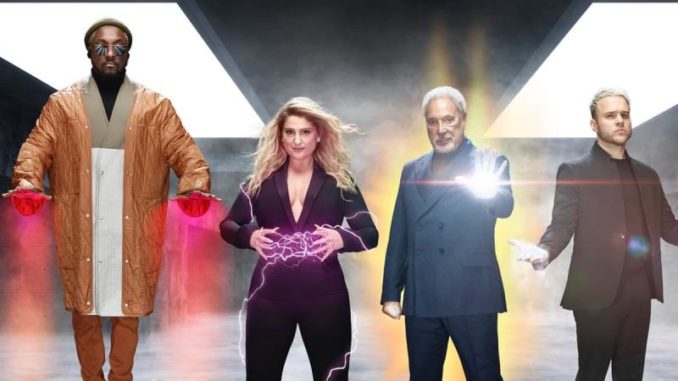 The Voice UK Knockout Rounds concludes on ITV. In the episode, the final 12 acts–three from each team–perform before their coach, who will pick ONE to advance to the semifinals. However, there is The Lifeline. At the end of the round next week, fans will be able to vote for ONE eliminated contestant to also move on.
NOTE: Due to the coronavirus threat, the live semifinal and finals, scheduled for March 28 and April 4, will be postponed until later in 2020. 
Before the singers perform, each act will be mentored by their coach and a celebrity advisor. Ella Eyre will join Meghan Trainor, Ellie Goulding will work with Olly Murs, Shania Twain will team up with Sir Tom Jones and Little Mix star Jesy Nelson joins Will.i.am.
Team Tom
SheZar – With a Little Help from My Friends by The Beatles – SheZar was a 4 chair turn. She's spent many years singing backing vocals. Shania says she has learn to step forward. SheZar is saving the really good stuff for the 2nd half of the song. I really appreciate her slow, sturdy build. Will calls it amazing. "I just wanted it to keep going," says Olly. "You're so good! You took me to a whole 'nother place," says Meghan. Tom compliments her instrument. "You've taken it to another level."
Elly O'Keeffe – Halo by Beyonce – She's a music teacher from Ireland. Tom loves her Irish lilt. Shania was worried the song was too big for her, but "She did it in her on way," she says. Elly takes a deep breath. She's very nervous. Hm. This is not a great song pick for her folky style. The song calls for enormous range, and she's not cutting it. Oh gosh, those high notes are kicking her butt. Awful. Will says that all her "swooping runs" made him forget Beyonce's version. Wut? Olly could tell she was nervous, but nevertheless, it's the best cover of the song he's ever heard. WUT?? Tom didn't think her nerves showed. THEY DID. Welp. She'll be eliminated, for sure. I really liked her previous performances. Too bad. Tom kneecapped her with that song pick. 
Lois Moodie – Battlefield by Jordin Sparks – Lois was a 3 chair turn. Lois is very excited to sing "Battlefield." Shania appreciated Lois' range and technique. It's Lois' first crack at choreography–she's having trouble with the lyrics in rehearsal. I think the choreography is distracting Lois a bit. Other than willing the high notes, her voice and stage presence are strong.  Olly says, "You smashed that out of the park tonight." Meghan calls her a "queen." Will was impressed with her breath control. "You're on fire sweetheart," says Tom. 
Tom chooses Lois! Elly and SheZar are eliminated. I'm a little surprised. Tom made a big show of being indecisive. But than said something like "I'm going to stick with my original." I figures ShaZar was his favorite going in. 
Team Meghan
Brooke Scullion – Stay by Rihanna – Ella urges Brooke to believe in herself. Brooke admits she was nervous in the Battle. I thought Meghan made the wrong choice. She was very yelly. Ella advises her to back off the runs. Meghan gave Brooke a song without a ton of high notes. She tends to lose her pitch in her upper range. Her mid range is very rich and pretty. Meghan picked wisely. "You sounded incredible," says Olly. Will calls it "effortless." He calls her runs "supreme." Except there weren't any runs in that song? Meghan is so happy that she redeemed herself.
Beryl McCormack – Because You Love Me by Céline Dion – Meghan stole her from Olly's team. Elly loves her tone. It's a big song, she says, but she should put her on spin on it. She seems a little nervous and tentative, and is having trouble navigating the high note. Eep. Screachy. Olly calls her performance effortless. "You've upped your game…you should be so proud." Will pulls off his show and throws it! "The brought the best out of you," says Will. "It looks so easy for you," says Meghan. 
Oli Ross – Hurt by Christina Aguilera – Oli is OBSESSED with the song. She's so excited. Ella hopes she can pull off such a big song. This is a big big emotional song. And it's way too big for Oli. Her vocal is thin, reedy and shouty on the high notes. "It's the best I've heard from you," says Tom. Not exactly a compliment. Olly calls it a mic drop moment. These coaches comments are ridiculous. "I hope you know how amazing you are," says Meghan. 
Meghan chooses Brooke. Oli and Beryl are eliminated. No kidding. It's clear Meghan thinks of Brooke as a mini-me.
Team Olly
Alan Chan – Crazy Horses by The Osmonds – Alan is VERY excited to meet Ellie. Since the Battles, he's performed for Boris Johnson. He watches The Voice, apparently. This song pick is insane. But Alan seems game. OMG the pose. For those unacquainted, Crazy Horses is the title track from the brothers foray into hard rock. Over the years, the album has become something of a cult favorite. Alan is GIVING IT HIS ALL GIDDYAPPP!!! GO ALAN! PERFORMANCE OF THE NIGHT. He's my new fav. Meghan calls him a rock star. "You're full of energy, you looked like you were having a good time," says Tom. Will had never heard the song, but thought his performance was super-entertaining.
Ty Lewis – i'm so tired… by Lauv & Troye Sivan – Ty sings with a sweet, emotional tenor. He likes sad songs. Ellie likes that Olly pushes Ty out of his comfort zone, he coaxes Ty to let loose. "He hides behind his falsetto," Olly observes. II LOVE Ty's tone. It's so pretty. I can imagine him on the radio. But Olly is right, Ty needs to push harder, step out of his shyness. "You're so sweet!" says Meghan, who thinks he'll only get better. Will thinks he delivered the song like it was his record. "You've come a long way in this competition," says Olly. He thinks Ty could push even harder.
Blessing Chitapa – We Won't Move by Arlissa – Blessing was a one chair turn, much to Olly's surprise. Beryl ended up on Meghan's team after she lost a battle against Blessing. The 17 year old has mostly sang in church. Ellie notes that Blessing lacks confidence. Welp. Blessing sounds so young. She gives the performance everything she has, but there are some noticeable pitch problems.  Will loves her dress. Which is actually a jump suit? He never mentions her voice. Tom appreciates her soulful quality. Meghan felt she told a story. She calls her runs clean and effortless. "You absolutely smashed it," says Olly.
Olly chooses Blessing. Ty and Alan are eliminated. I don't care. For real, I was rooting for Alan. 
Team Will
Lucy Calcines – Attention by Charlie Puth – Jesy and Lucy could be twins! Heh. Again, Will allows his artists to choose their own songs. She's a little nervous during rehearsal after choosing an ambitious song. She starts off at the piano–her idea. She sings parts of the song in Spanish too. Lucy doesn't have a great voice, but she exudes a pop star vibe, which goes a long way. Tom calls it "tremendous." Olly says, "You're just a little star." Meghan already sees her album and her album cover. Will praises Lucy on how she put the performance together.
Johannes Pietsch – The Winner Takes It All by Abba – Johannes sings in a counter tenor/soprano range. Will was the only coach to turn for Johannes unique vocal style. The song is a sentimental favorite for Johannes. Will directs the singer to find the emotion in the words.  Johannes realizes that he need to connect emotionally. He starts off out of tune. Johnnes seems most comfortable in his operatic range. He's not doing subtlety well. The performance is a pitch mess. Wow. That was terrible from beginning to end. Olly calls him "unique" and "interesting." Meghan calls his high notes "magical." Magically atrocious. Will calls his high note a "ta da" and congratulates him on it. Oh. After Johannes leaves the stage, Will admits that he was flat in the beginning.  Inexplicably, Meghan thought the bum notes made the performance even more magical, "because he was so frightened in the beginning." These coaches comments are a joke.
Doug Sure – Don't Watch Me Cry by Jorja Smith – Doug is a reggae singer. Jesy calls him an "insane" singer. Will warns Doug that he HAS to be competitive. His voice kept breaking in rehearsal. Will thinks he needs to get out of his head. Three notes into the song, and he's already the winner. His voice posses a plaintive cry that tugs at the heart strings. Yeah. He hit the notes and more. What an incredible performance. Tom noted his vulnerability. "It's lovely to listen too." Meghan says, "You're so talented." Olly looks on the verge of tears. He lost a friend recently. "That was beautiful, it really was." Will thanks him for pushing himself.
Will chooses Lucy. Doug and Johannes are eliminated. WHAT THE HECK? WORST DECISION EVER. Will picks the person he thinks he can help. Ugh. It seems that Will had his mind already made up before Doug knocked it out of the park. 
Time for the UK to vote for the Lifeline! Vote on the App! Maybe someday we'll find out who won, after the coronavirus quarantine is over. Coming soon! says the promo. Or not.
Teams going into the semifinals: 
Team Meghan
Trinity-Leigh Cooper
Brooke Scullion
Team Olly
Jordan Phillips
Blessing Chitapa
Team Tom
Team Will
Gevanni Hutton
Lucy Calcines