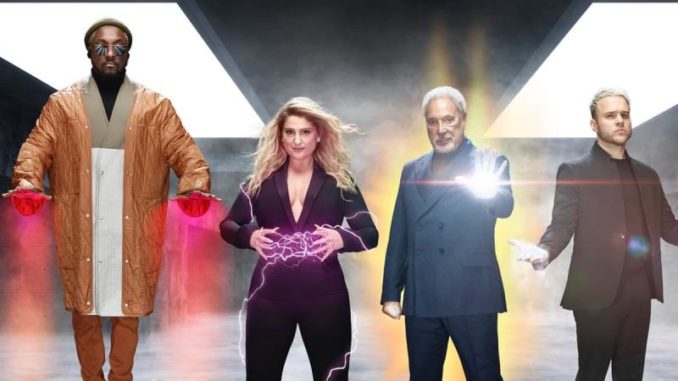 The Voice UK Knockout Round began tonight (March 14) on ITV. In the episode, three singers from each team perform before their coach, who will pick ONE to advance to the semifinals. However, there is The Lifeline. At the end of the round next week, fans will be able to vote for ONE eliminated contestant to also move on. 
Before the singers perform, each act will be mentored by their coach and a celebrity advisor. Ella Eyre will join Meghan Trainor, Ellie Goulding will work with Olly Murs, Shania Twain will team up with Sir Tom Jones and Little Mix star Jesy Nelson joins Will.i.am.
Team Tom
So Diva – End Of Time by Beyonce – Tom stole So Diva from Will. Shania says, "Everyone loses if one is compromised." Tom decides to stay out of her way. The trio is happy to shed their tribute act image. I still don't love their harmonies. This is a good song choice for them. The vocals are still pitchy. They miss having star quality. Olly calls them amazing. "You deserve to be here." Will feels pride for his old act. Meghan admired their ability to sing and dance at the same time. They thank Tom for the steal. "You have taught us so much."
Jonny Brooks – Don't Let Me Down by The Beatles – Shania is struck with Jonny, calling him a "natural talent." Jonny feels uncomfortable singing without his guitar. He advises him to look RIGHT at her as he sings. "You've got to connect," she says. He seems more comfortable with himself as a solo. Last week's battle was kind of a trainwreck. He has a beautiful, deep tone. He saves the big notes for the second chorus. He's a bit like Joe Cocker, but with less rasp. That's not a bad thing. Meghan just wants to buy his album. Will can see him in Tennessee working on his album. "Why did it end?" says Olly. "You could put that out as a single," says Tom.
Zion – Pray by Sam Smith – Buy/Stream via – The singer feels more confidence than he did at his Blind Audition. Shania is there to encourage. "Sing with conviction," she says. This is a hard song to sing. Zion's rendition is lackluster to start. It picks up on the second verse, but it's a shouty and pitchy. Will calls it "wow wow wow." It was Meghan's favorite performance. Tom loved it.
Tom picks Jonny. Zion and So Diva  are eliminated.  Tom plays up being indecisive. But he finally makes the choice he was probably going to make all along–Jonny. 
Team Olly
Cat Cavelli – Careless Whisper by George Michael – Cat wasn't sure about the song choice, but Ellie thinks she's better on the song than Cat thinks she is. The song is rearranged to sound almost sinister. Cat is a very odd talent. She caterwauls around notes while on her knees. That was not very good.  Tom is laughing, "When you got down on your knees I thought how in the hell will she get up." Meghan compliments her lower register. George says she smashed it. But Cat's instincts were correct. That was not a great song pick.
Jordan Phillips – Rapture by Tom Walker – Ellie asks Jordan if he's cold. "Are my nippies showing?" Olly says, "He's my cheeky chap." He stole Jordan from Meghan. Ellie encourages him to pay attention to the words. Jordan is rough around the edges, but his tone and phrasing stand out. Meghan is up on her feet, "He's in my heart for life! I'm so proud!" Will calls the performance, "powerful…super boom on that." Olly believes it's his best performance so far.
Cameo Williams – Wicked Game by Chris Isaak – Similar to Cat, Cameo has a very unusual voice. Cat suggests singing in a higher key. Ellie agrees. And thinks she lacks some confidence. Ellie urges her to embrace her nerves. Her phrasing is so odd. She's too stylized for my tastes. Her vocal tics are distracting. But she's putting a ton of emotion in her performance. So there's that. Tom liked the arrangement. Meghan compliments her "special" gift. Olly is "so proud." He says, "You smashed it."
Olly picks Jordan. Cameo and Cat are Eliminated. I thought for sure Olly would choose Cameo. But I think he made the correct decision. 
Team Will
Gevanni Hutton – People Help the People – Birdy/Cherry Ghost – Gevanni's blind audition made Jesy cry. The singer connects to the song, because he misses his mom who lives in Haiti. This performance is rather beautiful. But Gevanni has to work on his pitch issues.  He's still a teen–somebody get him a vocal coach! Olly calls it the best he's every sing, "You completely melt my heart." Tom calls it "tremendous." Will marvels at his ability to know where he's going, and who he is doing it for. Gevanni's purpose in life is to help his family. But he says he dedicates the song to people suffering adversity.
Claudillea Holloway – Paint It Black by Rolling Stones – Claudia is the opera singer who sings to a danceable beat. Will stole Claudillea from Meghan. Will is allowing his artists to pick their own songs. Jesy loves the faces Claudillia makes when she sings. That's it. That's all she says in the edit. Meghan looks like she smelled something bad. She sings in her chest voice for half the song, then does an operatic thing in the second half. Sorry. HARD PASS. "Mick Jagger never sounded like that," says Tom. Diplomatic. Olly calls it one of his favorite performances on The Voice, ever. Will loves that she can sing all different styles.
Baby Sol – Blackbird by The Beatles – Baby is a background singer for Paloma Faith, but she wants to step into the spotlight. She picks Blackbird. "The lyrics are incredibly important to me." Jesy reminds her that she needs to own every single word. Paloma is in the audience. Baby's vocals are also stylized, but she uses her unique sound to great effect. She knows how to marry her unique sound to an emotional performance. She never feels put on. Olly calls it stunning and beautiful. "You are a force." Tom loved the perfect arrangement, "You really made it your own." Meghan calls it "so special." Will calls her a "different caliber of artist." Paloma says she feels threatened standing next to her on stage. She says that with love. "She deserves every success."
Will picks Gevanni. Claudillea and Baby Sol are eliminated. That result was inevitable. However, I would have chosen Baby Sol. 
Team Meghan
Blaize China – Light It Up (feat. Nyla & Fuse ODG) by Major Lazer – Blaize is happy with Meghan's song pick, allowing her to write her own verse. She seems really nervous. But Blaize has a strong stage presence. She needs to loosen up a little more, but she is a talented vocalist. "I was digging it," says Tom. Will likes that she spoke to the audience. He says she's festival-ready. Meghan calls her songwriting skills "strong."
Darci Wilders – Angel by Sarah McLachlan – Buy/Stream via – Darci is only 18 years old. Oh no this song. I'm going to start thinking about dead dogs. Ella says she "really felt that." She compliments her vulnerability, but advises she look up. "Your eyes are gorgeous." Darci has a very pretty, yet emotional voice. Darci picked the song, because her dad loves it. Meghan says she had a big lump in her throat the entire time.
Trinity-Leigh Cooper – You Say by Lauren Daigle – Buy/Stream via – Trinity was adopted at 3 years old. She loves Meghan's song pick. Ella thinks Trinity is relatable. Meghan has a huge voice. Performing last on the night is a good sign for her. Tom compliments her tremendous Welsh voice. If Meghan hadn't picked her in the Battle, he would have stolen here. Will calls the performance "spectacular." Meghan reminds everybody that she's 17. "You sang that for every single person who doesn't feel good enough." Her fellow team members must be feeling a little queasy by now.
Meghan picks Trinity Leigh. Darci and Blaize are eliminated. Meghan says the person she originally had in mind did way better in rehearsals. Hm. 
Jonny Brooks (Team Tom) Jordan Phillips (Team Olly), Gevanni Hutton (Team Will) and Trinity-Leigh Cooper (Team Meghan) all move on to the eight artist Semifinal.
Next week, the remaining 12 acts will perform in trios for their coaches.