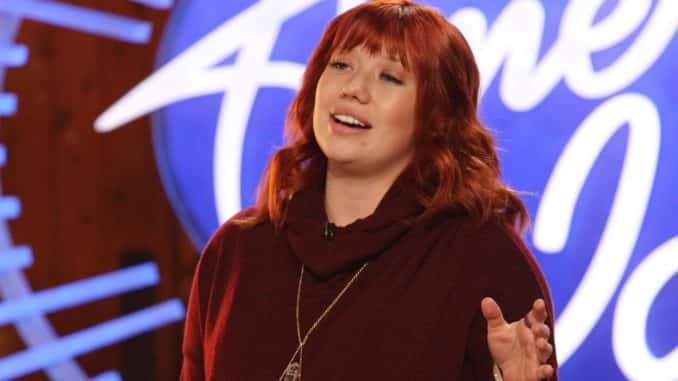 Watch 23 year old American Idol hopeful, Amber Fiedler sing Etta James' "Trust in Me" in front of judges Lionel Richie, Katy Perry and Luke Bryan. The clip airs in the final audition episode of American Idol 2020 airing on ABC Sunday March 15 at 8 pm.
Amber Shares Her Bittersweet Story
The singer's backstory is bittersweet. Amber is pregnant with a baby girl, but is putting her up for adoption. The Idaho native had a tough childhood. Her mother used drugs and it was her grandmother who raised her. Her own life has been so hard, that she doesn't feel ready to be a mom. "The family that I chose is going to be able to give her everything she wants," says Amber, adding "I know I'm not going to be able to do that." Happily, it will be an open adoption. "She'll know me," says Amber.
Amber's mom has been clean for four years, and are rebuilding a relationship. "We…need each other at this time." Through it all, says Amber "This baby saved me," she says. It got young Amber to get her act together and realize what's important in life.
Katy Perry Believes Amber has a "really big shot at going very far" in the competition
The singer's sweet, big voiced performance of the classic leaves the judges stunned. "That's with a foot in her rib!" Luke declares. He calls her sound "Timeless." Lionel says, simply, "You nailed it." Katy believes that Amber has a "really big shot at going very far if you want to." Hollywood is scheduled one week after her due date. "You may be late you may be early…" warns Katy.
Luke believes that Amber sharing her story helps "many many others." Katy adds, "We're here to support you through this process. You're not alone!"
Katy hands her a golden ticket, "Maybe you're not ready to be a mom, but you are ready to become an American Idol."
Watch Amber Fielder sing Etta James "Trust in Me" for her American Idol 2020 audition
https://youtu.be/U9Y5yfprOWc