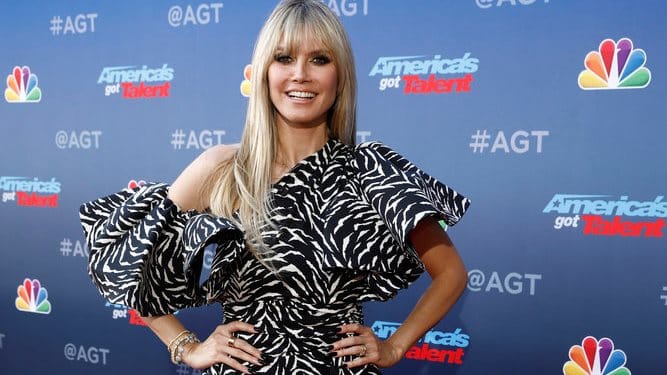 Heidi Klum left an America's Got Talent taping on Tuesday (March 10) feeling ill. Reports said she only had the common cold. But maybe not! The AGT judge checked in with her fans via Instagram stories on Friday. She has flu symptoms, but like many folks who don't feel well, can't get tested for the coronavirus.
"Hi, everyone, I just wanted you to know why I have not been sitting in my America's Got Talent seat. It started all with like a chill, feeling feverish, cough, runny nose. I'm just not feeling good, so that's why I've stayed home, to not infect any other people. I hope it's just a cold. I would love to do the corona test, but there just isn't one here. I tried with two different doctors and I just can't get one. Stay safe, everyone. Stay home if you don't feel good."
It could be just a cold. But cough and fever ARE symptoms of Covid-19.  With Heidi down for the count, I'm surprised that NBC has not postponed production at this point. Heidi should probably self-quarantine for two weeks. And if she unwittingly infected anyone else, that could be a problem to say the least. 
Coronavirus Update: List of Entertainment Delays, Cancellations
But so far, America's Got Talent plans to keep filming, but without studio audiences. Maybe executive producer Simon Cowell and NBC will change their thinking over the weekend.
Modern Family star Eric Stonestreet stepped in for Heidi as guest judge for Wednesday's taping. Eric joined his fellow Modern Family star Sofia Vergara in addition to Simon and Howie Mandel on the panel. Terry Crews hosts. 
UPDATE: Heidi and her husband have been tested. They are awaiting results. The AGT judge posted on Saturday:
"Like many of you, I also have been sick all week and, unfortunately, my husband who returned from his tour a couple of days ago is also feeling ill. To be safe, we are staying apart until we get the results of our Coronavirus tests (that we were finally able to get today) back. We don't want to spread germs and risk others getting sicker… even each other! As much as I want to embrace him and kiss him, it is more important to do the right thing and not spread further. These are strange times… but in these moments, you remember what's really important- the people you love and keeping them safe. Social distancing is what we all need to do right now to be responsible citizens of the world. We are all in this together and it is up to us to protect our loved ones, and our neighbors and our communities. Please listen to the officials and stay at home if you can and physically distance yourself from other people… especially if you are not feeling well. I see all the beautiful things people are doing for each other all over the globe and that gives me hope! Sending all of you love and positivity and healing vibes… together we can get through this but we need to be proactive so that we can all have a bright and healthy future."
https://www.instagram.com/p/B9vJ3QvJy1c/