After Heidi Klum Falls Ill with Flu-like Symptoms, America's Got Talent Halts Production
America's Got Talent has stopped filming due to the coronavirus pandemic. Fremantle Media, which also produces American Idol, is also shutting down Family Feud. With Heidi Klum falling ill with flu like symptoms, it was only a matter of time before AGT stopped production all together.
Filming was supposed to continue through March 20 but will be cut short as of March 14, reports Deadline. The show is wrapping up a few things on Saturday, with minimal staff who are working a very abbreviated schedule before going on hiatus. According to Deadline "if conditions improve there is an option for some or all of the remaining auditions to be taped in April."
And according to Page 6, the cast and crew filmed on Friday (March 13), including judges Simon Cowell, Howie Mandel and Sofia Vergara without an audience, and with only an essential crew. Heidi fell ill on Tuesday. Modern Family star Eric Stonestreet took her place on Wednesday. But on Friday, Heidi posted an Instagram story describing her flu-like symptoms and that even after consulting with two doctors, she was unable to get tested for Covid-19. Unless AGT producers know for sure Heidi isn't infected with the coronavirus, how could they carry on? Short answer: They aren't.
American Idol Filming Uncertain. The Show Could Co On Hiatus in April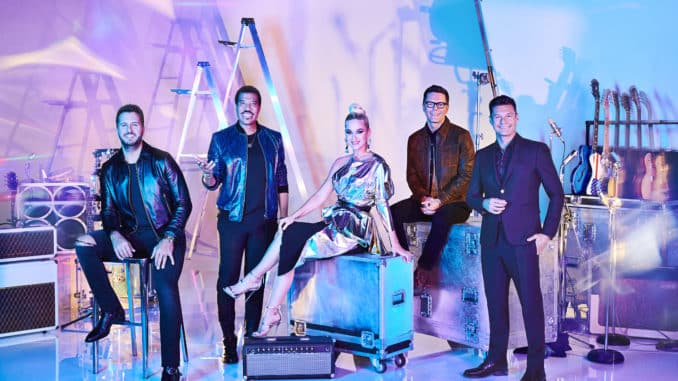 Deadline reports that regarding whether or not to halt American Idol production, "a decision will be made closer to the scheduled production start date." As far as I am aware, and @IdolSpoilers have reported, the Top 20 semifinal round set to begin airing on Monday March 30 has not been filmed yet. Taping was to commence at the end of March. So far, Idol has taped episodes only through the Hollywood Round and Hawaii Top 4o showcase, which airs its last episode on Sunday March 29.
My opinion? American Idol will stop production and have to reschedule the rest of the season. Even filming without an audience could be dangerous considering that two of the judges are in high risk groups. Lionel Richie looks spry, but he's SEVENTY years old. And Katy Perry is pregnant. Earlier this week, she cancelled all media interviews and left Australia after actors Tom Hanks and his wife Rita Wilson were diagnosed with the virus. Katy's fiance Orlando Bloom is returning from Prague and entering self-quarantine after the production on his film was cancelled. 
It's not official yet. But like every other television production, American Idol will possibly go on hiatus at the end of the month. The Voice, meanwhile, may have dodged a bullet. Most of Season 18 is already in the can, with only the last three weeks in May scheduled to air live.