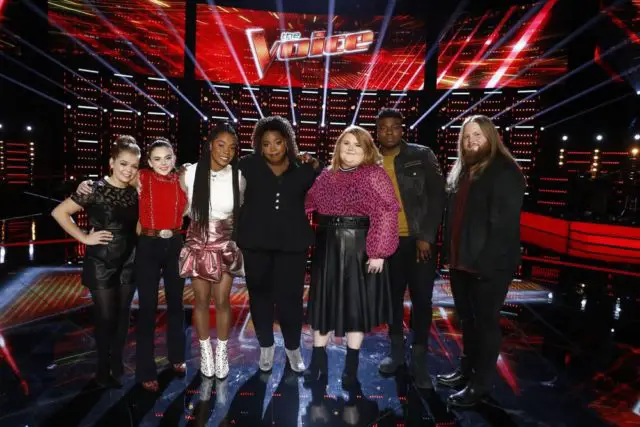 The Voice season 15 Semi-Final performances air on Monday (Dec 10). The Top 8 contestants will sing TWICE for your votes. Once solo and a duet with a fellow artist.
The Voice Season 15 Top 8 Semi-Final Spoilers: Duet Pairing Revealed!
On Tuesday (Dec 11) FOUR singers will be eliminated.  The Top 3 vote getters will automatically advance to the finale, the Bottom 2 will be eliminated. Singers in 4th, 5th and 6th place will perform for the Instant-Save.  The winner of the sing-off will join the Top 3 and compete in next week's finale.
With so many artists leaving at once, there is ALWAYS at least one surprise elimination. That's why the semis are nicknamed The BLOODBATH and it's brutal.
Ahead of the episode, let's rate the remaining contestants from Team Jennifer Hudson, Team Adam Levine, Team Kelly Clarkson and Team Blake Shelton.
Here's how I rank the Top 8 this week. How about you?
8. Reagan Strange – Team Adam  –  There has been SO MUCH controversy over and speculation about last week's Instant-Save that I truly believe Reagan's chances have been tainted. Unless she steps out on stage and delivers the performance of her LIFE, she'll probably be eliminated on Tuesday.  Reagan going home would probably be for the best at this point. If she has to sing for the Instant-Save on Tuesday, could the young singer even handle the pressure?
7. Sarah Grace – Team Kelly – I love Sarah Grace, but I think her risky performances will finally do her in this week. With Kymberli taking the gospel route and Chris finding a comfortable, albeit safe groove, I think Sarah will be heading home this week in the bottom 2. I hope I'm wrong! 
6.  Kymberli Joye – Team Kelly – Kymberli has absolutely found her niche in gospel. And lucky for her, The Voice viewers LOVE the Jesus songs.  She'll be duetting with another popular singer, MaKenzie Thomas who also plans a career in gospel. No doubt when these two big voiced singers join forces, they are going to kill it. 
5.  Chris Kroeze – Team Blake – Chris won't break out of his box this week. But why should he? Covering classic songs with a side of impressive musicianship is working for him just fine. Maybe he'll break out the Jesus card but then, probably everyone else will too. 
4. Chevel Shepherd – Team Kelly –  Chevel's ability to channel old school country greats like Loretta Lynn and Tammy Wynette makes ya wonder if the 16 year old hasn't time travelled back to the 70's. She's sweet and likable to boot. I'll be very surprised if she doesn't somehow make her way into the final four. 
3. Kennedy Holmes – Team Jennifer – Although I was all for Kennedy taking on an upbeat pop hit last week, the choice probably set her back.  The 13 year old singer proved she had the moves and ability to deliver an awards show-worthy performance of Meghan Trainor's "Me Too." But on a singing show, any performance that relegates vocals to the back burner is a risk. I expect Kennedy will be pulling out a ballad this week. In any case, I think she's a lock for the finals.  
2. MaKenzie Thomas – Team Jennifer – Conventional wisdom states singing show contestants should stay far far away from vocal divas like Whitney, Mariah and Celine, because who could do them justice? MacKenzie, that's who. Her ability to take on the songs of beloved female vocalists has made MaKenzie a fan favorite. She's a good bet for the finals. 
1. Kirk Jay – Team Blake –  Kirk's calling card is the weepy country ballad. And boy, does he know what buttons to push when it comes to moving an audience. He admits it! He loves to make people cry with vocals that can be emotional and gut wrenching. So far, the Voice audience can't resist him. (Kirk could definitely win it all…)