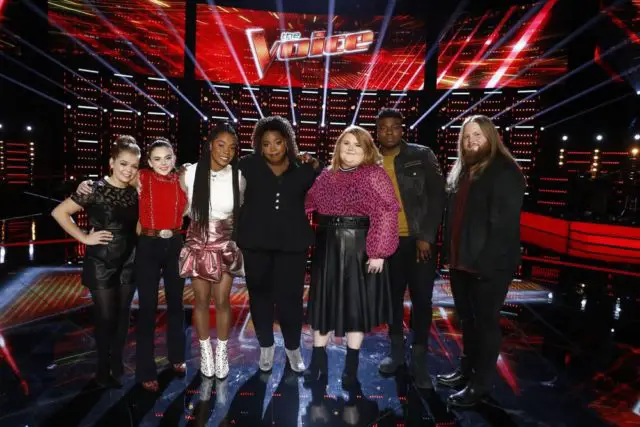 On Monday (Dec 10) The Voice Top 8 will sing for your votes. And for the first time in the live shows, each artist will sing two songs–a solo and a duet. The song names won't be revealed until Monday. However, The Voice has revealed the duet pairings. Check it out.
Reagan Strange and Kennedy Holmes  
Chevel Shepherd and Kirk Jay
Chris Kroeze and Sarah Grace
MaKenzie Thomas and Kymberli Joye
The pairings seem logical. MaKenzie and Kymberli are two big voiced gospel singers. I bet they sing a Christian number together. Chris and Sarah are soulful and bluesy and very musical. There's a real potential for an interesting and creative performance. Chevel and Kirk are both country singers, so that's a no brainer. But one is old-school (Chevel) and the other contemporary (Kirk). How will they meld their styles together?  Reagan and Kennedy are kind of the odd artists out. But there are some similarities. The two are the youngest in the competition (14 and 13 respectively) and both are pop singers (although Kennedy leans more toward R&B).
For Reagan, who was nearly eliminated last Tuesday after appearing in the bottom 3, being paired up with the popular Kennedy should help her vote-wise.  Reagan is the singer who managed to win an instant save without singing a note.  Hopefully a week of rest means she'll be able to perform on Monday.
DeAndre Nico on Adam Levine's The Voice Diss: "I Feel Like He Sold Me Out"
The duets are eligible for votes via twitter hashtag. The NBC FAQ instructs "You can vote once per Duet Song per Twitter ID during the Overnight Voting Window for the December 10th 2018 Episode by tweeting the designated hashtag(s). Your vote will count for both artists in the duet."
Here are the designated hashtags:
#KymberliMaKenzieDuet
#ChevelKirkDuet
#ChrisSarahGraceDuet
#KennedyReaganDuet
Also, this coming week is the semi-finals. The performances will determine which four singers make the finale, set to air on Dec. 17 and 18. It's a brutal week–half of the performers will be sent home on Tuesday's results show. How it typically works: After the votes are tabulated, The top 3 singers move on to the finale. The bottom 2 singers are eliminated. And, the middle three singers compete in the Instant Save for the last spot in the finals. It's the bloodbath, y'all. 
https://twitter.com/NBCTheVoice/status/1071126818655105025