The Voice season 14 Battle Rounds begin next Monday (March 19) and here is your first look at the celebrity mentors and teams. The past couple of cycles have included song spoilers in the preview. Alas, not this season. No peeks at the mentoring sessions either–just a few minutes of talking heads. However, the clips do reveal the team matchups. So that's something.
As always, each of the coaches have brought on a celebrity artist to help get their respective teams ready for battle. Adam Levine will be working with Julia Michaels. Blake Shelton has brought on Trace Adkins. Alicia Keys has joined forces with Shawn Mendes and Kelly Clarkson picked Hailee Steinfeld. Check out the clips below.
After each "battle," the singers' coach will choose a winner, who will move on to the Knockout round. However, each coach has two opportunities to "steal" an eliminated contestant.
Team Adam Levine

Pictured: Team Adam (l-r) Jackie Verna, Miya Bass, Davison, Mia Boostrom, Gary Edwards, Genesis Diaz, Adam Levine, Reid Umstattd, Rayshun Lamarr, Tish Haynes Keys, Stephanie Skipper, Angel Bonilla, Drew Cole — (Photo by: Tyler Golden/NBC)
Rayshun Lamarr vs Tish Hayes Keys
Mia Boostrom vs Genesis Diaz
Drew Cole bs Miya Bass
Angel Bonilla vs Gary Edwards
Reid Umstattd vs Davison
Stephanie Skipper vs Jackie Verna
Team Blake Shelton

Pictured: Team Blake (l-r) Bransen Ireland, Jordan Kirkdorffer, Jesslee, Wilkes, Kaleb Lee, Austin Giorgio, Dallas Caroline, Blake Shelton, Kyla Jade, Jaron Strom, Brett Hunter, Spensha Baker, Pryor Baird — (Photo by: Trae Patton/NBC)
Pryor Baird vs Kaleb Lee
Brett Hunter vs Austin Giorgio
Kyla Jade vs JessLee
Wilkes vs Jordan Kirkdorffer
Jaron Strom vs Bransen Ireland
Spensha Baker vs Dallas Caroline
Team Alicia Keys

Pictured: Team Alicia (l-r) Christiana Danielle, Britton Buchanan, Shana Halligan, Livia Faith, Terrence Cunningham, Alicia Keys, Kelsea Johnson, Megan Lee, Jaclyn Lovey, Sharance Calister, Jamai, Jordyn Simone, Johnny Bliss — (Photo by: Greg Gayne/NBC)
Jordyn Simone vs Kelsea Johnson
Johnny Bliss vs Megan Lee
Christiana Danielle vs Shana Halligan
Britton Buchanan vs Jaclyn Lovey
Terrence Cunningham vs Livia Faith
Jamai vs Sharane Calister
Team Kelly Clarkson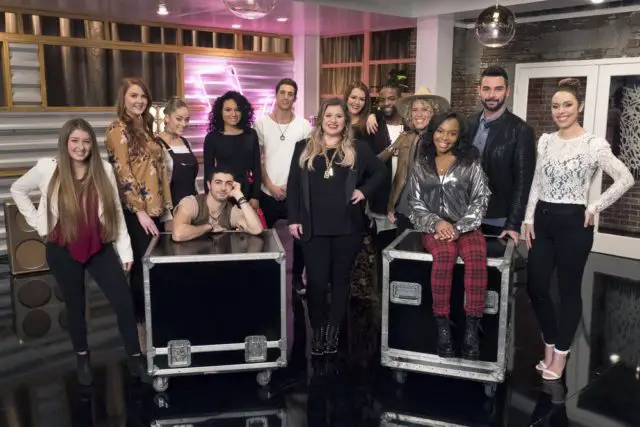 Pictured: Team Kelly (l-r) Alexa Cappelli, Hannah Goebel, Brynn Cartelli, Dylan Hartigan, Jamella, Jorge Eduardo, Kelly Clarkson, Amber Sauer, D.R. King, Molly Stevens, Teana Boston, Justin Kilgore, Jackie Foster — (Photo by: Colleen Hayes/NBC)
Dylan Hartigan vs Brynn Cartelli
Teana Boston vs Jamella
Justin Kilgore vs Molly Stevens
Alexa Cappelli vs Hanna Goebel
D.R. King vs Jackie Foster
Jorge Eduardo vs Amber Sauer