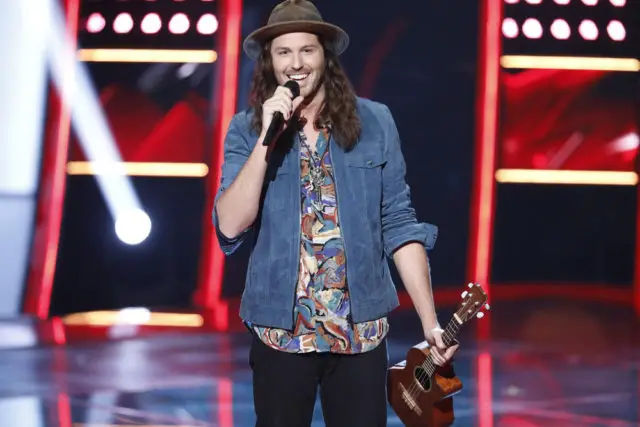 The Voice Season 14 Blind Auditions continue TONIGHT with coaches Adam Levine, Blake Shelton, Alicia Keys and American Idol OG winner and newbie Kelly Clarkson.  Carson Daly returns as host.  Join us as we LIVE BLOG every performance.
Click this link for ALL of tonight's The Voice 14 Blind Auditions 3 Song Spoilers.
Christiana Danielle – 22 – Hotline Bling by Drake – Her mother is a Christian rapper. And demonstrates she demonstrates her skill. Christiana is taking a gap year between college and grad school. At one point, a throat infection sent her to the hospital and the doctors thought she'd never sing again. But miraculously, her voice came back with  therapy. She now knows she was meant to sing.  The song arrangement is slowed down,   giving the performance an emotional edge. Adam hits his button immediately. I like the arrangement a lot. But I'm not sure about her vocals. Her vibrato is really wonky. Kelly turns next and then Alicia. She throws in a jazz riff and Alicia is SHOOK. "I LOVE YOU. DON'T LISTEN TO ALICIA," says Kelly.  Adam calls Christina, who is crying now, a gem. "I only want to be a guiding light for you. One of the best singers I've heard in my life," he says. Hyperbole. "You could win The Voice," says Kelly. MORE HYPERBOLE. Alicia calls her "stunning. What you just did is so exciting for music." Alicia gushes, "YOU JUST BLESSED DRAKE." – And Christiana chooses Team Alicia. –  Download at iTunes
https://www.youtube.com/watch?v=ZjzoMVedYRk
Brett Hunter – 30 – She's a Bad Mama Jama by Carl Carlton – He moved in with his brother to save money. They live like 20 year olds with a million roomates in a house. His brother is super supportive of his career, though. His voice is kind of nasally? But props. Never heard this song accompanied by a ukulele! And he manages to remain soulful. So if not great, he's interesting. I appreciate his song choice. When he displays his range, Blake hits his button. Kelly is shocked when she turns. "I have the next Tiny Tim. Idiots." Uh. That's not really a compliment, Blake. (And for the record…Kelly has no idea who that is.) "I didn't expect you to be white!" says Kelly. None of them realized that he was strumming a ukulele. He demonstrates the song acoustic style with ukulele only. Adam thinks that version would have inspired four chairs. Team Blake Turns for Brett – Download at iTunes
https://www.youtube.com/watch?v=kYTU0_nZqLM
Jamai – U Got it Bad by Usher – Jamai owns a singing telegram company. We see him in action. Birthdays, weddings, anniversaries, etc. Outside of that, he spends time in the studio. His mom passed at 23. His grandmother raised him. She wishes him good luck via video. He's crying!  Vocally, Jamie is smooth as silk. VERY NICE. He's kind of sexy too. Sweet adlibs, pretty tone. Nobody is turning though. He hits a big note, but it's a wee bit rocky. Kelly and Alicia turn. This will be a bit of a battle. The coaches can't believe that he sings breakup telegrams. He calls Kelly a versatile vocalist and the epitome of competition winner. But ALICIA is gonna wrap this up.  And indeed, Jamie sings his pick, telegram style. Jamai Chooses Team Alicia  – Download at iTunes
https://www.youtube.com/watch?v=5tBf9JFNNOc
Mitch Cardoza – 22 – No Woman No Cry by Bob Marley- He comes from a very musical family and has been singing and playing guitar since first grade. He attended Berklee, where he learned a lot. Dad warns that he'll cry when Mitch hits the stage.  Hm. He may be a better musician than singer. He's got pitch problem, and the cover of this classic is perfunctory at best. He hits a big high note and OUUCH. He's so off pitch. Nobody turns. Aw. He needs to get his pitch issues fixed. Kelly says he "sang so well." Uhm. Not really. Adam feels Marley can be untouchable. Blake thought he needed to hit more high notes. Noooo. – No Turns
https://www.youtube.com/watch?v=adWwgupyQ2U
Mia Boostrom – 24 – Boston – PILLOWTALK by Zayn Malik – She started singing in middle school and by high school was penning songs. She entered a competition, but the bullying due to her weight drove her away from music. She's probably talking about her stint as a contestant on America's Got Talent in 2010.  She sees The Voice as the antidote  to that OTHER experience. (Hm. maybe not sis. Just stay offline). She has a pleasant, syrupy alto and nice phrasing. When she hits that high note, Adam hits his button. He's the only one. She could have given more to that performance, which is probably why nobody else turned. Alicia loved the textures in her voice. Didn't say why she didn't turn. Kelly calls her lows "sexy" and suggests she play around with that. Team Adam turns for Mia – –  Download at iTunes
https://www.youtube.com/watch?v=ZdxErUVZdmE
Jackie Foster – 21 –  San Diego (living in Boston) – What About Us by Pink – She's the lead singer in a band, but started in musical theater, on to classical and then to pop. She got a scholarship to Berklee.  Like Kelly says, Jackie has a "pretty" tone. She's a good singer, but verges a bit on musical theater. When she hits her upper register, Kelly turns. Blake reaches for his button. But then Alicia hits hers, and he thinks better of it. "I'm not afraid of you," he says to Kelly. She appreciates her range and her depth. "I'm so glad you're on my team." Alicia calls her intimacy genuine and her pitch accurate. Alicia promises to open up more sides to her talent. That Alicia is such a smooth talker. CLIFFHANGER. Got to wait until after the break for the result. Jackie Chooses Team Kelly Good for Kelly.  Her pitch for Jackie was aggressive! Apparently, her boyfriend is set to appear on American Idol this season. – Download at iTunes
https://www.youtube.com/watch?v=RLuM1TIqVAs
Kayla Woodson –  23 -Turn on the Radio by Reba – She works at the Country Music Hall of Fame by day, and fills in behind the register at a fast food restaurant at night. She began singing country music at the age of four. She's got a pretty good voice. Nice range and tone. BUT NOBODY TURNS. That's sad. She was so hopeful. Tearful at the opportunity. Blake thought her performance was sharp. Kelly couldn't stop hearing Reba. Alicia suggests she amp up the dynamics. Weird! I thought her dynamics were fine. – No Turns
https://www.youtube.com/watch?v=fmydVwwFtKA
Reid Umstattd – 34 – Austin – Take Me To The Pilot by Elton John – He's a bartender at his dad's restaurant. After getting hitched in 2013, he  quit the band he was touring with in 2014. He took a 3 year break from music. His wife realizes how much he misses music. His The Voice appearance is the singer's first solo performance ever. GREAT SONG PICK. Love Elton. He's no Elton though. The vocal is a little thin and shaky. Nice phrasing though.  But he gets Alicia and Adam to turn. Adam loved his song choice and felt he brought his own thing to the song. "I love you and want you on my team!" Alicia teases that she can play the piano. "I believe you could win this show," says Adam. I hope Reid understands that for the bullshit it is. Maybe not, because Reid Chooses Team Adam  –  Download at iTunes
https://www.youtube.com/watch?v=e7uIhIsJzdk
Jorge Eduardo – Despacito by Luis Fonsi ft Daddy Yankee – He's originally from Mexico, but lives in Dallas now. His dad had a Mariachi hit back in the old country. Jorge competed on La Voz in Mexico–4 turns and 4th place! He barely sang a note before Kelly hit her button. She's out of her chair dancing and screaming YES. He's got a solid, rhythmic pop voice. But he's not going to get 4 chairs in America. He's pleasant, but a little boring. Kelly would disagree with me vehemently.  "THAT WAS SO SEXY" she gushes. "Y'all are dumb!" She freaks out when she learns that he lives in Texas. Team Kelly  Turns for Jorge – Download at iTunes
https://www.youtube.com/watch?v=KHyvGmuvIoY
Jamella – Dive by Ed Sheeran – We get her backstory but not her song? If you gotta chuck something for time, I say ditch the backtory, give us the music. According to Carson, Blake and Kelly "went head to head for Jamella." The singer was raised by a single mom, who also had show biz aspirations. She appears to be the momager–the two moved out to LA for Jamella's career. Jamella Chooses Team Kelly –  Download at iTunes
Angel Bonilla – Lay Me Down by Sam Smith – Angel is transgender, born "Carlos" back in the Philippines. Angel came out to her father, who was puzzled at first. Angel promises to do great things. Dad is by her side supporting her on The Voice. And we don't get to hear her sing either. I understand why Angel's backstory was highlighted.  But still. Weird not to hear her sing at all. Adam was her only turn. Team Adam Turns for Angel – Download at iTunes
https://www.youtube.com/watch?v=d1HqoyXjOck
Austin Giorgio – 21 – Rochester NY – How Sweet it Is (To Be Loved By You) by Marvin Gaye (Michael Buble version) – His style is very jazzy, but fun. He loves Sinatra and Bennett. And he loves to dance. Growing up, his dad played in a dance band on the side. Austin sings at weddings, corporate events, etcetera. In his performance, he bites off his phrases, which is a little distracting. And he needs to stop imitating Buble. His tone could be smoother. But he swings a bit. Blake turns first, and Kelly at the last minute. Kelly loves the classics, and she won a singing competition! Blake namechecks Buble "We'll facetime him," says Blake. That did it. Austin Chooses Team Blake. – Download at iTunes
https://www.youtube.com/watch?v=YTSmaL9Rx_c
Johnny Bliss – 26 – New York NY –  Preciosa by Marc Antony – Karaoke is where he started singing. He grew up in Washington Heights and was bullied a lot because he was overweight and closeted. He lived in the Dominican Republic for awhile and loved it. He gained so much confidence. He came out to his grandma, and she accepted him unconditionally.  For a dude who has been singing for only a few years, he's good.  Adam turned immediately. Alicia and Kelly next. And then Blake. He's hoping to work with Kelly. BUT TOO BAD JOHNNY. Adam BLOCKED her. Adam thinks he can win (He thinks everyone can win). The panel continues to bag on Adam's shirt. Alicia delivers one of her world class pitches. "That was beautiful," he says. Too bad Adam! Blake pretty much knows he doesn't have a chance, and he's fine with that. Before he chooses, Alicia reveals she was named after her Puerto Rican grandma. Then she sings "If I Ain't Got You" in Spanish. MIC DROP. Kelly says, "If I liked women I'd like Alicia" That thing you've heard over and over again in promos! Blake is also pushing for Alicia. And Johnny Chooses Team Alicia –  Download at iTunes
https://www.youtube.com/watch?v=flPswLpdcCc
.