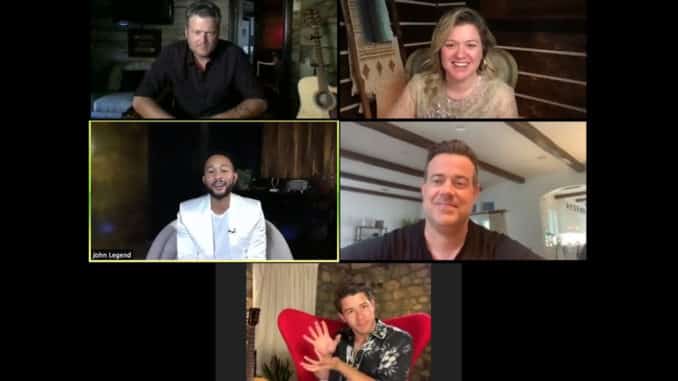 Competition series and talk shows have been forced to tape their shows using feeds from remote locations as Americans stay home during the Covid-19 pandemic. California recently announced the opening of TV and movie shoots. That's a good thing, as showrunners admit on record that remote production is "not sustainable."  What will production for shows like The Voice, America's Got Talent and American Idol look like when they finally CAN tape in studio?
The Voice, American Idol Live Remotes were Full of Glitches
Viewers have grown accustomed to the poor audio and gnarly internet connections that plague at-home productions. When The Voice and American Idol went live to announce the winners of their respective seasons on  their May finales, glitches abounded. For instance, the usually unflappable Idol host, Ryan Seacrest, looked so confused at one point while announcing the Top 3, that some viewers thought he was having a stroke. And The Voice's Carson Daly ran so short on time, that after revealing the Top 3, he went straight on to revealing the winner. The Voice announced the runner-up a few days later on social media.
Even the taped segments seem complicated, with each host, musician, guest star, judge/coach, and contestant beaming in from individual locations.
The Voice Showrunner Calls Remote Filming "Unsustainable"
The Voice showrunner Audrey Morrissey said during a TV Academy-sponsored panel titled "The Pivot" at the ATX TV Festival that remote production would be tough to maintain in the long term, noting the increased amount of time it took to produce the show's final rounds remotely in May. "What would normally be a one-hour camera rehearsal [in studio] turned into five hours" while filming remotely, she said. The ATX TV Festival itself took place remotely this year rather than in person in Austin.
Producers Look Forward to Filming in Studio, but Half Full Audiences Aren't "Worth It"
Morrissey and Late Late Show With James Corden executive producer Rob Crabbe both noted that when they're able to return to their studios, they'd prefer to do it without a live audience if the alternative is a socially distanced one that leaves the studio less than half full.
"It would be hard for us to do with a sparse audience," Crabbe said. "I think it would be unfulfilling for us to have 35 people in the room, all 10 fee apart. I don't think that would be something we'd really embrace."
Morrissey agreed: "If there's no mass [to the audience], there's no energy. It's not worth it."
California Announces Filming Can begin as Early as June 12
However, there is light at the end of the tunnel. California governor Gavin Newsom announced that film and television shoots can resume as soon as June 12. 
"Music, TV and film production may resume in California, recommended no sooner than June 12, 2020, and subject to approval by county public health officers within the jurisdictions of operations," said the California Department of Public Health said in a brief statement. "To reduce the risk of COVID-19 transmission, productions, cast, crew and other industry workers should abide by safety protocols agreed by labor and management, which may be further enhanced by county public health officers."
New rules would eliminate buffet style food service and add requirements to wipe down handheld props after each use.
When and How Will The Voice Filming Begin?
The Voice typically films the fall season's Blind Auditions in June. So far, NBC has not scheduled any live tapings. But with TV and movie production opening back up, I suspect filming with the host and coaches, in an empty studio, to begin before the summer is out.
NBC has NOT announced its fall schedule yet. The Voice is of course renewed, but there is no word on who will sit on the coaches panel. Blake Shelton and Kelly Clarkson seem committed to The Voice and will probably return.  However two-season coach John Legend and newbie Nick Jonas could decide to move on.