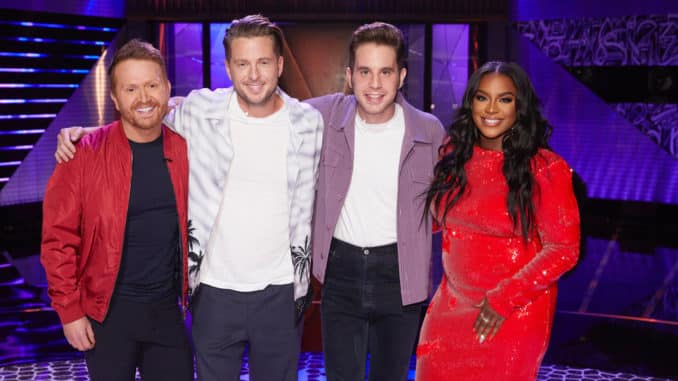 Songland season 2 penultimate episode airs tonight on NBC featuring Broadway and movie star Ben Platt. In the episode, songwriters will pitch their compositions to the the guest artist and the panel. Afterward, songwriter/producers Ryan Tedder, Shane McAnally and Ester Dean and the songwriters produce a version of the song to be presented to the guest artist. They choose one song to record and release. 
Everything you need to know about tonight's episode featuring Ben Platt:
Songland: Caroline Kole Pitches "Fools Gold" to Ben Platt (Video)
Songland Spoilers: Ben Platt Episode 9 – Meet the Songwriters!
Ben Platt is a "triple threat" artist-daner, singer and actor. He starred in the original production of Dear Evan Hansen on Broadway, and also appeared in the film Pitch Perfect. He's one Oscar away from an Egot at only 26. Ben is leaning away from Broadway to a more pop sound. 
The Artists Pitch their Songs
David Davis – Everything it Took to Get to You – He's the only non athlete in his family. His dad played football in the NFL. The song is about how all the hardships to make a relationship work were worth it. It's a very pretty song, but a little boring. Ryan compliments the lyrics, but critiques the melody.  The group work to flesh out the story, to make the payoff even more poignant.
Kylie Rothfield – Lonely –  Berklee graduate Kylie Rothfield competed on The Voice season 11 as a member of Team Alicia Keys. She was eliminated in the playoffs with a rendition of the Rolling Stones "Satisfaction." Her song, about being lonely in a big city, has a bit of a 60s retro feel. Yet, it feels very contemporary. Interesting. Ben is looking for something "vibier." Ryan is looking for "less production." Shane thinks the lyrics pose too many questions. They decide to make it a multi-city song. Kylie leaves the room and becomes very emotional. I hope they don't ruin the song…
Caroline Kole – She began traveling to Nashville at age 10. Her family eventually moved to Music City for her career. Eventually, Caroline toured with Reba McEntire and opened for artists such as Blakc Shelton, Eric Church and Martina McBride. The song has a very catchy chorus and is about chasing dreams. But Ben wants to make it a relationship song. Shane suggests adding a line about chasing rainbows, which sounds like a cliche, his success with Kacey Musgraves notwithstanding. Ryan thinks some of the melody is "too Broadway." I'm not hearing Broadway at all. 
Anna Hamilton – Deathbed –  Anna is from Kansas, and so is Ben's mom! She is a national water ski competitor and one of 11 siblings. The group seems put off by the title alone. She's got a good voice, however. Ben calls it "interesting" but is really turned off by "death." Ryan says "you can't land on deathbed." They change the last "deathbed" to "love left." I think this song is toast. She admits that the song is "a little aggressive."
Ben Platt makes his choice
David Davis, Kylie Rothfield and Caroline Kole move on to the next round. And unsurprisingly, Anna Hamilton is eliminated. It was clear the group wasn't vibing on her dark and maudlin song. 
Producer sessions
Ester Dean produces Kylie Rothfield – Ben is looking for a classic R&B sound and  lyrics that are relationship specific. Ester wants more build to the chorus. 
Shane McAnally produces Caroline Kole – Ben really wants the RAINBOW. Shane wants to flesh out the lyrics. The melody needs less work–Shane is determined to preserve it. Caroline wants to build space for Ben's "crazy range." 
Ryan Tedder produces David Davis – Ryan feels the lyrics need work, to be made more specific. Of course, he wants a choir. David appreciates Ryan simplifying the song, to make it more effective.
The Artists present their newly produced songs
Kylie Rothfield – Ghosts – The name change reflects the more romance specific lyrics. There is also a new bridge. The new version is very pretty and probably more suitable for Ben. But the 60's girl group vibe is completely gone. Oh well. There are some additional big notes that Ben would undoubtedly kill. His phrasing and range are steller. Ben calls the song "beautiful and haunting" and Kylie "special." I've rarely seen the room so moved after a performance.
David Davis – Everything it Took to Get to You – That song title is so long! The song hasn't changed much, actually. But with the gospel choir and a heightened chorus, it lands with more impact. Ben loves the lyric changes. "The story is so clear to me now." 
Caroline Kole – Fools Gold – The lyrics have changed quite a bit. They re-wrote it from top to bottom. But as Shane promised, the melody is intact. Which is a good thing. It's beautiful. Ben relates very much to the new lyrics. 
RESULTS
David, Kylie and Caroline return to the studio to hear the results. Ben explains that he sang each song before making his decision. Ben chooses…Everything it Took to Get to You by David Davis. Huh. I thought he'd pick Kylie's song. He seemed so enamored. Ben compliments Ryan, "He brought the song to the finish line."  He says, "It just felt like a song I've known for a long time." 
Ben Platt "Everything it Took to Get to You" written by David Davis
https://www.youtube.com/watch?v=60eULaIe40s