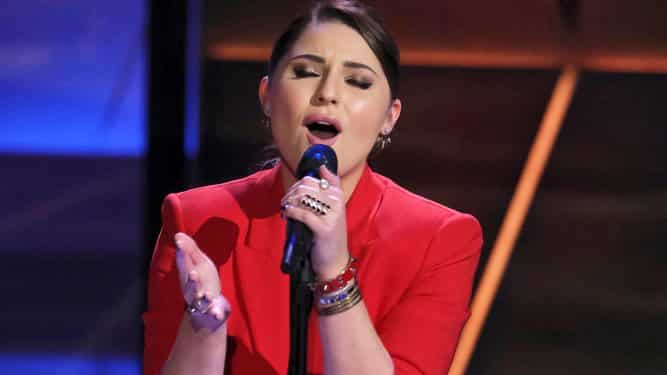 On next week's Songland, pop singer-songwriter Caroline Kole pitches "Fool's Gold" to Broadway and film star, Ben Platt.
In this penultimate episode of the season, the hopeful songwriter performs the piano driven ballad for Ben and the Songland panel Ester Dean, Shane McAnally and Ryan Tedder.
Shane is impressed with Caroline's phrasing. "It's just so different," he says. Ryan however sees a challenge. "The big science experiment on this record is going to be setting up Fool's Gold for the ultimate payoff." Caroline admits the song is a monologue about her self. However, Ben and Shane wonder if it would work better as a love song. 
Songland Spoilers: Ben Platt Episode 9 – Meet the Songwriters!
The group brainstorm lyric ideas, transforming the meaning. It becomes a song about chasing love to the end of the rainbow. But one there, maybe it's only "fool's gold." 
Ryan plays with the melody to make it less "Broadway." Meanwhile, Ben is thrilled the song is about boys and "gay as could be!" 
Songland airs on NBC at 10 pm ET/PT after America's Got Talent.
Watch Caroline Kole perform "Fools Gold" for Ben Platt and the Songland producers below.