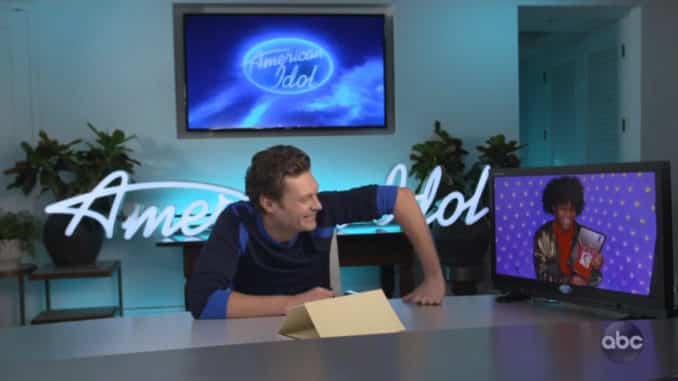 No. Ryan Seacrest Did Not Have A Stroke on the American Idol Finale
I'm a little confused? Because I didn't notice Ryan Seacrest acting strange? Granted the live parts of  Sunday night's (May 17) American Idol finale were glitchy and HELLA AWKWARD. But some fans are actually asking if Ryan had a stroke on air. Because he slurred his words? And one eye appeared bigger than the other? What?
The ruckus from fans was so loud, that Ryan's publicity folks issued a statement (!!!) to People magazine.
Towards the end of the show, which had seen Seacrest, 45, nimbly juggling on-air hosting duties as contestants appeared remotely from their homes, the star briefly appeared off: his words seemed slightly slurred and his right eye appeared larger than his left. The moment prompted a flurry of Twitter comments from fans concerned that Seacrest was not well, or had suffered some kind of neurological episode.

Not to worry, says a rep for Seacrest, who was also absent from Live with Kelly and Ryan on Monday morning.

"Ryan did not have any kind of stroke last night," the rep tells PEOPLE in an exclusive statement. "Like many people right now, Ryan is adjusting to the new normal and finding work-home balance, with the added stress of having to put on live shows from home."

"Between Live with Kelly and Ryan, American Idol, On Air with Ryan Seacrest, and the Disney Family Singalong specials, he has been juggling three to four on-air jobs over the last few weeks and he's in need of rest," adds the rep. "So today he took a well-deserved day off."
The Live Portions of the American Idol Finale were SUPER AWKWARD
After Ryan announced Just Sam and Arthur Gunn as the Top 2, the sound cut out in a few spots. Also, Ryan was uncharacteristically unsure whether he would be speaking with eliminated contestants, Dillon James, Francisco Martin and Jonny West. Can you say AWKWARD PAUSES? It was awkward.
Maybe because Ryan is SO professional and prepared that he rarely goofs up, the awkward moments seemed downright alarming. But these are unprecedented times. Ryan taking the day off from Live doesn't seem that weird considering how jam packed the previous week must have been for him and the entire American Idol crew.
The announcement of Just Sam as the winner of American Idol was less awkward, but not exactly smooth sailing either. Producers understood that anything could happen when the show went LIVE live for the first time this season. The outcome could have been worse…