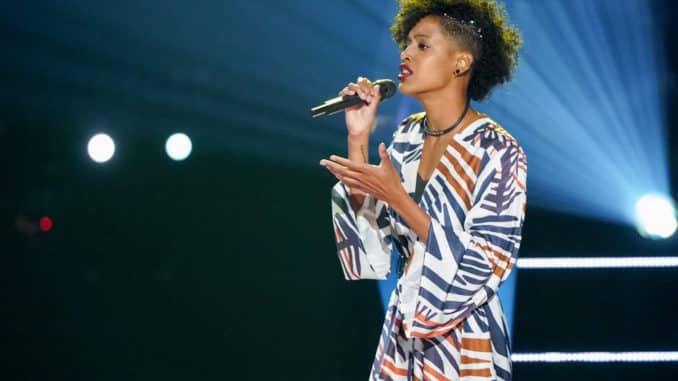 The Voice Recap Season 19 Battle Rounds 1
The Voice season 19 Battle Rounds begin tonight with coaches Blake Shelton, Kelly Clarkson John Legend and Gwen Stefani. Carson Daly hosts. We'll be live blogging all the Battle Round performances and Results right here.
Each of the coaches will work with an all-star advisor. Kane Brown will work with Blake Shelton's team, Leon Bridges will help Kelly Clarkson, Miguel will team up with John Legend and Julia Michaels joins Gwen Stefani,
Each coach gets a steal and a save
The Voice 19 Top 16 SPOILERS: Battle, Knockout Results, Song Choices
The Voice 19 Battle Rounds 1 Spoilers: Matchups and Song Choices
REMINDER: NO SPOILERS IN COMMENTS. Keep spoiler talk under spoiler posts above, thank you.
The Voice Recap Season 19 Battle Rounds 1
Taryn Papa vs Worth The Wait – Little White Church by Little Big Town – Team Blake Shelton – Worth the Wait is a family trio, while Taryn Papa has played Blake Shelton's Ole Red club in Nashville. Note: Kane Brown has auditioned for both The Voice and American Idol, but didn't get past the coaches/judges. A solo battling against a duo a trio is thankless. But Taryn takes it as a compliment, that Blake knows she's a strong singer.  Blake tells the young singer in the trio to "loosen up" and learn to engage with the lyrics. She's only 14. Oh Ha. Kane auditioned for The Voice 3 times. Oof. 
In the first verse, the trio serve as Taryn's backup singers. They blend well enough on the second verse. Although they have beautiful harmonies, Taryn has the strongest solo voice. It's not even a contest. If Blake is dead set on advancing a group, he'll stick with the trio. But if he's about choosing the best vocal, he should pick Taryn.
Gwen loved Taryn's personality, but she'd pick Worth the Wait, because she's intrigued with their backstory. John thinks it's a tough decision. He would pick Taryn. I agree. Kelly loves Taryn's tone. But she loves Worth the Wait's family harmony. She would pick the trio. Blake compares Taryn to Cassadee Pope, and Mia from the trio to Danielle Bradbery. Blake chooses Worth the Wait. and SAVES Taryn
Olivia Reyes vs Tamara Jade – Hard Place by H.E.R. – Team John Legend – Tamara is a 4 chair turn. Her mom is the church music director. Olivia's father is good friends with Voice season 2 winner Jermaine Paul. Miguel and John tell Tamara to tone down her vibrato a little, but also go for the high notes. Tamara has had classical training at a conservatory. 
Olivia is a stylist, while Tamara is a power belter. They both bring good things to the table. Tamara has a beautiful strong and pure tone. Credit to Olivia, she's holding her own here. It would be really tough to lose either one.
Gwen loves Olivia's tone. She calls Tamra "punk" because she's so wild with her runs. She'd pick her. Kelly compares Olivia to Jessie J and thinks both are great. Blake would go with Tamara, because she's so powerful. John feels both were effective in their own unique ways. John picks Tamara, Olivia is Eliminated. Aw. Too bad. 
Eli Zamora vs Madeline Consoer – Nobody Wants to Be Lonely by Ricky Martin & Christina Aguilera – Team Kelly Clarkson – Kelly had an eye infection while filming the Battles over the summer. As a result, she's sporting a pirate-like eye patch Arrrgh. Eli, a Spanish language singer, competed on the Telemundo series La Voz. Madeline grew up in Wisconsin, but now lives in Nashville. Kelly gives Madeline tips on phrasing and dynamics. She's looking for moments, admitting the song is outside her comfort zone. Eli is having problems singing in his lower range–Kelly and Leon coach his falsetto. Actually, both seem to need very little coaching.
Eli's style is old fashioned. But maybe it flies in Mexico? He's got a beautiful classical sounding voice though. Madeline also has a beautiful tone and excellent range, but as a pop singer, she's not very unique. Kudos to her for diving into the unfamiliar.
Blake says Eli didn't hit one single note wrong, Blake says her voice is like a "cliffhanger" that finally resolves. John felt more urgency from Madeline. They both would pick her. Gwen would pick Eli. Kelly dithers. But she eventually picks Madeline! Kelly likes that she can do any genre. Interesting. Madeline's ability to navigate an unfamiliar genre, more suited to her rival, sealed the deal for Kelly. – Kelly picks Madeline, Eli is eliminated
Lauren Frihauf vs Payge Turner – If the World Was Ending by JP Saxe & Julia Michaels – Team Gwen Stefani – Julia advised Adam Levine just a few seasons ago. Check out the preview of this performance HERE. Lauren is 16 years old and lives on a farm. She spends a ton of time on her own writing songs. Payge unexpectedly chose Team Gwen. Julia and the co-writer began dating after writing the song. Julia can't believe Payge sang in a man's octave. Gwen warned Lauren to open her airways. Julia loves the break in Payge's voice, and advises her to keep the identifying aspects of her tone in her performance. 
Payge sings with such feeling. Her phrasing is amazing. Lauren has a beautiful sweet tone. Her head voice is so lovely. But Payge has something special going on. She's distinctive, unique, a true artist. Payge won that battle, unequivocally.
Kelly could not keep her eyes off of Payge. She calls Lauren's tone angelic. She'd go with Payge. Blake calls Lauren unique. Blake hasn't accepted that Payge isn't on his team. He'd pick her. John thought both did a good job communicating the message of the song. He can't pick one. Gwen picks Payge, Lauren is STOLEN by John Legend and Blake Shelton Lauren picks John Gwen planned to save her. Blake claims that he picked Payge as a Psyop to get Gwen to pick her. Oh geez. 
Jus John vs Payton Lamar – Dancing with a Stranger by Normani & Sam Smith – Team Blake Shelton – Payton's husband is very supportive. John met his girlfriend at a gig, she's a solid support system. Kane advises both singers to be themselves. Blake warned John to hold back the runs. He tells Payton to be bolder. 
Payton's tone is kind of squeaky and nasally–noticeable in her Blind Audition as well. John is the better singer, I think. He's very soulful and smooth. The comparisons to Usher aren't misplaced. He's got some sweet runs too. He's very sexy to be honest. To me, this isn't a contest.
John compliments Payton's range. John brings up the Usher comparison. Gwen calls Jus John "natural." She can't pick. Kelly thought John was a little nervous? But only at the beginning. Blake picks Jus John, Payton is eliminated. Correct decision.
Bailey Rae vs Sid Kingsley – Tennessee Whiskey by Chris Stapleton – Team John Legend – Sid has been playing music all his life, but the singing came recently. He mentions the synagogue being closed as the reason why he and his fiancé aren't married yet. Bailey is only 18 years old, but seems older. She's John's first ever country artist. Blake pledged to steal her (his team was full) in the Battles. Miguel suggests Sid use his "bend" more. John suggests Bailey sing in a higher octave. "John is pulling me from my comfort zone" she says. 
Sid's a little too growly. He could tone that down a bit. He's almost shouty, like he's trying too hard. Bailey has incredible range with an old school vibe. She has a very mature approach for a teenager. I'd pick Bailey.
Gwen wasn't expecting Sid's range. Gwen thought Bailey started off timid, but she loves Bailey's range. Kelly would give it to Sid. Blake compares Bailey to Patty Loveless, but had a hard time hearing her lower range. He'd give it to Sid. John picks Bailey, Kelly steals Sid
Advancing to the Knockouts
Worth The Wait – Team Blake
Taryn Papa – SAVED by Team Blake
Tamara Jade – Team John
Madeline Consoer – Team Kelly
Payge Turner – Team Legend
Lauren Frihauf – STOLEN by Team Legend
Jus John – Team Blake
Bailey Rae – Team Legend
Sid Kingsley – STOLEN by Team Kelly
Eliminated
Payton Lamar from Team Blake
Eli Zamora from Team Kelly
Olivia Reyes from Team Legend