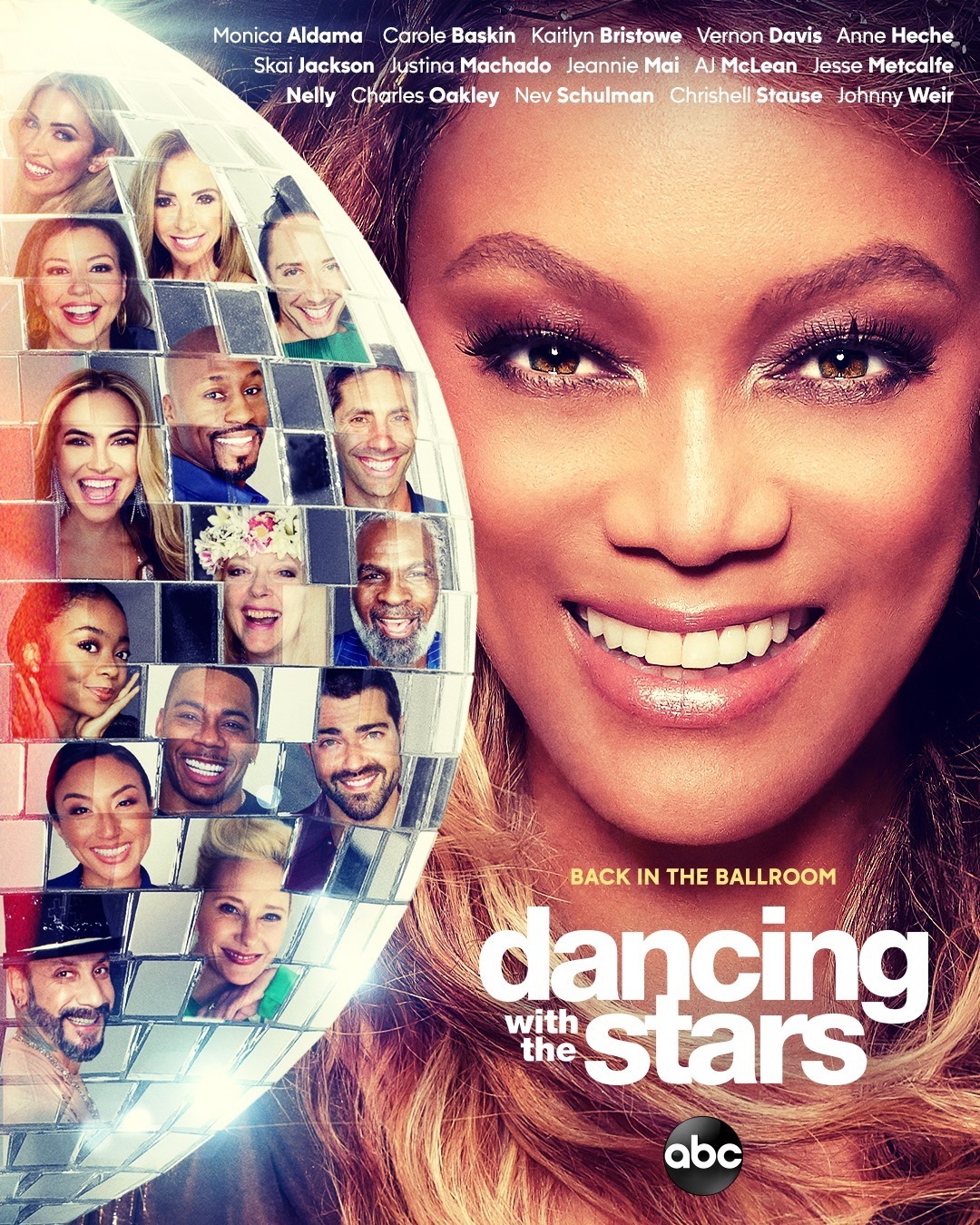 Hey Everyone :)
Welcome to week nine of season twenty-nine of Dancing with the Stars. Tonight is "Icons Night," and the stars will be dressed, dancing to and celebrating some of the biggest names in music. Only seven stars are left to compete in two rounds of competition.
Jeannie Mai and her partner Brandon had to drop out due to injury last week. Since a double elimination was scheduled, we still lost a second pair- Chrishell and Gleb. As arguably the weakest overall dancer left, each elimination from here on out is going to be really difficult. But your live votes will help determine what happens.
Following their usual individual dances, the stars will compete in dance-offs for extra points. Nev and Jenna are immune, thanks to having the highest overall average score. The other six will be compete one on one to the same style and the judges will award two points to the winner of each dance-off.
It should be interesting tonight to see how it all pans out. If we go by the season scores so far, three stars (AJ, Skai, and Nelly) need to really bring it to survive. But could the voters at home change the trajectory and give us a shock tonight? Anything is possible.
I will include voting details under each performance review but remember, you can begin voting as soon as the show begins and ends during the final commercial break before elimination. For anyone wanting to vote right at the top of the show- go to ABC.COM to vote online or use the following information to vote via text.
Text AJ to 21523 to vote for AJ McLean
Text JOHNNY to 21523 to vote for Johnny Weir
Text JUSTINA to 21523 to vote for Justina Machado
Text KAITLYN to 21523 to vote for Kaitlyn Bristowe
Text NELLY to 21523 to vote for Nelly
Text NEV to 21523 to vote for Nev Schulman
Text SKAI to 21523 to vote for Skai Jackson
LOL @ this opening based on those cheesy perfume commercials- this time, poking fun at an "icon" smelling scent.
Tyra arrives and wow, everyone is dressed in some fantastic costumes. Props to the hair, makeup, and costume department. Voting is official underway and we begin with Justina.
Justina Machado & Sasha – Rumba
Very good rumba. Very good. Some great hip actions and lovely extensions. It was a really proper rumba, so kudos to Sasha on the choreography. I saw a definite attempt at sensuality in the dance, so Justina played her part in that Nice and sultry with good technique. Impressed.
Derek calls it beautiful. He wanted a bit more sharpness in parts. Bruno says it was the gentle side of Madonna. He liked the content but he wanted things more extended and engaged. He says "nice" but "push it." Carrie Ann says Justina looks amazing. Rumba doesn't mean smaller even though it is slower. She wants more.
Carrie Ann- 8, Derek- 8, Bruno- 8 = 24/30
Nelly & Daniella – Jazz
Only on this show would that be considered jazz. I mean…come on. It was a bit of a mess. A lot of out of sync moments, a bit of dropped musicality here and there, and some very odd steps. I get what Daniella was going for and it was entertaining to watch but sadly, it landed for me more on the train wreck side of entertainment than the exciting and good kind.
Bruno says he was cool, confident, and in his element. He says he did miss a couple of steps throughout. Carrie Ann congratulates him on the track and says it was fun. She agrees steps were missed. Derek enjoyed the elements and the joy and fun of it.
Carrie Ann- 8, Derek- 8, Bruno- 8 = 24/30
*Well, that was quite generous.
AJ McLean & Cheryl – Viennese Waltz
Yeah, that was not one of AJ's better routines. He forgot a few steps in the beginning and had issues getting back into it. And beyond that, the turns were very clunky and awkward and the ending looked pretty rough. More balance and more elegance throughout were needed. I'm not sure if the mistake just threw him for good but this was rather lackluster.
Carrie Ann mentions quite a few things that were…bad. She does compliment him on opening his chest. She wants him to be aware of his hands when finishing a line. Derek feels bad for him but tells him his arm was much better. He tells him to be more aware of his face when dancing. Bruno feels he was too pumped up that he messed up. He tells him not to tense up too much.
Carrie Ann- 7, Derek- 8, Bruno- 8 = 23/30
*Again, generous scores from Derek and Bruno.
Kaitlyn Bristowe & Artem – Argentine Tango
Very good. Solid. I wanted a few more staccato movements in those intertwining leg placements but Artem went more for a sultry argentine tango. And that's fine. Just personal taste. Loved Kait's commitment here to the dance- it showed from head to toe. And she didn't miss a beat. One of her strongest overall numbers of the season.
Derek feels she always lacked a little impact until tonight. He gives Artem props on the choreography. Bruno loved the shapes and lines. He loved her focus. Carrie Ann stands up for her and says the judges pushed her to get her to tonight.
Carrie Ann- 10, Derek- 10, Bruno- 10 = 30/30
Johnny Weir & Britt – Quickstep
Nice quickstep. Everything was in there you expect to see. They were just racing around the ballroom, keeping in step, with some very fun and expressive moves. Johnny looks great in this Amy tribute and once again, Britt choreographs to his strengths.
Bruno calls it unique. He says the actual quickstep was excellent. Carrie Ann loves Johnny as a performer. She calls it amazing and loved how they used the whole floor. Derek tells Johnny he will always be enough and he thought the routine was so clean.
Carrie Ann- 10, Derek- 10, Bruno- 10 = 30/30
Skai Jackson & Alan – Paso Doble
Not bad. Not bad at all. The things I always mention with Skai were less evident here (her need to watch Alan closely to be sure of her next step, her balance issues, forgetting steps at times). She still had a few minor moments but it was much better than usual. And she looked fierce through so she definitely sold it for me. Definitely one of her better numbers.
Carrie Ann says it was a fierce paso doble. She labels it amazing. Derek calls her strong, powerful, and confident. He tells her to still watch her spots and the tension. Bruno says she lived up to the grown up dance. He does agree with Derek's critiques though.
Carrie Ann- 9, Derek- 9, Bruno- 9 = 27/30
Nev Schulman & Jenna – Jive
Haha. Fun. Lively jive with great kicks and flicks. Lovely tribute to Elton John. At times, the energy dipped a little. Probably a bit under where I would like it throughout but in other parts, very high energy. You can tell Nev absolutely loved to dance and Jenna is having fun this season working with him. Good stuff.
Derek loves that Nev has reclaimed his passion for performing. He thought it had a lot of content and just wanted a little more pump. Bruno calls it Elton on Broadway. He wanted more retraction in the kicks and flicks. Carrie Ann calls him a pleasure to watch. Carrie Ann wants Nev to point his feet more.
Carrie Ann- 9, Derek- 9, Bruno- 9 = 27/30
Round 2 – The Dance-Off
Cha-Cha-Cha Dance-off
Kaitlyn & Artem Vs. Justina & Sasha
Interesting. It looked like Justina actually had more content but Kaitlyn might have had a cleaner routine. For me, the more content rules the day because it was a lot of content done well versus less content done very well. It should be close though and I can see the judges going either way.
Carrie Ann votes Kaitlyn.
Derek votes Justina.
Bruno votes Justina.
Justina gets an added 2 points.
Salsa Dance-off
Skai & Alan Vs. Nelly & Daniella
I gotta give it to both. Pros and cons with each. Some very fun dancing here with lots of swag and style from Nelly and on the other side, some more technical salsa from Skai. Both had powerful moments and weak moments. At one point, Skai wasn't doing anything and another, Nelly was in his own world. I would probably give the nudge to Skai.
Carrie Ann votes Skai.
Derek votes Nelly.
Bruno votes Skai.
Skai gets an added 2 points.
Jive Dance-off
Johnny & Britt Vs. AJ & Cheryl
WOW. Close. I mean, really close. The closest of all three. Both couples did a great job keeping up those kicks and flicks and having really solid musicality. And both looked very committed to the dance. This could go either way.
Carrie Ann votes Johnny.
Derek votes AJ.
Bruno votes AJ.
AJ gets an added 2 points.
How funny (and coincidental) that the contestants who really needed two extra point to make the margins closer actually got them. And the couples who had the higher scores going in did not earn them. Makes one go hmmm about these judges and producers. Who knows? Results up next…
Judges Scores (Out of 32)
Kaitlyn- 30
Johnny- 30
–
Skai- 29
Nev- 29
–
Justina- 26
–
AJ- 25
–
Nelly- 24
Results Time!
……..but first- a filler package of what making it to the semi-finals would mean to all the contestants. Because as if any of them are going to say anything but… "I WANT TO MAKE IT TO THE SEMI-FINALS." LOL
The following couples are SAFE and will return next week to dance: Kaitlyn & Artem, Skai & Alan, Nev & Jenna, Justina & Sasha, and Nelly & Daniella.
The following couples are in the bottom two: AJ & Cheryl and Johnny & Britt
Bruno SAVES Johnny & Britt
Derek SAVES AJ & Cheryl
Carrie Ann SAVES Johnny & Britt
Eliminated- AJ & Cheryl
Well, the audience has spoken. Johnny's second time in the bottom but clearly the better dancer. AJ never in the bottom but a very up and down season. I think the judges made the right choice but of course, we have some dancers sill in who are relatively weaker than these two.
Next Monday is the "Semi-Finals," meaning we are thissss close to crowning brand new champions and closing this season out. Who will shine? Who will falter? And who will actually make it to this season's grand finale? It is a DOUBLE ELIMINATION. Watch with me next week to find out and thanks so much for joining in on the fun with me tonight.