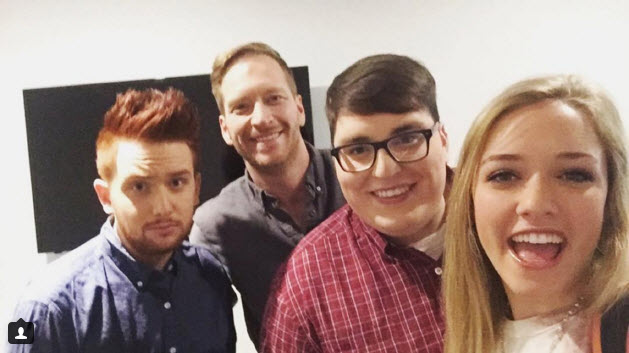 Lyndsey Parker from Reality Rocks got the opportunity to sit down with The Voice Top 4 ahead of the finale set for Monday (8 pm ET) and Tuesday (9 PM ET) on NBC. The interview took place at Henson Studios as the singers prepared to record their coaches duets. As such, Lyndsey got the scoop on with the finalists would be singing with their respective coaches.
Jordan Smith and coach Adam Levine will sing "God Only Knows" by the Beach Boys.
Jeffery Austin and coach Gwen Stefani will team up on Stevie Nicks and Don Henley's "Leather and Lace."
Barrett Baber's duet with coach Blake Shelton is "Rhinestone Cowboy" by Glen Campbell. It was Barrett's idea. He wanted to do a stripped down version of the song. Blake wanted a more traditional cover. Blake's idea prevailed. The coach will also sing "Islands in the Stream" by Kenny Rogers and Dolly Parton with his charge, Emily Roberts.
Jordan Smith
Jordan's answers are thoughtful, intelligent, and confident. Not exactly the narrative the show is trying to sell us. He's also a HUGE The Voice fan.
Barrett Baber
Barrett has had a ton of musical influences over the years. Also, it was Season 7 contestant, Luke Wade, who forwarded a video to the producers of the show.
Emily Ann Roberts
Emily confesses she's not comfortable working the stage. Blake helped her with that aspect of her performing. Carrie Underwood was her first album.
Jeffery Austin
Weirdly, Jeffery's video isn't available for embed. You can watch it HERE. Melanie Martinez and Josh Kaufman are some of his favorite The Voice singers. He chose songs to perform based on his ability to connect emotionally to the material.  Maroon 5 was the first concert he ever attended.