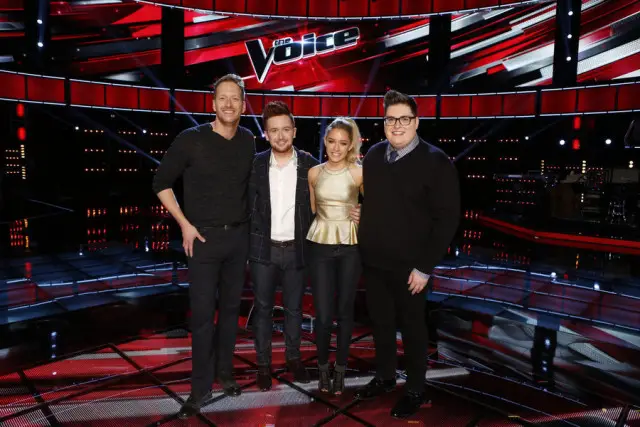 The Voice 9 Final Power Rankings
It's The Voice 9 FINAL Power Rankings, ahead of Monday's LIVE show. The Final Four will sing three songs each for your votes, and on The Voice Tuesday, a winner will be crowned.
One of the finalists' three songs, a coach/contestant duet, has already officially leaked. You can check them out HERE.
As for the remaining two performances, there are rumors, that in lieu of original songs, the Final Four will perform Christmas songs instead. I know! Lame if true. But if the aim here is to sell iTunes, the recordings will probably clean up, and they could keep selling all the way up until the 25th, while an original song would have a much shorter shelf life.   The money spent procuring brand new songs was kind of a waste, considering how the label doesn't bother promoting the tunes as singles once the confetti has flown.
Besides,  Jordan Smith, who is predicted to win, isn't particularly sellable as a pop artist, but could totally clean up with a Christmas album. A spiritual, heartfelt Christmas song from Jordan, could surely, like his song did last week, knock Queen Adele off her #1 perch at iTunes.
Rumors do indicate the third song will be a new cover.  Last week, I suggested the nine contestants vying for four spots play it as safe as humanly possible in order to please as many voters as possible. My suggestion this week is the complete opposite. Ya'll made the final. It's time to take a few risks. Go out with a bang. Show us what kind of artist YOU are. Jordin Smith is going to win no matter what happens Monday night. The die is cast people! I hope the contestants make the very most of their "hour on the stage."
Here are the Final 4 finalists, ranked according to strength coming out of last week's show.
See you later for more song spoilers, and Monday at 8 pm for our Live Blog. The Voice airs on NBC.
4. Jeffery Austin – Team Gwen –  My advice to take a risk is aimed at Jeffery, in particular, who barely made it into the final. I suspect he'll be the first eliminated. But that's fine, because he made the final and earned the right to 3 more performances! I hope he chooses a cover that he loves and connects deeply with. I'm looking forward to throwing all my shoes at my TV screen as he drops his heart on the stage.
3. Barrett Baber – Team Blake – Barrett has more people than I thought. He managed to pass iTunes stars Madi Davis and Amy Vachal to make the final with a messy arrangement of an obscure-ish pop song performed at the top of the show. I have him positioned behind Emily, because she's been on an upward trajectory since the finals began. But having said that, I would not be shocked if he finished second.  Blake's singers are fighting for second place.
2. Emily Ann Roberts – Team Blake – I think Emily Ann is the shiny apple in Blake Shelton's eye, and he'll do everything to make sure she succeeds. He's got a formula going for her that works–assigning the young fresh-faced singer old school tunes sung by the legendary women of country music. The juxtaposition between new and old works–viewers are enthralled.  However, I'm side-eyeing Blake real hard over that "Island in the Streams" duet pick. Emily is only 16. Yuck. Viewers could be turned off if the squick factor is high.
1. Jordan Smith – Team Adam – Jordan is hinting around that he'll be singing a BIG song by a female singing star as his cover.  Or if the Christmas song rumor is true, Jordan could sing "Silent Night" and include all the super religious verses. Whatever it is, expect, a full choir, a huge string section, and the heavenly father with a flock of angels descending on a cloud to anoint the chosen one. I kid. But ya'll know he's winning.
I was so nervous for my favorites ahead of last week's bloodbath. But with Jordan's win seemingly a foregone conclusion, everything that happens during this final week of The Voice 9 will be anti-climatic.