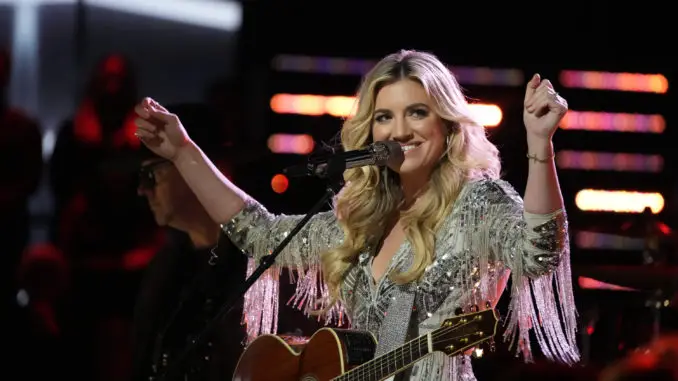 The Voice 22 Top 10 perform LIVE for America's Vote, vying for a spot in the Top 8. At this point of the season, coaches Blake Shelton, Camila Cabello, John Legend and Gwen Stefani will have NO SAY in the results. It's all up to America. Carson Daly hosts!
The Voice 22 Top 10 Ranked – Now YOU Rate The Artists
VOTE on the NBC voice phone app or go to http://nbc.com/voicevote. Fans have until tomorrow morning to vote for their favorites. The Top 8 will be revealed on the Tuesday November 29 results show.
It's FAN WEEK. Fans chose the songs the Top 10 will perform tonight. Fan parties taking place in Miami and Nashville featuring Jeremy Rosado and Wendy Moten, respectively. Fans will introduce each of the artists on video.
Parajita Bastola – Team Legend – Scars to Your Beautiful by Alessia Cara
She wants to show America she has a youthful side, but she's sceptical of her pop side. She doesn't seem sure about the song pick, but she's willing to take it on. John sings backgrounds for her in rehearsal.
Good thing, the song is arranged in the ballady style in which the teen singer feels comfortable. The song turns out to actually be a great pick for her, allowing Parajita to show off that burnished tone and beautiful phrasing. The arrangement gives the song an Adele-ish vibe. Hopefully, singing first won't hurt her!
Blake calls it a masterclass in great execution. "A lot of fun, it meant alot." Camila could really feel her in that performance. Gwen loves her outfit. "You look incredible." She calls it the perfect song. John loves the message "I love the flutter in your voice….I'm amazed by you every week."
Rowan Grace – Team Blake – i love you by Billie Eilish
Rowan brings her mom to rehearsal. Back home she recounts doing the weather on a local news station. It's awkward! The fans suggested a contemporary song for Rowan, which again, the young singer isn't entirely sure about. Blake is excited for her to show a different side.
If she does a good job here, it could be a moment. But the ethereal melody is difficult, and once again Rowan is having issues staying on pitch. The 17 year old has a ton of potential. Her tone and phrasing are interesting, but she still needs some work. The second half is better than the first.
Camila loves her tone, but felt it was challenging. Oh. she's being honest. Gwen calls it gorgeous. John calls it an "interesting choice" and also called the song a challenge. "But you nailed it." Blake believes that she met the test. No, the song pick actually highlighted her weaknesses.
Sara Hyland is in the audience holding a sign. She's promoting the Peacock show "Pitch Perfect: Bumper in Berlin." Next, it's Wendy Moten co-hosting the Nashville fan party at Ole Red. She advises the contestants to "enjoy the moment." She loves Justin Aaron!
Justin Aaron – Team Gwen – Just Once by Quincy Jones ft James Ingram
Justin talks about dealing with the fallout from his parents divorce. Nevertheless, his relationship with his wife is amazing, he says.
I have mixed feelings about this old-fashioned song choice. But the tune was very popular back in the 80s and s now a classic. It should be a crowd pleaser. His voice is as clear and sweet as a bell. His intonation is gorgeous. By the third verse, he brings on the growl and the power. Justin has turned into the season's dark horse. He came out of nowhere!
The coaches are one their feet. John's mother loves Justin. Camila calls his tone beautiful and Justin a masterful singer. She describes listening to his voice: "My ear is always so happy." Gwen adds that her parents love him too. "You are a master. All of America is going to vote for you."
Brayden Lape – Team Blake – Homesick by Kane Brown
Brayden's high school football team sent in a good luck video. It's the longest the 16 year old singer has been away from home, so he relates to the song. Blake thinks the young country singer has crossover appeal.
Although the performance doesn't go anywhere, the song suits Brayden's languid, easy style. However, his singing needs more OOMPH. His tone is pleasant, but he doesn't vary his phrasing or dynamics much during a song. The end result is boring, although his personality is appealing. He flips his hair at just the right moment.
Camila called the performance "delightful" and her favorite performance of his. "That chorus fit you like a glove," says Gwen. She calls him "calm." Blake predicts great things for Brayden. "I'm so happy for you dude."
Kim Cruse – Team Legend – Love on the Brain by Rihanna
This is the perfect song choice for Kim. It's a modern tune with a retro feel. It's the best of both worlds. John gives Kim notes on her phrasing. He sings it for her!
Kim came on strong at the beginning of the season, but has lost some luster in the lives. However, this powerful performance should bring her back on top. Only two leave the competition tomorrow, and this powerful performance should push her forward into the semi-finals. Camila is on her feet looking like she's about to have a heart attack!
The coaches are on their feet. Blake thinks she could kill things and bring them back to life with her voice. Gwen says "I think you're underrated on this season." True! John believes the song was the exact perfect match to her talent. "That was so incredible…thrilling…chilling…you killed it Kim!" She approaches the panel for a hug from her coach.
Bryce Leatherwood – Team Blake – Sand in My Boots by Morgan Wallen
He's performed the Morgan Wallen song before, on stage prior to The Voice. "We still claim Morgan Wallen around these parts," says Blake who didn't turn or steal the singer when he competed on season 6. Blake feels Bryce has grown a lot throughout the competition. The fans who introduce his song are from New York City!
Bryce ditches the cowboy hat this week. The song is stripped back and allows the country singer to be emotional, which has been missing from his performances so far. It's a plaintive rendition of the song, and probably one of his best performances so far. This should keep him in the competition. Taking off the hat is emblematic of his willingness to finally show his heart. That was impressive.
Camila compares his tone to butter, and his voice sourdough bread. Hm.. "You're just like a pro up there. You just feel like you belong on country radio," says John. Blake believes in him! "People are buying into Bryce Leatherwood."
Kique – Team Gwen – Call Out My Name by the Weeknd
Kique was "Instantly Saved" last week. Gwen calls her young team member "a true creative genius." She advises Kique on being authentic and true to himself. He feels that he is still fighting for his life.
Kique can't sing live tonight after testing positive for Covid, so the show is airing a pre-recorded performance. He recorded the performance in a real studio. It's not like he's singing from home or a hotel room. No live band or backgrounds. But the setup doesn't hurt him. They might have gotten away with passing it off as normal! Having said all that, he delivers a very full and passionate rendition of the song, which highlights his strengths.
After the song, Kique beams in live from a curtained off area. "I'm not feeling too great," he admits. John calls his voice rich, especially the lower part. "You make every song your own…you're so daring," he says. Gwen is proud to be his coach. "You are absolutely flawless."
Jeremy Rosado attends the South Miami fan party. He's rooting for Morgan, whom he's become friends with.
Morgan Myles – Team Camila – Tennessee Whiskey by Chris Stapleton
Her fans are called "The Milestones." She came into the show with fans, because she's been releasing and playing music for years. Morgan really shines on bluesy numbers. It's a great song choice for her.
She interacts with the band and seems relaxed, despite using that rangy voice to sing the heck out of the beloved Stapleton hit. Her rasp comes out on the high notes. Morgan is a pro through and through. Camila will end up in the finale, despite losing nearly her entire team! Incredible performance.
John compares it to an award show performance. "You were doing exactly what you need to be doing." Blake jokes that Camila is encroaching on his territory. Camila calls Morgan a "superstar."
Bodie – Team Blake – Golden Hour by JVKE
He's an inspiration to people who also suffer from alopecia, the chronic hair thinning disease. Bodie explains that "Golden Hour" gained frame on Tik Tok. "They got to get you a record deal!" Blake gushes.
The song features rap-singing parts along with melody. The chorus gives him the opportunity to show off his amazing range. This song has everything, and seems really hard to sing. It has a bunch of moving parts that change quickly. His timing, rhythm, intonation are stellar. This guy could be on pop radio right now. Bodie has had some incredible performances, and this is one of his best.
The coaches are on their feet. The crowd is legit going crazy. Camila feels "starstruck" by Bodie. "You are such an artist! You are different than anyone else here." Gwen thinks he has his own lane. She calls his voice alternative, but so much more. Blake notes the difficulty of the song. "This may be the greatest performance I've ever seen on the show."
Omar Jose Cardona – Team Legend – I Want to Know What Love Is by Foreigner
It's not a very inspired song choice. However, he feels the fans are challenging him. Maybe with the song's range? But we know Omar can hit high notes.
He starts the performance at the piano. The singer proves once again that he Can. Hit. All. The. Notes. Kudos for nailing the key change, but I'm still waiting for some subtlety.
Camila calls the performance "euphoric and magical" and Omar a "fire breathing dragon." Gwen is impressed with how he "glides up to his notes." She felt it was more emotional than last week. No, it was not. John calls his singing "spiritual" and says "you are the reason The Voice exists."
Tomorrow Gwen and John will sing with their teams as the Top 8 is revealed.