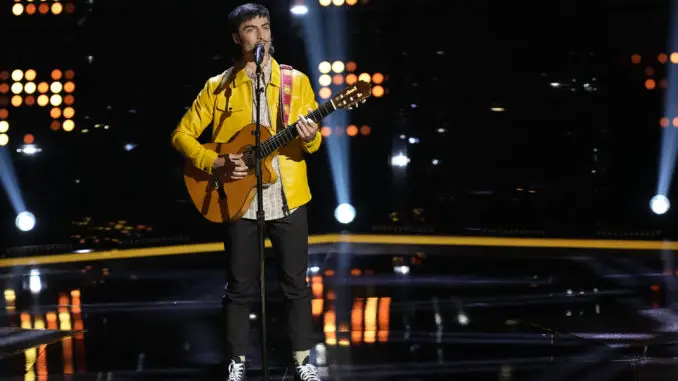 The Voice season 22 Blind Auditions END tonight with returning coaches Blake Shelton, Gwen Stefani and John Legend. Pop star Camila Cabello joins the panel.  Carson Daly returns as host.  We'll be live blogging all the Blind Audition performances right here.
The FULL top 56 will be REVEALED.
The winner receives a cash prize and a recording contract with Republic Records, among other announced prizes.
The Voice 22 Contestant List – Meet the Artists! (Photos, Videos)
The Voice 22 Spoilers: Blinds, Battles, Knockouts, Top 16
The Voice Season 22 Full Schedule CONFIRMED
REMINDER: NO SPOILERS IN COMMENTS. Keep spoiler talk under spoiler posts above. Thank you.
Kim Kruse – 30 – Best Part by Daniel Caesar ft. H.E.R
The night kicks off with a silky smooth performance that eventually garners four chairs. John is the first to hit his button for Kim, whose tasteful runs get Camile to turn second. Gwen and then Blake turn their chairs. Gwen calls the performance "unbelievably pretty." The singer grew up in a small Texas town. She started singing in her father's church. A performance she posted on her McDonalds lunch break went viral. And her career took off. But she doesn't have a manager! She needs help.
"Did you hear the runs!" Gwen exclaims. John thinks she deserves to be in the finale. Camila compliments her tone and "melodic ear." Blake points out that he's won the show a lot. He had no idea who sang the song, but believes he and Kim can teach other a lot. Wow. That's quite the pitch. He can't be serious. Kim picks John. Not a surprise – 4 chair turn, Kim picks Team Legend
Steven McMorran – 40 – Never Enough from The Greatest Showman
He's an experienced artist. He had a couple record deals, he's written for Celine Dion, Tim McGraw and Michael Bolton. Jimmie Allen is about to release one of his songs. How about that–Jimmie is Blake's Battle Round advisor this season. Bolton calls in to congratulate Steven and wish him good luck. Steven hopes that The Voice helps him finally capture elusive success as a vocalist. He's got a Josh Groban adult contemporary vibe going. Only Camila turns. His vocal really strains on the high notes, and is kind of grating. 
Gwen felt his voice didn't come together. John compliments his range. Camila thinks he has a special tone. She liked his belting notes. – Only Camila turns
Rowan Grace – 16 – traitor by Olivia Rodrigo
John and Gwen turn around right away for Rowan's contemporary pop sound. She has a clear tone, and sings with simple phrasing and little adornment. She's very earnest and has a pretty head voice. Camila eventually turns for her. 
Gwen compliments her control and maturity. Rowan explains that her dad played drums back in her South Dakota hometown. She loves theater and songwriting. John felt like she really connected to the song, remarkable for a young teen. Camila thinks she can coach Rowan through her nerves. Gwen mentions that she won The Voice with a young teen–Carter Rubin. And Rowan picks Gwen…not Camila! – John, Gwen, Camila turn, Rowan picks Team Gwen
Yelka – 20 – No Me Queda Mas
Yelka's mom is from Peru, and her dad from Mexico. She learned Spanish before she learned English. They are very supportive. She's studying music and communications in college, the first of her family to go. She's singing in Spanish. At this point in the competition, will she get a turn? She has a good voice. But…nope. I smelled a no turn (because it was that time in the show!) She's a good singer, just bad timing.
Camila compliments her. But she's looking for a little more. "You show a lot of potential," she said. John felt her pitch was a little unsure. "I was a little bit lost," jokes Blake. "Come back and see us again." – No Turns
Constance Howard – 27 – Peaches by Justin Bieber
NBC previewed this audition last week. The Katy, Texas native teaches fourth grade. She motivates her students with music. Her mom, also a teacher, encouraged her to audition for everything. Constance can sing whistle notes, which she calls her "secret weapon." The thing is, the ability to sing very high notes can almost come off as a party trick. Constance is a good singer otherwise, which is why the coaches should turn, which John and Camila eventually do. Having said that, her phrasing is a little mannered, although her vocals are effortless. She almost brings an "island" sound to her phrasing, which sounds a little odd.
Camila has one more spot on her team, and she feels Constance has what she's looking for. Camila claims she was very shy, and sang for the first time in front of people when she auditioned for X Factor. John compares her to Rihanna, who also has Carribean influences. John also compares her to Minnie Riperton, who brought whistle notes to pop music in the 70s. Blake jokes that her high notes "temporarily paralyzed" him. Camila says if The Voice was a dating app, she'd swipe right. Constance takes a left turn. Although she grew up listening to John, she's picking Camila – John and Camila turn, Constance picks Team Camila
Camila's team is full
Justin Aaron – 34 – Glory by Common and John Legend.
Justin was raised by a single mother. He got married, and mom moved down the street. She sang in church. He considers himself a contemporary/Christian artist. He didn't develop a relationship with his father until adulthood, but sadly, he died of COVID last year. Uh oh. John Legend hates when contestants cover his song. He straight up says he usually won't turn for them. Justin is a gorgeious singer–soulful with a beautiful tone. Gwen turns! And John doesn't. 
"What's wrong with you freaks!" screams Gwen. Blake expected John to turn. But he did not. John hanks Justin for singing his song. He explains that he "overanalyzes" performances of his own music. Gwen thinks she can help Justin figure out his identity. Gwen is speaking as if everyone had a turn…They probably did. These auditions are not taped in order. Ever wonder why the coaches keep wearing the same outfits despite their being several tapings? It's so the editors can mix and match performances –  Only Gwen turned
Gwen's team is full
August James – 21 – Heart of Glass by Blondie (Miley Cyrus version)
While her family is full of professionals, she dropped out of community college. In high school, she was very rebellious. At 15, she began taking voice and guitar lessons. I smell a no turn! She's shouty and the song choice is bad. Whoa. So many bad notes. John and Blake won't turn for this. But the minute she said she was a rock singer, her fate was sealed. That, and her singing was excruciatingly off pitch. Why would the show air that?
Blake said she started off well, but got wobbly after that. Camila thinks she needs more dynamics. Gwen calls it "really cool" but she needs different speeds. John thought the song got ahead of her. Oh. It's obvious the coaches all have spots at this point. – No Turns
Jaeden Luke – 22 – Make it With You by Bread
He performs at wineries in Washington, where he lives. John Mayer and Ed Sheeran are his influences. OMG he's singing Bread. Why? "They are exactly who I am as an artist." Alrighty, then. He performs a very whispery version of the song. It's slightly less dull than the original, until further along, when he finally adds some jazzy heft. Both Blake and John turn. 
Gwen would have turned if she could have. Bread is one of her favorite bands. Jaeden had the opportunity to open for John, but he didn't pick him. Oops! John promises to sing with him if he joins Team Legend. Jaeden confesses that he sang the song for Camila. Flirting! Blake loves his mullet. "We listen to Bread all the time," he says about himself and Gwen. Blake wants Jaeden to complete his team. Blake and John turn, Jaeden picks Team Blake
Blake's team is full
Nia Skyfer – 26 – Bam Bam by Camila Cabello
The Voice cast a ton of Latin singers this season likely because of Camila Cabello on the panel. And here's another one, after she's already filled up her team. John is the only coach left with a spot. They'll probably tease with a no turn, before John finds his last team member. Let's see! Her grandmother used to bribe her to sing. Oh. She's covering Camila. Sads. Earlier in the process, Camila might have turned! She's from Havana! But John does! His team is complete!
Gwen thinks she has style and star power. Camila loved how she interacted with the crowd. – Only John turned
And that's it for the The Voice season 22 Blind Auditions!
Coaches performance
Next, the coaches sing Camila Cabello's Havana, a performance that NBC uploaded to their Youtube channel weeks ago!
The episode will end with a Battle performance from Team Blake. Jimmie Allen is his celebrity advisor.
The Battle Rounds Begin
Austin Montgomery vs Tanner Fussell – Team Blake – Folsom Prison Blues by Johnny Cash
Jimmie Allen is like THE KING OF REALITY SHOWS. He made the American Idol season 10 top 40, competed on Dancing with the Stars last year, has appeared on Idol numerous times. He shares that The Voice rejected him twice "My bass player got farther than I did! Blake put Austin and Tanner together because they each bring a "vintage" vibe to the pairing. Both are enthusiastic about covering Cash. Jimmie doesn't have any notes for the singers, other than "awesome." Blake suggests Tanner not lean so much on the growl, and he suggests that Austin loosen up. He's about 10 years younger than Tanner.
The two strum along on their respective guitars. They each display very distinctive voices, but their harmonies are solid. Tanner's tone is too guttural. Blake had good advice for him on that count. Austin isn't a great singer, but his voice is smoother. They both know how to entertain an audience.
Camila calls it an awards show performance. She does not know the song. Austin claims it's only his fifth live performance. Gwen admires their "character" style, which she has too. Gwen would pick Austin because he's only 19. John would pick Tanner. Blake thinks both singers took his notes. Blake picks ….
To be continued!
The Voice returns Tuesday night on NBC at 8 pm. ET/PT.