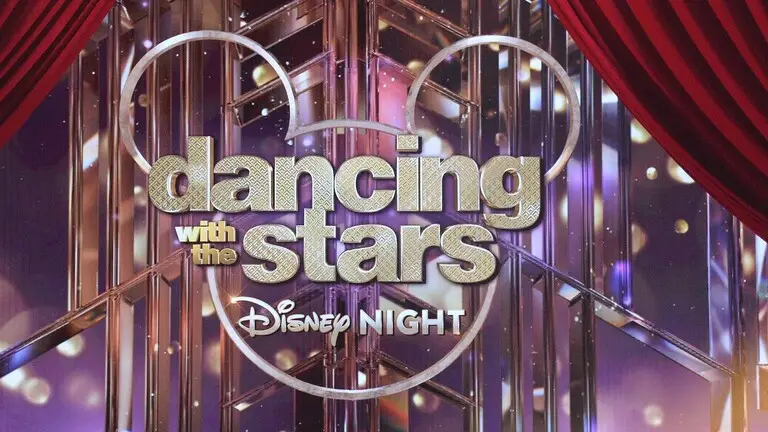 It's the night we've all been waiting for… Disney (Plus) Night on Dancing With The Stars!
Disney Night first began in Season 18 when the couples would dance to songs from classic Disney films (usually used as a marketing tool for upcoming releases). The magical themed night then appeared every other season until Season 27 when it became a DWTS tradition each season.
But Season 31 is taking Disney Night to another level thanks to the show's switch to Disney+, making tonight's theme centered around shows and films you'll specifically find on the streaming service.
After last week's Bond Night sent Cheryl and Louis Rumba-ing out of the ballroom, only 13 couples remain. This week will also see the return of pro Daniella Karagach, who was out for two weeks after a positive COVID diagnosis, leaving her celeb partner Joseph Baena to dance with new troupe member and SYTYCD winner Alexis Warr.
Vote at DisneyPlus.com or text the contestant's FIRST NAME to 21523. Voting begins at the top of the show.
The show begins with a troupe performance to "Colombia, Mi Encanto" from Encanto, then Mickey and Minnie join Tyra and Alfonso on the dance floor!
Joseph and Daniella – Charleston – Hercules
Hercules is fitting for Joseph, but Charleston isn't. He did well in hold, but he lacked some major bounce. Great to see Daniella and her unique choreo again though!
Len says it needed more swivel but that Daniella overloads it with tricks. Derek compliments Joseph's pecs before saying there were too many lifts but the Charleston parts were good. Bruno says Joseph released his pecs appeal, but lost timing at times. Carrie Ann says it was a great routine to start the night but he needs to get the ins and out of lifts right and he needs to put his shirt back on because it was distracting.
Carrie Ann- 7, Len- 7, Derek- 7, Bruno- 7 = 28/40
Sam and Cheryl – Paso Doble – The Greatest Showman
I really wanted Sam to do well but he just lacks technique. Those knee walks gave me some major Drew Lachey and Charyl vibes though, who remembers that all those seasons ago??
Derek shouts out the knee walks and says he can't help but root for him despite lacking some shape and character. Bruno says it was big ballsy, dramatic and passionate. Carrie Ann says she's proud of him for pushing himself. Len says Sam's a showman (get it?). 
Carrie Ann- 7. Len- 6, Derek- 6, Bruno- 6 = 25/40
Jordin and Brandon – Jazz – Coco
I love the way the dance started with Jordin singing "Remember Me," especially since she enjoys singing it to her son. She absolutely nailed this Jazz, I believe this is the best she's done so far. That routine was full of fun content, Brandon is becoming such a great choreographer.
Bruno wonders how he could forget her and says she danced with her heart tonight. Carrie Ann says it was spectacular and that she lost herself in enjoyment. Len says it had lovely fluid movement and it was her best dance to date. Derek says she lights up the ballroom when she dances and they feel that. 
Carrie Ann- 9, Len- 8, Derek- 8, Bruno- 9 = 34/40
The show breaks for real-life dancing couple Daniella and Pasha to perform a little routine to "That's How You Know" from Enchanted.
Wayne and Witney – Jazz – Hamilton
Witney's always been a terrific Jazz choreographer. Much like Alfonso, Wayne really keeps up well with her. What a fun routine with some hints of Hip Hop and even Latin.
Carrie Ann says he was strong footed and they hit all different flavors of Jazz. Len says he keeps delivering week after week and it was exceptional. Derek says he felt Wayne's emotion from the way he moved his body, and everything about it was sensational. Bruno says he took them on a journey with the character.
Carrie Ann- 9, Len- 9, Derek- 9, Bruno- 9 = 36/40
Daniel and Britt – Quickstep – High School Musical: The Musical: The Series
I definitely saw improvements in his frame but that was an incredibly difficult routine for someone who has never done Quickstep. His leg work needed some major work with this one, but routine-wise it was really enjoyable.
Len says there was too much messing about and that mistakes happened because of too many props. Derek says he loved the storytelling but the footwork went wrong here and there. Bruno says the frame was better and managed the footwork well most of the time, but lost a step at one point. Carrie Ann says he made a lot of mistakes but his technique made up for it and he handled it beautifully and gave a fantastic performance. 
Carie Ann- 7, Len- 7, Derek- 7, Bruno- 8 = 29/40
Shangela and Gleb – Charleston – Princess and the Frog
"Dig A Little Deeper" is a great upbeat Charleston song, and I love the way these Charleston costumes mimic Tiana and Prince Naveen. These two are also joined by Jennifer Lewis, the original singer of this song, performing it live as they dance! I think there actually could have been a pot more content in this on Gleb's end, but Shangela nailed every step she was given.
Derek says they can always rely on her to get the ballroom going, and he can see refinement and details in the dancing. Bruno says if they dug any deeper they would have struck oil. Carrie Ann says she embodied the spirit of the Charleston, but reminds her to point her foot more. Len says it was full of energy and he's full of praise. 
Carrie Ann- 8, Len- 8, Derek- 8, Bruno- 8 = 32/40
Heidi and Artem – Viennese Waltz – Mary Poppins
I think Artem just took a page out of Derek's book by dancing with an umbrella. I personally prefer more in hold, but Heidi did well. That was also a really elaborate chimney set.
Bruno calls her practically perfect and says she's never been better. Carrie Ann says it was magical and Heidi has found her confidence. Len says it had a light, gentle feel to it but he would have liked more in hold. Derek says it was pretty, clean, precise, and the best frame of the night.
Carrie Ann- 9, Len- 8, Derek- 8, Bruno- 9 = 34/40
Gabby and Val – Quickstep – Guardians of the Galaxy
Gabby is someone who always does much better in hold than on her own. Great choreo on Val's part, but nothing about this felt very Disney-seque other than Gabby's costume.
Carrie Ann says she has everything she needs to win the competition. Len basically only compliments Val and says he does things the right way, not the easy way. Derek says it was a difficult routine and she nailed it. Bruno says she didn't lose the steps once despite the speed. 
Carrie Ann- 9, Len- 9, Derek- 9, Bruno- 9 = 36/40
Trevor and Emma – Samba – Cars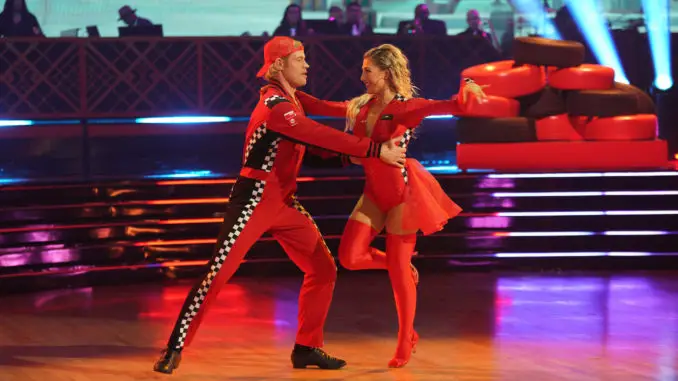 Definitely not Trevor's best – arguably his worst so far – but he's still a frontrunner to me. There wasn't enough bounce on the bottom half and he was too stiff on the top half, but it was a fun routine to a nostalgic song ("Life is a Highway").
Len says it was crash, bang, what?! He then says it was a tough dance and he coped well with a difficult performance. Derek says the dance was good but Trevor looked like he was thinking about the steps too much. Bruno says Trevor gives a hot ride. Carrie Ann says Trevor has come a long way and that he just wasn't believing in himself.
Carrie Ann- 7, Len- 7, Derek- 7, Bruno- 7 = 28/40
Vinny and Koko – Samba – Luca
I love the way Vinny and Koko are both really getting into the characters of Luca and Giulia. I didn't see enough Samba content in this dance which was disappointing, but Vinny did well with what he was given.
Derek says he can't help but smile when he watches Vinny dance and says he's a sensational performer. Bruno says he could feel the taste of Italy and Vinny performed 100% despite the Samba being less than perfect. Carrie Ann says it was far improved from last week. Len says it was a huge improvement and it was a nice, clean routine.
Carrie Ann- 8, Len- 7, Derek- 7, Bruno- 7, 29/40
Kermit and Miss Piggy introduce Selma and Sasha and honestly Kermit calling Sasha adorable is a whole mood.
Selma and Sasha – Quickstep – Muppets
This was understandably a slower Quickstep, but Selma really comes back week after week and shows everyone up. Really fun routine on Sasha's end.
Bruno says she didn't go wrong once and changes character every week. Carrie Ann says it was uplifting and fun. Len says it was a proper Disney dance, fun, entertaining and joyful. Derek says it's risky dancing in pants compared to a dress because a dress can hide mishaps, but she didn't go wrong at all. 
Carrie Ann- 8, Len- 8, Derek- 8, Bruno- 8 = 32/40
Jessie and Alan – Jive – Hocus Pocus 2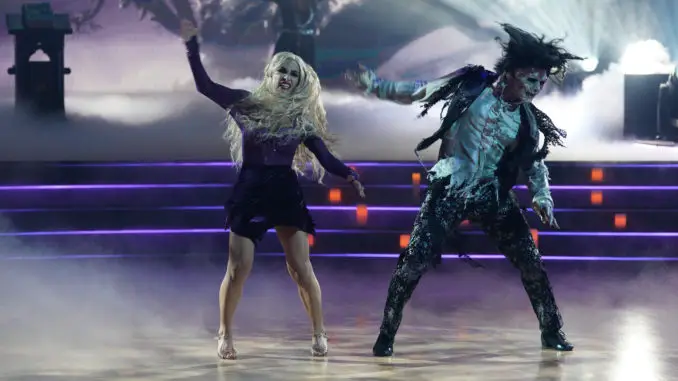 I can't get over how much Jessie looks exactly like Sarah Jessica Parker while dressed as Sarah Sanderson, it's unbelievable! This Jive was full of content and an impressive routine coming from Alan. Jessie seems to be another one who does better in hold, because something was definitely off during those kicks and flicks.
Carrie Ann says it was Jessie's best performance and she could see the effort and intention. Len says this was an improvement from last week. Derek says he's proud of her and she sold it. Bruno says it was wicked in the best possible way.
Carrie Ann- 8, Len- 7, Derek- 8, Bruno- 8 = 31/40
Charli and Mark – Jazz – The Simpsons
Leave it to Mark Ballas to nail Jazz choreo to The Simpsons theme song! This dance really proved what a great dancer Charli is. Exceptional choreo and Charli nailed every single step.
Len starts out by saying, "I didn't like it," and I gasped out loud before he finally says, "I loved it!" Derek says this dance is going to go viral. Bruno says it was so good, he didn't want it to end. Carrie Ann says it was brilliance in the ballroom.
Carrie Ann- 9, Len- 9, Derek- 9, Bruno- 9 = 36/40
The bottom two are… Sam and Cheryl and Trevor and Emma. 
The couple going home is… Sam and Cheryl.
The right couple definitely went home tonight, because Trevor will have so much more left to offer. I'll be back next Monday AND Tuesday for DWTS' two-night event featuring special stories from the stars, the return of the dance marathon, and Prom Night!