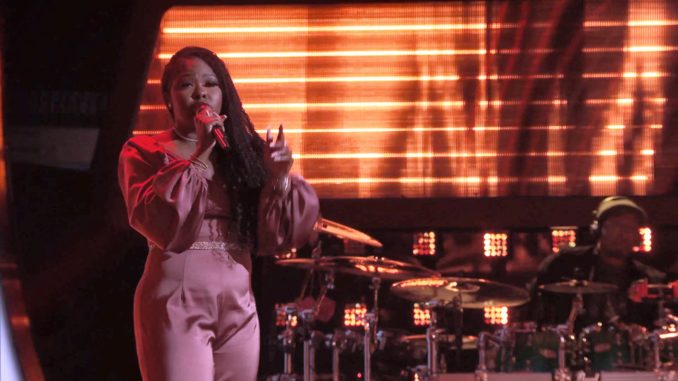 The last night of The Voice season 22 Blind Auditions air next week, and the teams are filling up! Watch 27 year old singer Constance Howard, command attention with her amazing range, featuring a few well placed whistle notes.
The singer's performance of Justin Bieber's "Peaches" got both Camila Cabello and John Legend to hit their buttons. 
"It was so creative and so different," gushed Gwen Stefani. "You have so many incredible places in your voice." Gwen adds that the Katy, Texas native sounds like an artist who is signed already. Constance explains that she started off in a choir as a shy student, but her parents motivated her to get in the studio and do more stage performances at school. She was so shy, it was her choir teacher that coached her to hit high notes that she didn't know she could reach.
With only ONE more spot on her team, Camila turned her chair, explaining that she's been really careful about whom she chooses. "There's nobody else like you on my team," Camila says. "I've been looking for somebody like you that has that character, voice, that distinctiveness." Camila contends that she was also shy as a kid. "I never liked to sing in front of people." She claims that auditioning for X Factor was the first time she sang for an audience. 
"I have come a long way from that," says Camila. "I really love the tone of your voice. I love working with artists like you." Camila calls herself a "pop girl" but one with "swag" adding "Beat that, John!"
John compares Constance to Rihanna and Minnie Riperton
John compares Constance to Rihanna. "'Cause Rihanna does a really effective job of bringing Caribbean and African influence into pop music." He adds, "You just have such a special voice. And then your chest voice is so different from those whistle notes that you're doing." John also compares Constance to the late Minnie Riperton, a singer famous for her higher register. "I love Minnie Riperton!" the artist replies.
"I feel like the fun part of working with you," says John, "Would be finding other songs that you could take and transform." He adds, "Every coach could say 'You don't sound like anybody on my team' 'cause you don't sound like anybody on the show."
Blake Shelton jokes, "You hit a couple of notes in that song that defies science. I was temporarily paralyzed from those notes. It's almost like my ears never heard something like that before!"
"If we were on a dating app for The Voice," Camila says in one last ditch effort to get Constance on her team, "I would swipe right!"
Who will Constance pick as her coach? Tune into The Voice on NBC Monday October 10 at 8 pm ET/PT to find out.
Listen to Constance Howard cover Justin Bieber's "Peaches" onn The Voice