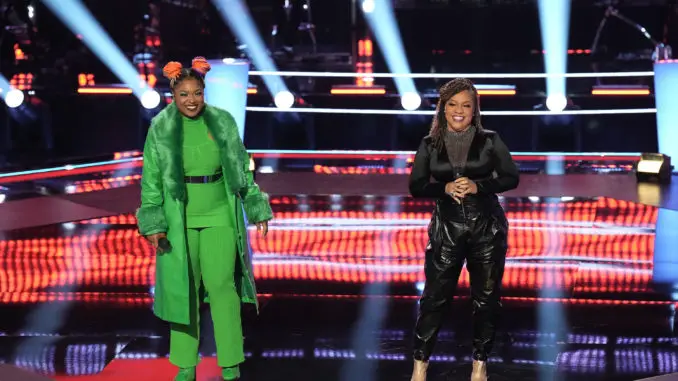 The Voice season 22 Battle Rounds begin tonight with returning coaches Blake Shelton, Gwen Stefani and John Legend. Pop star Camila Cabello joins the panel.  Carson Daly returns as host.  We'll be live blogging all the Blind Audition performances right here.
Celebrity advisors will join each team: Jazmine Sullivan joins Team Legend, Sean Paul joins Team Gwen, Charlie Puth joins Team Camila and Jimmie Allen joins Team Blake
The coaches will pair up their team members for unforgettable duets. Afterward the coach chooses the winner. The eliminated contestant can be saved by the coach, or stolen by a rival coach. Each coach gets 1 steal and 1 save.
The Voice 22 Contestant List – Meet the Artists! (Photos, Videos)
The Voice 22 Spoilers: Blinds, Battles, Knockouts, Top 16
The Voice Season 22 Full Schedule CONFIRMED
REMINDER: NO SPOILERS IN COMMENTS. Keep spoiler talk under spoiler posts above. Thank you.
Monday night's episode ended with the first Battle of the season. Team Blake artists Austin Montgomery and Tanner Fusell. The country crooners duetted on Johnny Cash's classic "Folsom Prison Blues." Blake picks Austin as the winner. Taner is eliminated.
Jillian Jordyn vs Rowan Grace – Team Gwen – Fingers Crossed by Lauren Spencer-Smith
NBC previewed this performance earlier today. Reggae singer and rapper, Sean Paul joins Gwen as an adviser. The pair recently released a duet titled "LIght My Fire." Both singers in this battle are teens. The two have become good friends. Gwen suggests Rowan tone down some of the runs and that Jillian be less nasally. Sean helps the two with their stage presence. Gwen suggests that they film themselves performing, and send them to Gwen so she can help.
The teen singers deliver angelic vocals, but still manage to be vulnerable. They are both really good. And similar, which is why Gwen likely paired them up. She doesn't need two of the same thing. Rowen is the more effortless singer, delivering emotion with confidence. Jordyn is a bit shaky at times.
Camila calls them both great singers. She doesn't pick one. Neither does John, who reminds them that he turned for both. However, he was more effusive about Rowan. Blake is the same. He obviously is a big fan of Rowan. He picks her. Gwen could hear Jillian's nerves at first. She calls Rowan "mind blowing." So unsurprisingly, Gwen picks Rowan, Jillian is eliminated. No steals or saves. The girls were hoping to stay together. Sads.
Valarie Collins-Harding vs. Dia Malai – Team Legend – Bust Your Windows by Jazmine Sullivan
Jazmine is a legend in the world of R&B singers–when the pair see her, they pretty much lose their minds. Also, they will be covering her song! Valarie is the oldest artist this season at 41. She has grandchildren. Jazmine admits that she ACTUALLY busted the windows out of an ex-boyfriend's car. Jazmine wants Dia to be a little more slinky. Add "righteous indignation" and make the performance "a little less pretty," says John. John and Jazmine give Valarie tips on phrasing.
Valarie's presence is piercing. Dia is fun to watch, she has great personality onstage, but there is something about Valarie's tone and presence. She's not playing. She sings like a woman who may have busted a few windows herself. Both singers deserve to be on stage, however.
Blake calls Dia's performance more consistent, but Valarie's presence more explosive. Unbelievably, Camile has never heard the song. She must not pay attention to R&B. Or she's never watched Glee (Amber Riley performed it memorably.) Camila calls Valarie technically better, but Dia a better and more engaging performer. She would pick Dia. Gwen really appreciated Dia's attitude. "Dia stole my heart," she says. John thinks Dia embraced the character. But Valarie can just "flat out sing." John picks Valarie, Dia is eliminated. A hard choice! Dia is a firecracker on stage, but Valarie is a tremendous vocalist.
Morgan Myles vs. Steven McMorran – Team Camila – Wrecking Ball by Miley Cyrus
Camila has known Charlie Puth for six years. He's a song-writer, performer and producer. Morgan is a standout performer. She impressed the judges with a unique rendition of "Hallelujah" in the Blinds. Steven is an adult contemporary singer who is less current than Morgan. Camila, however, really seems to have a shine for Steven, who was a one chair turn. Both singers are experienced Nashville artists. Camila suggests Steven lean more into singing to Morgan. She makes suggestions for making his phrasing more emotional. Morgan shared that she survived an emotionally abusive relationship, so she can relate to the song. 
Steven's voice has a rough edge that's unpleasant. On the other hand, while Morgan has some rasp, her tone overall is beautiful. Both singers approach the performance like actors. At one point they are right in each other's faces. Morgan's range is incredible and effortless. 
Gwen compliments Steven's tone. She calls Morgan's voice "chilling." John compares Morgan's tone to Miley's "cool tone." Blake thinks Steven "sang the hell out of that thing." He compliments Morgan's "Bonnie Tyler deal." He'd go with Morgan. Camila says Morgan feels things deeply, while Steven can give even more. Camila picks Morgan, but SAVES Steven. She truly believes Steven has potential.