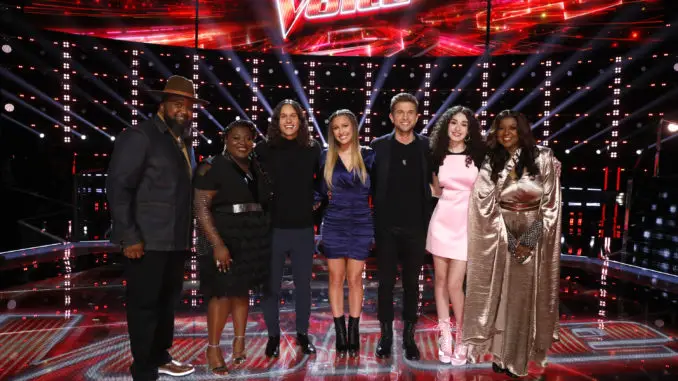 The Voice 21 Top 5 studio performances are here! Check out what the finalists will sing, along with audio. I've linked to Youtube videos, however, the the songs are also available to download and/or stream on major platforms like Spotify, Apple and Amazon.
This week is the FINALE and the five remaining artists will sing two songs each. One song is uptempo, the other a ballad. Although sometimes it's hard to tell!  Also on Monday, coach Kelly Clarkson will sing a song from her latest Christmas album.
The Voice 21 Power List/Rankings – Live Finale Top 5
The Voice 21 Live Final Rounds FULL SCHEDULE – When is the Finale?
Wendy Moten goes for the big showstopper–Over The Rainbow. Her rendition is similar to the version put out by Patti LaBelle. Wendy does her own thing on the runs! "How Will I Know" is another tired choice, but her fans don't seem to mind. Blake Shelton's other team member, Paris Winningham continues to play it safe, oh so safe, in his safe zone. It's worked for him so far, though.
Originally a 60's pop song, Girl Named Tom will perform a slowed up countrified version of Now That I Found You served up by Alison Krauss. Smart to sing a straight up country tune in a finale with no country artists. Their version of The Chain is by the books, but the harmonies will make up for that.
Hailey Mia covering the twin teens of sob pop, Olivia and Billie. Although I'm being a tad sarcastic, they are actually good song picks for Hailey. Kelly knows what her fans like!
Jershika Maple covers Mary J. Blige, which is fitting. Adele is a good choice,  but I wish it wasn't such an overdone song. 
See the solo song choices and listen to the audio below. 
The Voice 21 Top 5 Finale Song Spoilers 
Wendy Moten – Team Blake – Over the Rainbow by Judy Garland – AUDIO
Wendy Moten – Team Blake – How Will I Know? by Whitney Houston – AUDIO
Paris Winningham – Team Blake – Me and Mrs Jones by Billy Paul – AUDIO
Paris Winningham – Team Blake – Ain't Nobody by Chaka Khan and Rufus – AUDIO
Girl Named Tom – Team Kelly – Baby Now That I've Found You by The Foundations (Alison Krauss) – AUDIO
Girl Named Tom – Team Kelly – The Chain by Fleetwood Mac – AUDIO
Hailey Mia – Team Kelly – idon'twannabeyouanymore by Billie Eilish – AUDIO
Hailey Mia – Team Kelly – deja vu – by Olivia Rodrigo – AUDIO
Jershika Maple – Team Legend – I'm Goin' Down by Mary J. Blige – AUDIO
Jershika Maple – Team Legend – Rolling in the Deep by Adele – AUDIO
The Voice Performance Finale airs on NBC at 8 pm ET/PT Monday Dec. 13, the Grand Finale on Tuesday Dec. 14 9 pm ET/PT