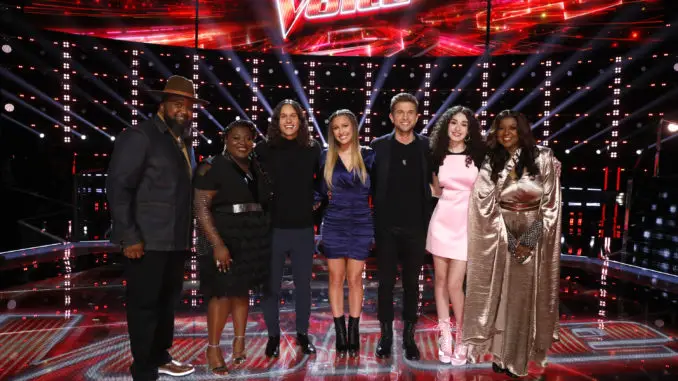 The Voice season 21 Live finale airs Monday (Dec. 13) as the Top 5 sing for your votes and the win! Each of the five finalists will sing a ballad and an uptempo song.  On Tuesday (Dec. 14) amid coach duets and guest performances, a season 21 winner will be crowned.
Ordering this final power list feels really easy. Kelly Clarkson's Girl Named Tom will win season 21, the first group to win The Voice. Additionally, GNT are the first trio to make the finals (Blake Shelton's country duo The Swon Brothers finished in third place on season 4). It's a result that's been apparent since early in the season. Wendy Moten from Team Blake will come in second. Actually, the two acts have held first and second place, respectively, on every power list I posted. 
The Voice 21 Live Final Rounds FULL SCHEDULE – When is the Finale? 
Blake Shelton team member Paris Winningham placed third every week on my list. But while the soulful singer has held steady through every round, Hailey Mia has continually gained momentum every single week. She does not have a chance to win, but I see her finishing in third place ahead of Paris. 
For the past two weeks, Jershika Maple from Team John Legend has had to fight her way to the next round in the Instant Save.  It's remarkable she's still in the competition. But it's due to her prodigious singing talent and fighting spirit. A fifth place finish, considering her tough The Voice journey, is more than respectable. 
Just a reminder that Ariana Grande lost her last act, Jim & Sasha Allen, last week. She'll be cheering on the remaining contestants, I'm sure. 
The Voice Performance Finale airs on NBC at 8 pm ET/PT Monday Dec. 13, the Grand Finale on Tuesday Dec. 14 9 pm ET/PT
The Voice 21 Top 5 Power List/Rankings
5. Jershika Maple – Team Legend – Jershika fiercely fought her way to the finals. Kelly saved her in the battles. John stole her in the Knockouts but she's had to sing in the Instant Save the past two weeks in a row. Paris Winningham, Wendy Moten and Girl Named Tom have never hit bottom (Blake stole Paris from John in the Knockouts). Hailey has had a similar trajectory to Jershika–Ariana saved her in the Battles, John stole her in the Knockouts. She won the Instant Save in the Playoffs. But it's been an upward trajectory for the young singer ever since. Nevertheless, Jershika will finish the season will electrify the stage–as always–on Monday.
4. Paris Winningham – Team Blake – Paris is a talented, dynamic singer. But he's coasted for most of the season Not one to stretch himself, he's stayed in the comfort zone week after week. Talent got him to the finals. But it won't be enough to win, or upend the 3rd place finish of the Hailey Mia, the little engine that could.
3. Hailey Mia – Team Kelly – Hailey is this season's dark horse/momentum building contestants. Only 14 years old, her coach Kelly has helped her confidence grow. Great song choices have been key for the young singer. Tween singers are Kelly's jam. She won back to back seasons of The Voice with teen singers–15 year old Brynn Cartelli and 16 year old Chevel Shepherd. Hailey is on a roll, and will roll right into 3rd place.
2. Wendy Moten – Team Blake – Broken bones have not stopped Wendy from working toward her goal of winning The Voice. She's destined for second place. But regardless, she'll leave the competition with a higher profile and a real shot at leaving background singing behind. A real pro, the versatile singer has performed R&B, country and blues, ably. 
1. Girl Named Tom – Team Kelly – Girl Named Tom dazzled The Voice fans with their haunting sound, exquisite harmonies and creative vocal arrangements all season. Kelly has been the perfect coach for them. After the confetti falls, GNT could break out in the same way a cappella group Pentatonix did after they won the Sing-Off in 2011. Kelly is gonna look super-cute as that confetti rains down on her head. 
The Voice finale airs on NBC Monday Dec. 13 and Tuesday Dec. 14 at 8 pm ET/PT.
Team Blake Shelton
Team Kelly Clarkson
Team John Legend
Team Ariana Grande