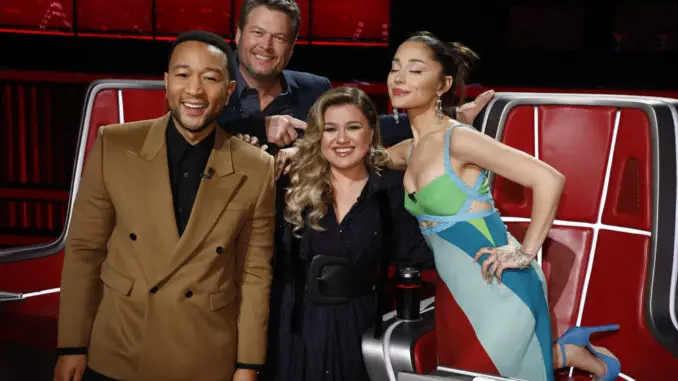 The Voice 21 studio performances begin with the Top 13. Check out what the finalists will sing, with audio. I've linked to Youtube videos, however, the the songs are also available to download and/or stream on major platforms like Spotify, Apple and Amazon.
The Voice 21 Power List/Rankings – Live Finals Top 13
The Voice 21 Live Final Rounds FULL SCHEDULE – When is the Finale?
Teams Blake Shelton, Kelly Clarkson, John Legend and Ariana Grande are ready to compete. What do you think of their song choices? 
Worst song choice: Shadale, known for her emotional performances is singing a bouncy Rascal Flatts song? Also, all the great 70s era songs, and Girl Named Tom chooses the treacly "Dust in the Wind?" Yuck. I hope Jeremy Rosado doesn't spend his time on the show covering big voiced female divas. Already breaking out the God card: Gymani and Jershika Maple. Thankfully NOT covering a diva this week: Wendy Moten. She's covering a Linda Ronstadt 70's classic. I like it. Broadway style singer Joshua Vacanti would have covered Ben Platt sooner or later right? It's a good song, though.
The Voice 21 Top 13 Song Spoilers
Wendy Moten – Team Blake – Blue Bayou by Linda Ronstadt – VIDEO 
Paris Winningham – Team Blake – What's Going On by Marvin Gaye – VIDEO
Lana Scott – Team Blake – Humble and Kind by Tim McGraw  – VIDEO
Girl Named Tom – Team Kelly – Dust in the Wind by Kansas – VIDEO
Jeremy Rosado – Team Kelly – Because You Loved Me by Celine Dion –  VIDEO
Gymani – Team Kelly – Made a Way by Travis Greene – VIDEO
Hailey Mia – Team Kelly – I'll Stand by You by The Pretenders – VIDEO
Joshua Vacanti – Team Legend – You Will be Found by Ben Platt (Dear Evan Hansen)  – VIDEO
Jershika Maple – Team Legend – God Only Knows by for King & Country  – VIDEO
Shadale – Team Legend – Life is a Highway by Rascal Flatts –  VIDEO
Holly Forbes – Team Ariana – The Dance by Garth Brooks  – VIDEO
Jim & Sasha Allen – Team Ariana – Your Song by Elton John – VIDEO
Ryleigh Plank  – Team Ariana – Rhiannon by Fleetwood Mac –  VIDEO
The Coaches Look at What's Coming Up