The Voice season 21 Live Finals begin on Monday November 15. On Tuesday November 16, two artists will be eliminated. There are five more weeks of live shows this cycle, which is a refreshing change from seasons 18-20 which featured only 3 weeks of live shows. Click the link below for all the details.
The Voice 21 Live Final Rounds FULL SCHEDULE – When is the Finale?
With the Top 13 in place, Teams Blake Shelton, Kelly Clarkson, John Legend and Ariana Grande are ready to compete. For the first time this season, viewers will solely determine who is eliminated without input from the coaches. I attempted to put together a power list below. It's not how I'd like the competition to proceed, but a list of competitors in order of their strength in the competition at this time.
The Voice 21 Top 13 Song Spoilers: Dedication Song Choices! (Audio)
Ariana has the weakest team, which I took into account when ordering the artists. Being a newbie didn't hurt Kelly when she signed on to The Voice and won season 14 with Brynn Cartelli, But maybe being a singing show grad herself helped. If Ariana comes back next year, perhaps she'll have learned a thing or two about how to compete on a singing show. On the other hand, Kelly and Blake have strong teams, which also figured into shaping the list.
The Voice 21 Power List/Rankings
13. Ryleigh Plank – Team Ariana – Ryleigh, who needed to be saved on the weakest of all four teams, sits at the bottom. She's a good singer and could buck expectations. But she's unpredictable and usually delivers uneven performances. For now, she's last.
12. Jim & Sasha Allen – Team Ariana – On any other team, voters would have eliminated Jim & Sasha after their shaky performance of "Hey Jude." Like Ryleigh, sometimes this father/son duo deliver great performances. But at other times they seem awkward and tentative on stage. Sasha is the better singer of the two. A good song pick that puts the son front and center could make a difference.
11. Gymani – Team Kelly – Gymani is one of several talented female soul singers this season. Which may be a problem. They all aren't going to survive. Kelly had to save this talented singer. To keep moving forward, Gymani will need to find a way to stick out in a crowd.
10. Shadale – Team Legend – John has compared Shadale to Mary J. Blige. And indeed, she has the ability to inhabit the emotion of a song. It stinks that John had to save her. But if she picks great songs and delivers them with power and emotion, she could stick around.
9. Joshua Vacanti – Team Legend – I absolutely underestimated Joshua, saying he delivered great performances that nobody noticed. WRONG. He has people. I expected Samuel Harness and Shadale to advance in one way or another. Actually, I thought Joshua would be eliminated, and John would save either Samuel or Shadale. In any case, he's a  Jordan Smith type singer that totally has his own lane right now. He could go far.
8. Hailey Mia – Team Kelly – Hailey didn't make the Top 2 cut on Kelly's team, but she did nab a Wildcard spot and then won it! The 14 year old is preturantually poised to an almost scary degree. She's competing against strong singers, but I am not counting her out. 
7. Jershika Maple – Team Legend – John's powerhouse R&B singer won America's Vote. If she and John pick the right songs her electrifying performances could continue to win America over.
6. Jeremy Rosado – Team Kelly – That Jeremy made it to the Top 13 on American Idol 11, when the show still pulled in 20 million viewers a night, is helping him in  this competition for sure. He entered The Voice with name recognition. But additionally, he's improved as a singer in the last decade. His emotional performances could propel him deep into the competition. He and Shadale need to perform a duet!
5. Holly Forbes – Team Ariana – NBC featured Holly prominently in their promos before her 4-chair turn Blind Audition of Elton John's "Rocket Man." She landed a spot on Team Kelly. But then the show montaged her Battle performance, and Kelly gave her up in the Knockouts for  Girl Named Tom. It's not a winning trajectory. After Ariana stole her, America advanced Holly in the Playoffs. But Ariana's team is the weakest of the four. I'm ranking Holly at five, because she's a terrific singer and could eventually prevail. But that remains to be seen.
4. Lana Scott – Team Blake – Blake saved Lana in the Battles after keeping Hailey Green. But then he kept Lana over 4-chair turn and fiddle wonder-boy Carson Peters. Blake has said more than once that Lana has her own lane, which is why he saved her in the Playoffs instead of another favorite, Peedy Chavis. Indeed, Lana is the only pure country singer remaining in the competition. THERE ARE NO MALE COUNTRY SINGERS! Which is something. In any case, Lana will ride the wave of sole country female, at least for awhile. 
3. Paris Winningham – Team Blake – After Paris won Blake over with a performance of Chris Stapleton's "Tennessee Whiskey," he hinted that his song choices would remain in the country lane. But it's clear Paris doesn't consider himself country. He covered the Temptations for his Playoffs performance, and it won him America's vote. Blake may be on to something however, and Paris may want to consider singing at least a few country tunes.
2. Wendy Moten – Team Blake – Wendy won the public vote with an entirely predictable cover of "I Will Always Love You" done Whitney Houston style. It's a testament to how good a singer she is, but also illustrates the momentum she's built throughout the competition. Since her Blind Audition, Blake has made it clear that he'd love nothing more than to be standing next to her in the winner's circle at the end of the finale. And it could happen.
1. Girl Named Tom – Team Kelly – This sibling trio has distinguished themselves with pure vocals, exquisite harmonies and inventive, creative arrangements. They sing 70's style Laurel Canyon country/folk music, which has worked well for The Voice contestants in the past. (See: Chloe Kohanski).  Their 2021 album, Hits From the Road contains both their Knockouts pick "Wichita Lineman" and Blind Audition "Helplessly Hopeless" on it. There are a bunch of ready made arrangement on that album they could pull out: "Billie Jean," a mashup of "Country Roads" and "Mrs. Robinson," another of "Girl Crush" and "Like I'm Gonna Lose You," "Carolina on My Mind," "Jolene." In short, the siblings have a bunch of great arrangements, sitting in their back pockets, ready to go. Watch out. 
The Voice airs on NBC Mondays and Tuesdays at 8 pm ET/PT.
Team Blake Shelton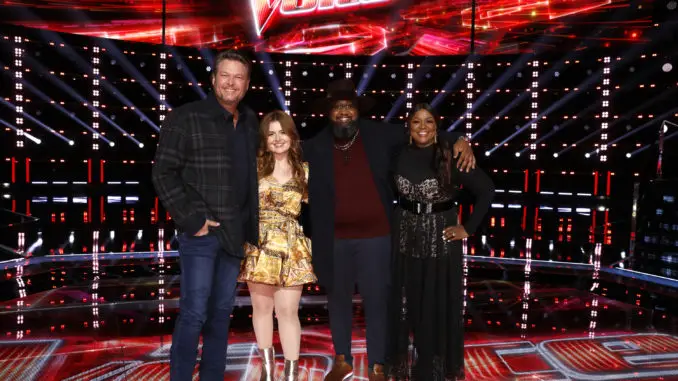 Team Kelly Clarkson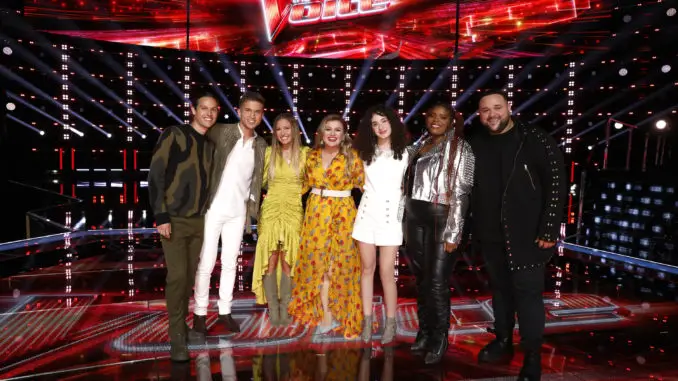 Team John Legend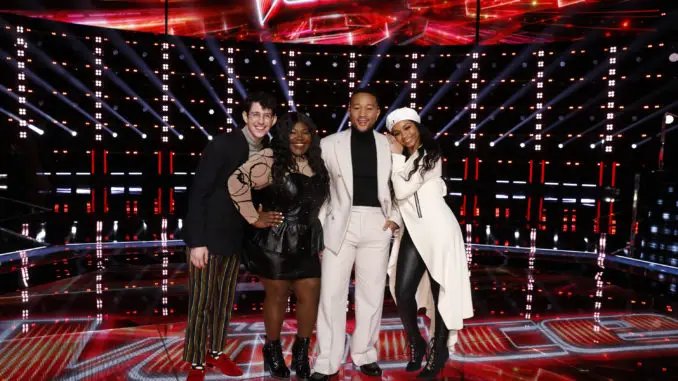 Team Ariana Grande