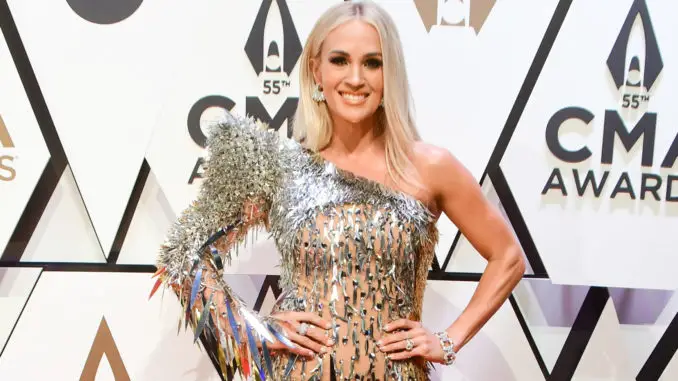 Carrie Underwood has dropped a comedic digital-only holiday track, "Stretchy Pants," released globally on Friday (Nov 12). Proceeds of the track will go to Brad and Kim Paisley's charity The Store.
However, an New Jersey soul artist named Remember Jones has pointed out that the American Idol season 4 winner's "Stretchy Pants" is similar to his song "Fat Jeans." Even the animation in the two videos are similar. 
According to the American Idol season 4 winner, the song was inspired by the joys of holiday treats and feasts. "People know that I am a champion for a healthy lifestyle, but a big part of that is balance. There are times to be disciplined, and then there are times when we need to eat and drink and be merry and enjoy ourselves with family and friends," says Carrie.
"When Hillary, Chris, and I were writing some more serious Christmas songs, one day we took a fun detour and just had the best time writing this song. We knew it would bring a lot of fun and joy to people, but I also wanted to do something good with it that would help people. I immediately thought about Brad and Kim's charity, The Store, and how we could use this song to help them and their mission to bring joy to folks that need it, especially during the holiday season. Everybody should be able to afford feasts for the holidays, and everybody should have the opportunity to break out those stretchy pants!"
Carrie Underwood "Stretchy Pants" Animated Video
Remember Jones doesn't want to make enemies. 
"I truly believe people can have the same idea," said Remember Jones to NJArts. "I love the universality of the concepts — maybe we were inspired similarly and that's awesome! From there, I'm not sure how to feel; there are a bit too many similarities between the concepts and work. This puts me, 'the small guy,' in the strange position of worrying if defending myself and my work will hurt me in the long run.
"I don't want anyone hurt — I'd prefer to work together, support the same charity Carrie and team are raising awareness for, and come together in the same sentimentality we are writing about. We are all working hard to see our dreams come alive and help people and things we care about. You never know how a simple acknowledgement or helping hand could change someone's life."
See for yourself. Watch the video HERE. If drug references make you squeamish, don't click.
Oops?
 

 

 

View this post on Instagram

 

 
Carrie co-wrote "Stretchy Pants" 
"Stretchy Pants" was written by Carrie Underwood, Hillary Lindsey and Chris DeStefano, the songwriting combo who have written such hits as Carrie's "Little Toy Guns" and "Smoke Break."
"Stretchy Pants" was produced by DeStefano. The animated video for "Stretchy Pants" is directed and produced by Andrew Seth Cohen and Ryan Kieffer of Confidential Creative.
A portion of the proceeds from Stretchy Pants will go to charity
A portion of the proceeds from streaming and downloads of "Stretchy Pants" will be donated to The Store, the Nashville-based organization which was co-founded by Brad Paisley and Kimberly Williams-Paisley and empowers those seeking self-sufficiency in a manner that fosters hope. The Store provides a free shopping experience for qualified families and individuals, based on the belief that choice is a key element in protecting the dignity of others.
Limited edition holiday "Stretchy Pants" are available at the Official Carrie Underwood Online Store. Stream, watch and download "Stretchy Pants" at stretchypantssong.com.