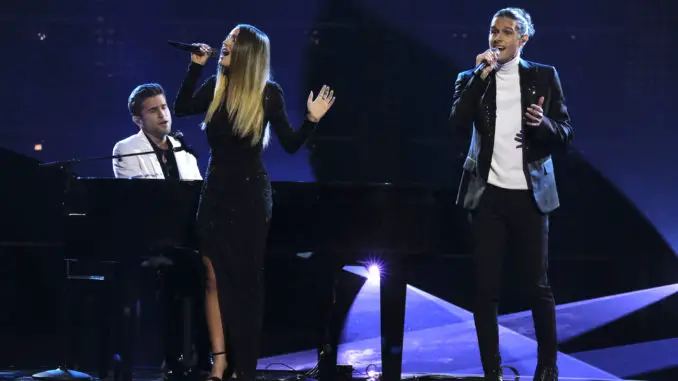 The Voice season 21 LIVE SHOWS continue tonight (12/6). The Top 8 semi-finalists perform for YOUR VOTES and a chance to advance to the Final 5 grand finale.
Coaches Blake Shelton, Kelly Clarkson and John Legend and Ariana Grande sit on the panel.  Carson Daly serves as host.  We'll be live blogging all the performances here.
The Voice 21 Top 8 Song Spoilers: Semi-Final Song Choices! (Audio)
The Voice 21 Power List/Rankings – Live Semi-Finals Top 8
The Voice 21 Live Final Rounds FULL SCHEDULE – When is the Finale?
VOTING Instructions: Download The Voice Official App (Available on the APP Store and Google Play). And/or vote on NBC.com/VoiceVote. Limit 10 votes per artist per method. Must be 13+ AND IN THE US OR PUERTO RICO. More at NBC.com/VoiceVoteRules. VOTING IS OPEN UNTIL 7 AM ET TOMORROW (Dec 7).
Tonight, the Top 8 artists perform solos and 90s themed duets. 
Jim & Sasha Allen – Team Ariana
Mrs Robinson by Simon & Garfunkel – Ariana and the duo brag that "Mrs Robinson" has never been performed on The Voice before. THERE IS A REASON FOR THAT. Jim & Sasha played a ton of songs for their coach before settling on this one pick. Dozens of songs, and they picked this? Sasha mentions having a girlfriend, while Jim honors his wife. Of course, the song is about a cheating suburban housewife. So, go figure. It's a weird, hopelessly dated song choice that goes nowhere. Inexplicably, Sasha runs to the panel mid-song so Ariana can hand him a guitar. As usual, the harmonies are off key. Very surprising these two are performing first. They might actually go home this week.
John LOVED THAT SO MUCH. Really. Kelly loved the way they "switched off." Apparently, the musical director was singing along with them. Ariana believes they improve every single week. She begs America to vote them into the finale. 
Jershika Maple – Team Legend 
Don't Let the Sun Go Down on Me by Elton John – Her sisters are college educated and successful. Jershika feels like the family oddball. But more than anything, she wants to sing for a living. John raises the song's key two steps. "RISKY!" she shouts. JERSHIKA'S GETTING THE GOSPEL CHOIR! OK. Probably won't make up for performing in the death spot. She is really at a disadvantage this week. Still, she's killing it tonight. By the end, she's singing to the rooftops. It's like she's begging America not to shut her out. DON'T DO IT AMERICA! SAVE JERSHIKA! Paul Markovich helps her off the pedestal. No losing more singers to mishaps!
Blake says she proved she was the right person to save last week. Ariana calls her performance powerful and incredible. John calls her a superstar talent. HE BEGS America to vote for Jershika. 
Rachel Zeigler and Rita Moreno from the West Side Story remake from Steven Spielberg are in the studio to promote the film. Rita, who played Anita in the original film, is turning 90 years old on December 11. Holy cow! The studio begins shouting her name. 'Don't mess with a Spanish woman!" she says. 
Paris Winningham & Wendy Moten 
Change the World by Eric Clapton – They joke that they are probably the only contestants who remember the 90s. No mention that Wendy had a major label contract in the 90s, which she subsequently lost. Interesting song choice, but it doesn't really do much to highlight either voice. That is, until the end, when both singers let loose.  It was boring until the last third. "I taught them all of that!" Blake shouts. 
Lana Scott – Team Blake 
Something in the Water by Carrie Underwood – Lana grew up singing in church. Her mom reminded her to hold on to her faith. She considers making the finale a big thank you to her supportive mom. Blake says Lana is one of the favorite artists he's ever worked with on the show. This is a pretty dang big song. She doesn't have Carrie-sized pipes. Not even close. But she pours emotion into the performance. Oh. She gets the gospel choir too. Being the only country singer, she'd have to really mess up tonight not to make the finale. For good gospelly measure, Lana tacks "Amazing Grace' on to the end. Going all in on Jesus. Definitely the week to do that. 
John calls her wonderful and consistent, and the  performance "inspirational." Blake calls it her best performance of the season. He thinks the semi-final performance is more important than the finale. He may have a point. Making the final is nearly as good as winning The Voice overall.
Hailey Mia – Team Kelly
Someone You Loved by Lewis Capaldi  – Kelsea Ballerini texted compliments after Hailey performed her song last week. Hailey loves this week's song choice–she drove her mom crazy singing it around the house. Kelly wants to show her range off. She loves her low end and belting voice. Hailey shares a video of herself singing a Kelly song in her bedroom. "Full circle!" notes Kelly. The song is overdone on singing shows. But there is a reason for that! It's so pretty and showcases emotion well. Mia's phrasing is gorgeous, as she sings with that gorgeous tone. Kelly pushed her upper range to the limit. Hailey meets the challenge. It's a lovely performance.
Ari thinks every week Mia has come more and more into her own. Kelly agrees with Blake how important this week is. She calls Mia an "amazing storyteller" at ONLY 14! Has Kelly ever mentioned that before? Heh. 
Lana Scott & Jim & Sasha Allen
Hold My Hand by Hootie and the Blowfish – Once Lana adds her voice, the harmonies between the three are actually solid! The chorus really soars. For the most part, this is a duet between Sasha and Lana.
Girl Named Tom – Team Kelly
River by Joni Mitchell – Kelly thinks the song choice brings the group back to their roots–folky ethereal harmonies. Also, solos will be highlighted. Oh wow. Rebecca sent a version of GNT's "Little Green" cover to Jone Mitchell, and she responded with a gift! The boxed set of the singer's early years. Back firmly in their comfort zone, GNT return to perfectly insync harmonies, after last week's shaky performance. That last chorus was like flying to heaven and coming back. Those high notes. Unbelievable. When this group is on, it's magical. However, I would have cut back a bit on the solos. Still. We're looking at the winners right here.
John loves them singing Joni Mitchell. Kelly mentions that they are constantly working on their performances, up until the very end. "You are the most special thing I have ever seen on the show," says Kelly. "Thank you for picking me."
Joshua Vacanti & Jershika Maple
Hand in My Pocket by Alanis Morissette – Jershika calls Joshua her best friend. SUPER CHEESY SMILES will make up the performance, says Joshua. This is a weird song choice for these two. But they both manage to make something out of it! Impressive.  JERSHIKA PLAYS HARMONICA. These two have been low key great all season.
Wendy Moten – Team Blake
You're All I Need to Get By by Marvin Gaye & Tammi Terrell – She's been with the same guy for 26 years! Wendy just turned 57 by the way. Blake wants the veteran singer to go back to her roots. Wendy wants Blake to sing the song with her on the Opry. He says "on my album!" The song choice is boring. But Wendy isn't the only artist playing it safe in a crucial week. And all that matters is how she delivers the song. Does she breathe life into an old familiar song? Yes. Her unique tone, muscular runs and gorgeous high notes shine here. The end is just SPECTACULAR. 
The coaches are ON THEIR FEET. "Are you out of your mind? That's the most ridiculous thing I've ever seen. YOU'RE INSANE!" all compliments from Ariana. "Blake thanks for teaching her how to sing." Ha. "That wasn't just finale worthy. That's historical," says Blake. 
Hailey Mia & Girl Named Tom
Hold On by Wilson Phillips – Hailey reminds everyone that she was born in 2007 (!!!) Seems like a good song choice, right? Especially since Wilson Phillips featured Beach Boy Brian Wilson's daughters. However, there is something missing from the four part harmony. Mis doesn't blend in well. The song choice looked better on paper. 
Paris Winningham – Team Blake
Close the Door by Teddy Pendergrass  – "Old soul music is my bread and butter," says Paris. Metaphorically, he is closing the door on his old life, he says. Super 70s vibes flowing through this performance. Paris doesn't sing it much differently than Teddy did. But it's a crowd pleaser, especially when Paris brings out that passionate rasp. At this point in the competition, I expect more individuality from an artist. But Paris' fans will probably love this. The band really turned out for this one!
Kelly didn't know the song. What? She calls his voice beautiful, raw and perfect. Blake thinks he did exactly what he needed to do. "I'm married to Gwen Stefani, but you made me feel something! I just said it!" 
Joshua Vacanti – Team Legend
Ashes by Celine Dion (Jordan Smith co-write)   – I didn't expect Joshua to get the pimp spot this week. But he's John's best opportunity to get into the finals. The Voice season 9 winner Jordan Smith, who co-wrote the song, gets a shout out. Joshua talks about watching his career after he won the show in 2015. He feels connected to the singer. Joshua and Jordan both have big classical voices. This emotional, prayerful performance might send Joshua straight to the finals. His version is very different from Celine's. He sings it like a hymn. The runs and phrasing are unique and powerful. This may be Jordan's best performance yet. 
Ariana flips out over Joshua's technique. She hasn't forgotten that John blocked her in the Blind Auditions. John calls him a brilliant storyteller. He's right about that.