The Voice season 21 Live Semi-Finals air Monday (Dec. 6) as the Top 8 sing for your votes. THREE acts will be eliminated on Tuesday (Dec. 7) after an exciting 4-way Instant Save, leaving 5 contestants moving on to the BIG FINALE.
On Monday, the contestants will each sing a solo song and will be paired up to perform 90s themed duets. Studio performances of the song choices will be available to stream early Monday morning.
We've updated the The Voice schedule below with the latest scheduling info:
The Voice 21 Live Final Rounds FULL SCHEDULE – When is the Finale? UPDATED
This week's rankings are based purely on where I believe the remaining 8 contestants stand coming out of last week's performances and results. To be clear, any of the eight acts could end up in the finals! Seven of the remaining acts are outstanding, and one is on a team that producers will try their hardest not to let fail. I expect nail biting results on Tuesday. 
I took a quick look at past seasons: Season 18 introduced a Top 5 during the remote pandemic episodes. Season 18, 19 and 20 all had 3 live weeks of shows, with the Top vote getter on each semi-final team advancing to the finals. An instant-save determined the fifth finalist. In other words, it's the first Top 5 determined by overall vote (Outside of Season 16 which featured the crazy cross-battles).
Could Blake Shelton have all three team members make the final?
It's possible. Blake is so good at playing The Voice, he's often had two team members in the final four, at the expense of another coach. He murdered the season 16 cross battles, and wound up with three acts in the Top 5. It's probably the reason why The Voice abandoned the format after one season.
In short, it's highly unlikely Blake will have three team members in the final five. But it's possible. The producers will try hard to throw John and especially Ariana advantages. It's best overall when all the coaches have members participating in the final. 
The winner and runner-up have been apparent all season
Wendy Moten and Girl Named Tom still hold the No 2 and 1 spots respectively. as I have ranked them all season. With all the crazy eliminations, every week, these two have remained the presumptive runner-up and winner. And when the confetti flies at the end of the Dec. 14 finale, I believe Kelly will be standing on stage with GNT soaking it all in as runner-up Wendy looks on. 
The Voice 21 Top 8 Power List/Rankings
8. Jershika Maple – Team Legend – Jershika is dead last this week after needing to sing for her life last week. And sing she did, deservedly winning the Instant Save. She would be a worthy finalist, but considering the competition, it's going to be a challenge for her going forward. I loved her Paramore cover last week, but I might be in the minority. She and John have to choose her song for this week carefully.
7. Joshua Vacanti – Team Legend – Joshua has been a steady and consistent presence on The Voice this season. He's a terrific classic/Broadway type singer who presents himself in a unique way. He's a talented storyteller and has a lane all to himself. But this may be the week when he finally has to sing for his life. Don't forget–Joshua is a worship leader and I bet he has a gospel song tucked in his back pocket ready to go. This may be the week he pulls it out. 
6. Paris Winningham – Team Blake – I have ranked Paris at No. 3 week in and week out. But he's been coasting lately, while other singers like Hailey Mia and Lana Scott pass him by. He and Blake need to shake things up FINALLY this week. But I suspect Paris is not even his second favorite team member. He's probably gunning for Wendy and Lana to nab two spots. 
5. Hailey Mia – Team Kelly – In the end 14 year old Mia was season 21's real dark horse. She started off shaky, but gained confidence and strength to become a The Voice standout. Kelly is VERY good at working with young talent. Hailey rose from No. 4 to No. 3 this week, as a reflection of her peaking at the right time.  
4. Jim & Sasha Allen – Team Ariana – Jim & Sasha are the weakest act remaining, and in a fair fight would go home on Tuesday. But they are not only Ariana's ONLY team member, but she obviously LOVES this duo. I expect she's doing everything she can behind the scenes this week to ensure they advance. And I also expect producers DO NOT want their star coach left out in the cold for the finals. Watch the duo perform in the bottom half of the show AGAIN on Monday. Also watch as Ariana cries and begs America to vote. The duo NEED to advance straight into the finals. A four way instant save will be tough for them to win, even if they performed last, and Ariana wailed and nashed her teeth through the entire performance. Yes, I am in a sarcastic mood.
3. Lana Scott – Team Blake – You know the drill. Lana Scott, the only country singer in the Lives. She's got her own lane. Yada yada. But she also flipped a Katy Perry song ably last week. Even many non-fans loved it. She's well positioned to make the final without even having to sing for the Instant Save.
2. Wendy Moten – Team Blake – It's too bad Girl Named Tom is destined to take the crown, because Wendy would be the feel good winner. Unlike Paris she has NOT been coasting all season. She fought her way into the finals, even harder than she needed to fight. A supremely gifted singer, Wendy knows the struggle, having lost a record deal early in her career. So even broken bones won't keep her from striving for the prize.  Nevertheless, she has made her mark on The Voice. I expect Blake to be in her corner when the two reunite in Nashville. 
1. Girl Named Tom – Team Kelly – Still, it would be nice for Kelly Clarkson to notch her first win since season 17's Jake Hoot. GNT has a committed fan base. Even a poor performance won't keep them out of the finals. I believe their win is baked in at this point.
The Voice airs on NBC Mondays and Tuesdays at 8 pm ET/PT.
Team Blake Shelton
Team Kelly Clarkson
Team John Legend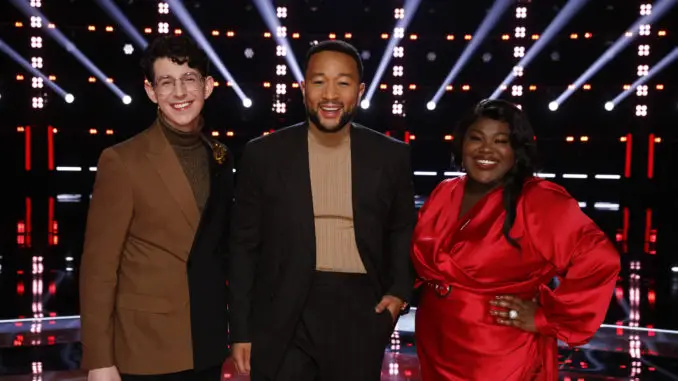 Team Ariana Grande