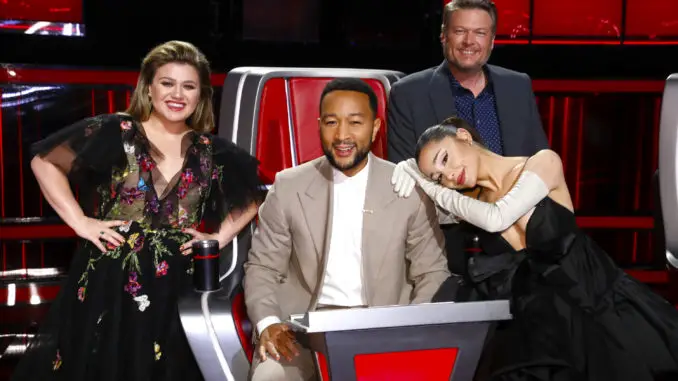 The Voice 21 Top 8 studio performances are here! Check out what the finalists will sing, along with audio. I've linked to Youtube videos, however, the the songs are also available to download and/or stream on major platforms like Spotify, Apple and Amazon.
This week the artists will perform a solo and duets with a 90s theme. THREE singers go home this week before next week's Top 5 Finale. Song choice is crucial.
The Voice 21 Power List/Rankings – Live Semi-Finals Top 8
The Voice 21 Live Final Rounds FULL SCHEDULE – When is the Finale?
Wendy Moten and Paris Winningham play it safe with song choices this week. They both need to sing the crap out of two somewhat tired classics, and make them their own.
Did Joshua Vacanti choose a Christian song this week? Sort of. "Ashes" is theme for the major motion picture Deadpool 2, the lyrics evoke prayer and spiritual themes. Christian artist and season 9 winner Jordan Smith co-wrote the song.
Speaking of spirtitual songs, Lana Scott will sing Carrie Underwood's Christian crossover hit "Something in the Water." She and coach Blake Shelton have chosen very wisely this week.
I'm not sold on Joni Mitchell's "River" as a group song. It's too personal for 3 solo leads to be singing about treating a former lover cruelly. But Girl Named Tom's harmonies and melodies are so breathtaking, they'll make it work. 
Hailey Mia and Jershika Maple both chose suitably emotional songs for a high-stakes night of competition.
Jim & Sasha Allen chose a song that's seems weird and dated outside of the original context—Mike Nichols classic 1966 film, The Graduate. The folky tunes gives the duo no chance to be vulnerable or emotional—two qualities they need to bring to their performance this week. They're mediocre vocals won't make up for a weird song choice.
See the solo song choices below. Duets, which aren't recorded for streaming, will be added to this post later if the picks are revealed.
The Voice 21 Top 8 Song Spoilers (Solos)
Wendy Moten – Team Blake – You're All I Need to Get By by Marvin Gaye & Tammi Terrell – VIDEO
Paris Winningham – Team Blake – Close the Door by Teddy Pendergrass  – VIDEO
Lana Scott – Team Blake – Something in the Water by Carrie Underwood – VIDEO
Girl Named Tom – Team Kelly – River by Joni Mitchell – VIDEO
Hailey Mia – Team Kelly – Someone You Loved by Lewis Capaldi  – VIDEO
Joshua Vacanti – Team Legend – Ashes by Celine Dion (Jordan Smith co-write)   – VIDEO
Jershika Maple – Team Legend – Don't Let the Sun Go Down on Me by Elton John – VIDEO
Jim & Sasha Allen – Team Ariana – Mrs Robinson by Simon & Garfunkel – VIDEO
The Voice airs Monday and Tuesday on NBC at 8 pm ET/PT.