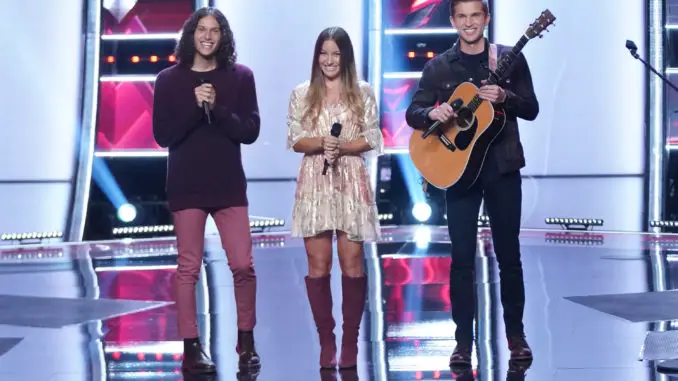 The Voice season 21 Blind Auditions begin with returning coaches Blake Shelton, Kelly Clarkson and John Legend. Pop star Ariana Grande joins the panel.  Carson Daly returns as host.  We'll be live blogging all the Blind Audition performances right here.
The Voice airs on Mondays and Tuesdays this season. The teams are back at 12 artists each. A top 48 will emerge by the end of the round. 
The Voice 21 Contestants Spoilers – Meet the Artists! (Photos, Videos)
The Voice 21 Audition: Ariana Grande's Perfect Pitch To Vaughn Mugol
The Voice 21 Spoiler: Knockout Round Mega-Mentor Is THIS Chart Topper
The Voice 21 Battle Round Advisors Revealed (No More Teasing)
REMINDER: NO SPOILERS IN COMMENTS. Keep spoiler talk under spoiler posts above, thank you.
The show opens with a coaches performance of the classic 60s R&B hit, "Hold On I'm Coming" by Sam & Dave. Kelly and Ariana take the stage with backup dancers to sing Aretha Franklin's "Respect." Oh it's a mashup! John and Blake come back to sing more "Hold On," as the ladies keep on with Aretha. 
Next, new coach Ariana Grande is introduced. It's mostly stuff from videos already posted on The Voice Youtube. She's a SUPERSTAR, the show reminds us. Also, her shtick will be as a super-technical coach. "I think my ears are better than my voice," Ariana insists. 
Girl Named Tom – Perrysville OH
Helplessly Hoping by Crosby Stills & Nash – The first act is a trio.  Their harmonies are very good. So good, they get a four chair turn. And unsurprisingly, they are siblings. Kelly pushed her button first. She's so excited! The female lead's brothers called the sister "Tom" as a baby. That's where the band name comes from. Blake reminds the singers that he works with all genres, and he wants to work with them too. "Find great songs and sing them," Blake adds. Ariana says she's "obsessed" and is all about layering vocals in the studio. John Legend namechecks Bon Iver and Sufjan Stevens as singers whose songs he'd choose for the trio.  They all look VERY EXCITED at that, including the family backstage. After a commercial break, the trio choose Kelly. Funny, no video package for these kids. 
4 Chair Turn, Team Kelly Clarkson
Katie Rae – 35 –  Sacramento CA
The Bones by Maren Morris – She was already in her thirties the first time she performed in front of an audience. She met her husband in 8th grade at an amusement park. They've been married 13 years. After having a kid a few years ago, Katie suffered from postpartum depression, but she's recovered now. She has an appealing tone–so clear and sweet. And her phasing is subtle, but spot on. I really like her vibrato. Kelly and John hit their buttons immediately. Ariana hits her button a bit later. Blake holds back. Ariana calls her a "bad b**** vocalist." As John attempts to speak, Ariana hits her button, and it plays "Thank You Next." Hardee har har!  Kelly compares her low tones to "sizzling butter." She's doing a good job pitching herself. Ariana says she herself has "been through hell and back." In the end, Katie chooses Ariana.  Ariana gives her artists a lunchbox full of throat goodies. She's very focused on throat health! 
Kelly, John, Ariana turn. Katie picks Team Ariana
Peedy Chavis – 19- Lawrenceville FL
Heartbreak Hotel by Elvis Presley – Hm. John and Blake hit their buttons immediately. But Peedy is like an Elvis tribute act, complete with the pompadour. His voice is very thin and reedy, so I don't get it. Cannon fodder maybe? "That had me fired the hell up," says Blake. His mother introduced him to Elvis at 4 years old. "I have an old soul, I want to be singing that music," he says. Blake throws out that he knew one of the songwriters. Ariana says "I wish there was a little bit more of you in it." DING DING DING. Exactly. John calls him "a star." Ok then. Peedy chooses Blake.
John and Blake turn. Peedy choses Team Blake
Jonathan Mouton – 30 Los Angeles CA
Leave the Door Open by Bruno Mars, Anderson Paak – Jonathan comes from a musical family. His mom was a background vocalist for Stevie Wonder, Marvin Gaye and more. He got some work in Japan, including a movie. But then in 2014 he found a lump in his neck. It was stage 4 cancer.  After intense chemo, he went into remission. Jonathon has a silky smooth style. Very retro, featuring jazzy runs. John and Ariana both turn. Ariana calls him "spectacular." She compliments his control. John calls his voice "silky" and compares him to Peabo Bryson and other 80s soul crooners.  Blake immediately takes Ariana's side against John. But nevertheless,  Jonathan picks MR. LEGEND. Good choice, I think. John promises he won't be singing to his team members this season. "We kind of ran that into the ground," he says. Ya think? Fun fact: Recently, Jonathan appeared on the FOX game show, I Can See Your Voice. American Idol's Jordin Sparks made a guest appearance on an episode.
Ariana and John turn. Jonathan chooses Team Legend
Marco Salvador – 15 – Miami FL
Bailamos by Enrique Iglesias – He looks way older than 15. He moved from Venezuela with his family at 3 years old. His grandfather was also a singer. "The Voice is going to the biggest stage I've ever been on," Marco admits. His performance is edited so it's no surprise that he gets no turns. He's not bad, though. He probably should have picked a song he could take somewhere. Blake felt his performance was uneven. Ariana noted pitch issues. Kelly liked his higher parts. "Please come back," she says. 
No Turns
Katherine Ann Mohler – 22 – Memphis TN
We Don't Have to Take Our Clothes Off by Ella Eyre – We got a stan here! She's even sporting Ariana's signature high pony. She was in an acapella group, One Voice, that won a Pentatonix challenge. One Voice also auditioned for and performed on America's Got Talent. Currently, Katherine is a nanny for 3 boys. Her version of the song is very ballady. The arrangement is slow moving. She better hit a high note or something. Finally, Ariana and Blake hit their buttons. "I'm obsessed with you," Katherine says to Ariana, who compliments her voice. Welp. Good luck Blake. Kelly says, "I think you're going to have an amazing time on Ariana's team." Ariana points out that percentage-wise Kelly has won more than Blake. She does math in her head! Blake points to his lengthy track record. But of course, Katherine chooses Ariana.
Ariana and Blake turn, Katherine picks Ariana
Jack Rogan – 18 – Rochester NY
House of the Rising Sun – The Voice will be his first time singing in front of an audience. Well, he did sing for people at camp. He was on a shortlist of contestants for season 13, but didn't hit the big stage until now.  He has 5 siblings, and his brother taught him guitar. Right now, he works at a nursing home, and performs for the patients. Kelly and John hit their buttons first. His voice is laconic and nasally. He needs more energy and passion. It's like he's ready to nap with his senior citizen friends. Ariana almost pushes, but then doesn't. Ariana was tempted, but she was waiting to be moved "a tiny bit more emotionally." Again…EXACTLY. I think he was nervous. No stage presence. John calls his tone "heartbreaking." Hm. Kelly heard Johnny Cash and Ray Lamontagne. He's a sophomore in college! He was homeschooled. Jack picks John.
Kelly and John turn. Jack picks Team Legend
Kinsey Rose – 35 – Nashville TN
Cowboy Take Me Away by The Chicks – More than halfway through the show, and the first pure country artist arrives. And finally, a coach uses their block. Kelly hits her button and also blocks Blake. Kinsey has a very pretty voice and classic sounding tone. She's got that little country vocal break down pat. Since nobody else turned, Kelly has her to herself. Kinsey's video package played after her performance. She does NOT look 35! Also, she's been in Nashville for 11 years and recorded a song with Vince Gill. John felt Kinsey was a little pitchy. Kelly loves the Chicks. "I'm glad you really wanted me," Kinsey says. I wonder if she really wanted Team Blake.
Kelly turns and blocks Blake. Team Kelly it is.
Vaughn Mugol – 27 – Beaumont TX
The A Team by Ed Sheeran – NBC previewed this audition last week. Vaughn is originally from the Philippines, and comes from a long line of nurses, including both parents and siblings. He works in oncology. Working with cancer patients, some are terminal. He was 12 when he arrived in the US. He learned to sing at karaoke. John and Kelly turn first. Ariana is next. Vaughn has a gorgeous tone. Just lovely. It's so warm and inviting. Ariana felt maybe his voice was tired? John compliments his outfit and notes his younger brother is also Vaughn. Kelly compliments his pitch and technique. At this point, Ariana gives a big long lecture about her The Voice philosophy. SHE GOES HARD for Vaughn. And it works. Vaughn picks Ariana. 
Kelly, John and Ariana turn. Vaughn picks Team Ariana
Gracie Nourbash – 18 – Glenview IL
Control by Zoe Wees –  She stops in front of Ariana's photo and quietly begs "Please turn for me." She did musical theater in high school. She studies Fashion Product Development in college and does music on the side. Gracie has a throaty, alto tone. Her voice is very warm and full, with a wide vibrato. It's unique. A bit Cher-like. Aw. No turns. She had some pitch problems, but I liked her voice. Ariana calls her vibrato "spinny" and that it took her off pitch. Gracie brought pictures they took together from a meet and greet. Aw. Now, Ariana feels just terrible.
No Turns
Wendy Moten – 56 – Nashville TN
We Can Work it Out by The Beatles – She's toured with "some of the greatest artists in music history." Wendy is literally 20 feet from greatness. In the 90s she had a song "Come On in Out of the Rain" chart on the Billboard 100 and she performed on the Tonight Show. But then her record label dropped her and she began singing background vocals for the likes of Julio Iglesias, Faith Hill & Tim McGraw, Martina McBride, Michael McDonald, Vince Gill, Wynonna Judd, John Oates and more. she sang on the Grand Ole Opry. She's been on backgrounds 15 years. But she wants to step out on her own. When she takes the stage, she does Stevie's version of "We Can Work it Out." She's very professional with a big big soulful voice. But she's old-fashion, straight out of the 90s.
Wendy is a four chair turn, but Blake blocks John. He is very sad to be blocked. Ariana and Kelly are blown away by her voice. Blake calls her "Top 3 Blind Audition for The Voice, all time." Kelly brags that she has a TV show. Good point. Ariana has a ton of social media followers, though. Wendy picks Blake. I'm not surprised. She's a Nashville gal, and understands Blake has pull in that town. Blake flashes his "Win Cam" as he dances in front of the audience. Rubbing it in!
4 chair turn, Blake Blocks John. Wendy picks Blake