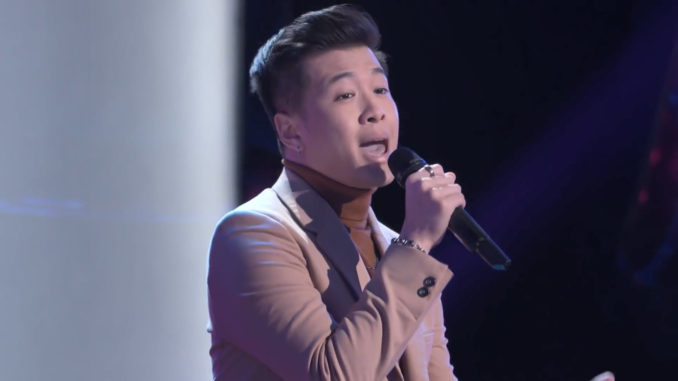 The Voice premiere is just around the corner, and here is the first Blind Audition of Season 21.
After Vaughn Mugol from Beaumont, Texas sings a sweet cover of Ed Sheeran's "The A Team," he garners a three chair turn from coaches Kelly Clarkson, John Legend and newbie coach Ariana Grande. 
While Blake Shelton sits this one out, the other three go to work on wooing Vaughn, a registered nurse, to their respective teams.
Ariana compliments the singer's voice, "I love the little break in your voice, I love the fuller parts of your voice." She notes that his vocal sounded tired. Vaughn admits to feeling nerves. However, she felt that Vaughn, "really held it together." She wants to help him with perfecting those moments. 
The Voice 21 Contestants Spoilers – Meet the Artists! (Photos, Videos)
Vaughn admits that he has very little performing experience. He mostly sings to his patients. 
Regardless, John felt that what he did on stage "required a lot of seasoning" that he wouldn't expect from someone who hasn't performed on big stages. "You're probably lying to me!" John quipped. 
Kelly compliments Vaughn on not losing breath and going off pitch during his performance.  "You're an emotional singer," she says. "That all I am is emotion," Kelly insists. She also waves around her team jacket. "I also think you'd look fantastic  in this turquoise number!"
Blake adds, "I thought your performance was incredible. But I hate all three of those, so I don't want to be in the mix right now!"
Ariana offers one last pitch. Speach, speach!
"I know that I'm new here, and you guys don't know me as a coach yet. But I want to guide you in this competition. I want to help you sing the right songs. I want to answer any questions you might have regarding my experiences, and help you get to where you want to go as an artist. I want to help you get to the healthiest place with your instrument that you've ever been in your life. I want to help you become one of the biggest artists you can be. I want to help you win this thing, and then have a career. I want to be here to do the real work. I want to be that for you." 
Well, after that rousing plea from Ariana, will Vaughn choose her? Tune into The Voice Season 21 premiere on NBC Monday September 22 at 8 pm ET/PT.
Vaughn Mugol sings Ed Sheeran's "The A Team"